Celtics
Boston's backup plans for Kevin Durant
Prioritizing Boston's options if they fail to land the superstar in free agency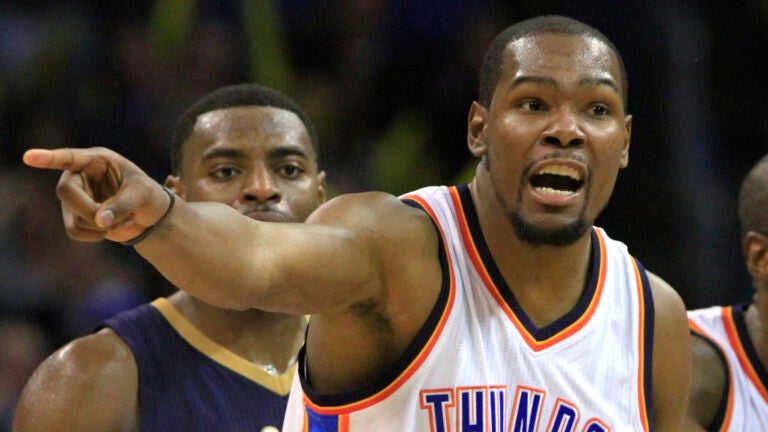 COMMENTARY
The Boston Celtics have plenty of reason to be optimistic as they head into free agency this July. They are reportedly one of just six teams that will have a chance to pitch Kevin Durant on joining the franchise this weekend in the Hamptons. The All-Star forward will hold meetings with Boston, Miami, Oklahoma City, Golden State, LA Clippers and San Antonio, according to TNT's David Aldridge, with Boston holding court with the star on July 2.
While Boston fans should feel upbeat about a superstar considering the city as a potential destination, the fact remains the odds are stacked against Durant becoming a Celtic this summer. Adrian Wojnarowski of the Vertical said earlier this week that Durant is heavily leaning towards staying in Oklahoma City on a two-year deal with a player option. If the 27-year-old does elect for a change of scenery, Boston is on the bottom of Durant's short list of suitors as a potential destination.
So if the odds play out as expected, the Celtics will not land their top free agent target this summer. What's the backup plan if they don't? There are a few key objectives the team's front office should keep in mind while attempting to build the franchise for the future.
Emphasize flexibility for the summer of 2017
Durant's expected to sign a short-term deal with whatever team he chooses to sign with next week in order to maximize his earning potential for the 2017-18 season. A rising salary cap combined with the 6-foot-9 forward accumulating 10 years of NBA experience will allow him to command 35 percent of the salary cap with the team he elects to sign a max contract (if he hits the open market once more).
It's unclear if Durant will be considering new teams next summer, but the Celtics need to be prepared for the possibility they will get another crack at him. Keeping enough salary cap room in place for a max Durant deal has to be a priority and if the team can fit two potential max deals under the cap, all the better.
Sign veteran players to short-term deals
The Celtics already began this model last summer when they signed Jonas Jerebko and Amir Johnson to two-year contracts. Both players were rewarded for taking the shorter contracts with larger average annual values in their salaries (compared to similar players on the open market). The Celtics also benefited from these terms by making the second-year of those contracts not guarantee fully until July 3, giving the team some leeway in the next few days on deciding whether to keep Johnson and Jerebko on the roster or waiving them to open up additional cap room.
Danny Ainge should double down on this tactic this summer if Durant does not sign with Boston this summer. Bringing in more veteran talent would allow the Celtics to build upon their 48-win season and also keep the team's options fluid when it comes to the summer of 2017. Overpaying a player on a one-year deal or a two-year deal with an option will not harm Boston's potential pursuit of Durant or other big name free agents next summer. It's also possible the veteran signings could help Boston's chances of landing top talent if they help Boston advance deeper into the Eastern Conference playoffs.
Maintain continuity and stay patient with major trade assets
A trade may be the route the Celtics ultimately must go if they want to land a premier star on the roster, but selling the farm in order to do so could set back Boston's rebuild as well. With top free agents like Durant, Dwight Howard and Al Horford reportedly considering the Celtics as a destination this summer, odds are Boston will be worthy of a look in future years as well with a promising young core and stable management in place.
For this reason, free agency should be the preferred method of improvement. With great value contracts in place already for the next couple seasons with Isaiah Thomas, Avery Bradley and Jae Crowder, the Celtics should try to add to that group. Breaking that young core up now only makes sense if it allows Boston to become a contender right away.
The 1986 Celtics victory parade, 30 years later
[bdc-gallery id="762947″]