Celtics
5 free agents the Celtics should stay away from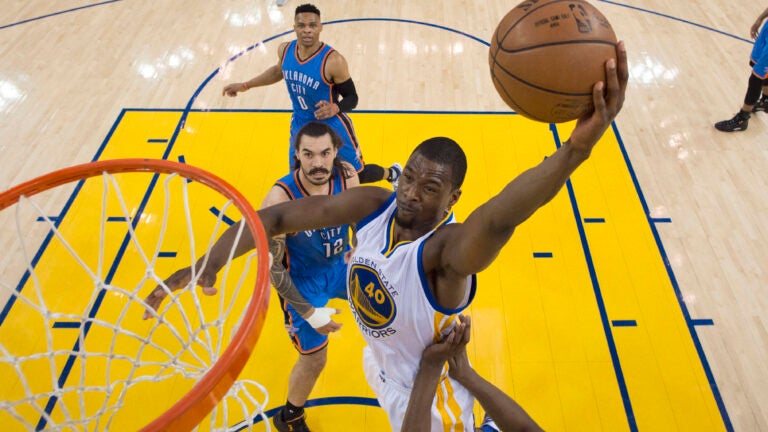 COMMENTARY
The Celtics have the ability to spend more money than ever before in free agency this summer, thanks to an NBA salary cap that has skyrocketed to $94 million for the 2016-17 season. The problem for Boston is that nearly two-thirds of the league could have $20 million in salary cap room as well.
The money and competition will lead to pricier contracts than ever being handed out this July, including to some players who may not ultimately justify such a big payday. The Celtics' brass will need to make sure they don't sacrifice future flexibility on a potential free-agent bust. Here are a few players they should stay away from this summer.
Harrison Barnes
The Warriors' small forward is a restricted free agent, but the Western Conference champs may have their sights set on landing a bigger fish (Kevin Durant) in free agency. The fourth-year wing averaged 11.7 points per game as Golden State's fourth option on offense last season, but he could command close to max money from young rebuilding teams like the Philadelphia 76ers, who reportedly plan to pursue him. With the Celtics drafting 19-year-old Jaylen Brown with the No. 3 overall pick and Jae Crowder locked up for the next four seasons, offering the kind of salary needed to lure Barnes away from the Warriors would be a mistake.
Bismack Biyombo
After looking like a bust during his first couple years in Charlotte, Biyombo had a breakout postseason with the Raptors last season once starting center Jonas Valanciunas went down with an ankle injury. Biyombo's defense and rebounding helped keep the Raptors afloat in Eastern Conference Finals against the Cavaliers, making him a candidate to earn a $14 million raise from his $2.9 million 2015-16 salary according to Sean Deveney of the Sporting News. While Boston's frontcourt could use his rebounding and rim protection, he doesn't provide the offensive firepower (7.9 points per 36 minutes over his career) and floor spacing the Celtics would need for that kind of money.
DeMar DeRozan
At first glance, DeRozan is the kind of player the Celtics should be targeting this summer. The two-time All-Star averaged a career-high 23.5 points per game in 2015-16 and got to the free throw line 8.4 times per game. That kind of production has dropped off significantly in the postseason for the past three years, though, as DeRozan has shot under 40 percent from the field and just 25 percent from 3-point range over 31 playoff games. DeRozan's inability to be a reliable first or second offensive option against top competition combined with his impact on floor spacing (28.3 percent career 3-point shooter) makes the 26-year-old a poor choice for a max contract on Boston's roster.
Ryan Anderson
Anderson is one of the best shooting stretch fours in the league, a desperate area of need for the Celtics, but there are too many red flags here for Boston to invest big money. The first problem is health: Anderson has played more than 66 games in just one season in his eight-year career and it's hard to imagine improvement for the 6-foot-10 forward at age 28. Anderson is also a defensive liability on several fronts, including post defense and lateral quickness. Having a rim protector is a way to cover up these flaws, but Boston is currently lacking in that department as well. With Anderson looking for a big payday before he hits his 30s, the Celtics would be wise to avoid him.
Eric Gordon
The Pelicans' shooting guard will be looking to rebuild his value around the league, likely on a short-term deal after an injury plagued past few seasons in New Orleans. The Celtics could use his 3-point shooting (38.3 percent), but the logjam in Boston's backcourt would make it a challenge for Brad Stevens to find him consistent minutes behind Avery Bradley. Ainge would be better off spending his money on areas of the roster which could use a talent upgrade.