Celtics
6 reasons Kevin Durant would love playing for the Celtics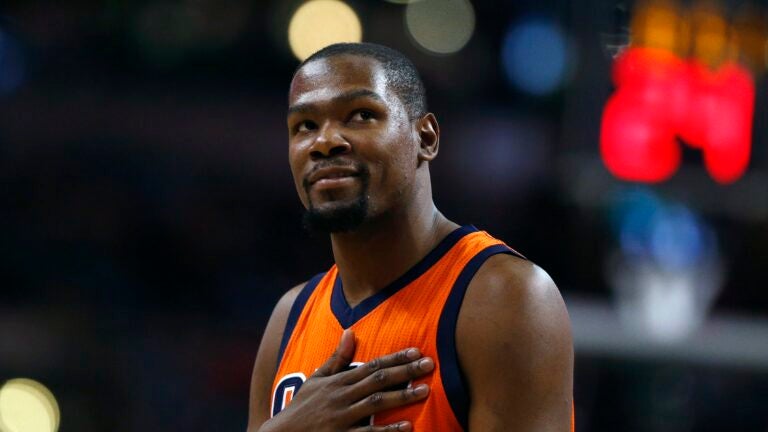 COMMENTARY
In the early stages of free agency, here's an uncomfortable yet unavoidable fact about the Celtics' pursuit of Kevin Durant: Isaiah Thomas isn't cutting it as a recruiter.
The good news for Boston is that the city and the Celtics provide plenty of compelling talking points for Danny Ainge and Brad Stevens to push when they meet with Durant on Saturday. What follows are six reasons why Durant should choose Boston over Oklahoma City, Golden State, San Antonio, Miami and the Clippers.
Reason 1: Rebirth
If Durant goes back to OKC, he'll face a whole new season of relentless rumors and speculation. Only this time it's worse, because it's him and Russell Westbrook.
As crazy as that would be, it's no match for the circus that would follow Durant to Golden State. I know everyone thinks the Warriors are his second-most likely landing spot, but that sounds like torture for a star of Durant's caliber. It's a no-win situation. What's the best-case scenario? That he gets credit for helping the best regular-season team in NBA history win one extra game in the playoffs?
A move to the Clippers is guaranteed to be a little awkward. The excitement only goes so far with that team in that city. You can already hear the local news reports: "This just in, the Clippers signed Kevin Durant! We'll have more right after this 20-minute package on today's Lakers' charity golf tournament." Not to mention the Clippers might have to trade Blake Griffin to make Durant work. In that case, he's replacing the popular face of a franchise. That's never easy. On that note, neither is getting along with Chris Paul.
Meanwhile, the Spurs are obviously great; everything is focused and drama free. But the Spurs are a cult. You don't celebrate joining a cult. There's no fanfare. That's not where you go to be free. You take the plunge, assimilate and disappear into the crowd. The small forward has no name!
And, finally, the locals would be happy to have Durant in Miami, but that already feels like a cheap imitation of what we saw eight years ago. Durant reprising LeBron's role in Miami will be like LeBron reprising Jordan's role in Space Jam. Everyone will pretend it's a big deal, but deep down they're all thinking "Eh, we've already seen this movie."
And then there's Boston, with a fan base that's just waiting to erupt. In a new conference, he's away from his old team and his old rivalries, but with a new rivalry against the perfect generational foe. Even then, the rivalry with LeBron will be positively charged; something to feel good about. There are no bad vibes around joining the Celtics. Outside of maybe DC or Oklahoma City, who can take issue with Durant joining this team? You figure even Thunder fans, as upset as they'd be, would be like "Oh well, at least he went to Boston.
It's a total reset, with the freshest breathe of air. It's also brings him to . . .
Reason 2: The Leastern Conference
We've reached overkill on this part of the argument. There's only so much more you can say. Of course, it makes sense for Durant to switch conferences and smooth out his road to the NBA Finals. If not just remind him of some of those early-round battles with Memphis.
LeBron is still there in the East, but he won't be around forever; and even while he is around, he can only play on one team. Would you rather worry about 32-year-old LeBron or the combination of Steph Curry, Draymond Green, Klay Thompson, Kawhi Leonard, LaMarcus Aldridge, Chris Paul, Blake Griffin, Russell Westbrook and Kyle Singler?
For anyone thinking pride could be an inhibitor, it should be easy to ignore everyone screaming: "Sure, go the East! Take the easy way out!" when they're the same people screaming: "Hey, Kevin. You should totally go to the Warriors!"
Reason 3: Brad Stevens
Stevens will be the biggest human advantage in the room when the Celtics sit down with Durant on Saturday, and is easily one of the Top 3 reasons he'd love to play in Boston. Stevens is impressive enough in his own right, but he'll also benefit from being relatively unfamiliar.
What I mean is that Kevin Durant knows Billy Donovan pretty well. He's spent years playing against Doc Rivers, Gregg Popovich and Steve Kerr. Erik Spoelstra is about to start his ninth year in Miami and coached against Durant in the Finals. They have a history together. He has a history with all these guys and has come to learn what makes them all great in their own ways. But, to this point, he's only really heard about Stevens. And he's heard good things, obviously. The next bad thing anyone says about Stevens will be the first.
The advantage for Boston is that Durant will go in there with really high expectations for Stevens, yet totally unaware of how easily the coach will still completely blow his mind.
Durant's walking out of there with Stevens fever, and Brad's the only one who holds the antidote.
Reason 4: De Facto GM
Stevens is just part of the puzzle in Boston. He's a great coach supported by a great front office and a more than reasonable owner. Together they form an infrastructure that has a successful record of keeping superstars happy and the makings of an environment where any kind of player can thrive. And while all that is important, for all the solid pieces that are in place, Durant will love playing in Boston as much because of the flexibility and potential to move pieces. In other words, the fact that they can sign him and another max player and then still have the assets to trade for another legitimate star. And even better, Durant will have a say in whom those players are.
With all his other options, aside from maybe Miami, Durant is pretty much the last piece to the puzzle. He's the guy who hypothetically puts them over the top regardless of how well all the pieces fit. And if it doesn't work, guess who gets the blame?
But in Boston, Durant is part of the foundation, not the icing, and he can work together as part of that strong foundation to build something that he's comfortable with and something that's all his own.
Wanted to set my own path RT @BallLikeMe12: @KDTrey5 why Texas over Duke?

— Kevin Durant (@KDTrey5) April 15, 2015
Reason 5: This is his team
Just to reiterate: The Thunder would be KD and Russ's team. The Spurs would be KD, Kawhi and LaMarcus'. The Warriors would be KD's and Steph's and Klay's and Dray's. The Clippers will always belong to CP3. And the Heat? I don't know, I just don't see Durant in Miami for the same reason he didn't give the Lakers a meeting. He's not impressed with what typical NBA free agents are impressed by. He's just seems a little simpler; a little grittier. Honestly, more Boston.
Everywhere else he's basically joining an army, but Boston is the only place where he can truly lead one.
Reason 6: It's Boston
And, really, there are few better NBA cities than Boston in which to lead a team to greatness. Durant knows that. He has to. He is a huge sports fan. A real sports fan. A professional sports fan. He gets it. And he's spent the last eight years in a city where his team was the only show in town.
That has to get old quickly. Or at least after eight seasons.
For that matter, he'd be dealing with the same thing in San Antonio. Given the state of the Marlins and Dolphins, Miami isn't far off. LA is all over the place with its sports teams, but there are so many and they're so spread out. Even then, it's the Clippers. The Bay Area isn't bad with the Warriors, Giants and 49ers, but that region's identity has less to do with sports with every passing day.
And then there's Boston — that's the spot. You don't think Durant would absolutely love being a part of this culture? You don't think he'd lose his mind for the opportunity to take batting practice at Fenway Park, or just sit around picking Tom Brady's brain?
You think he'd hear his named called the first time at the Garden, jog on to the court with the fans going wild and have the slightest inclination to ever look back?
If so, it would only be to read this fantastic story by this very famous local author, just to understand how much his whole life and career were about to change for the better.