Celtics
Al Horford signing is a turning point for Celtics
The four-time All-Star is Boston's biggest free agent signing ever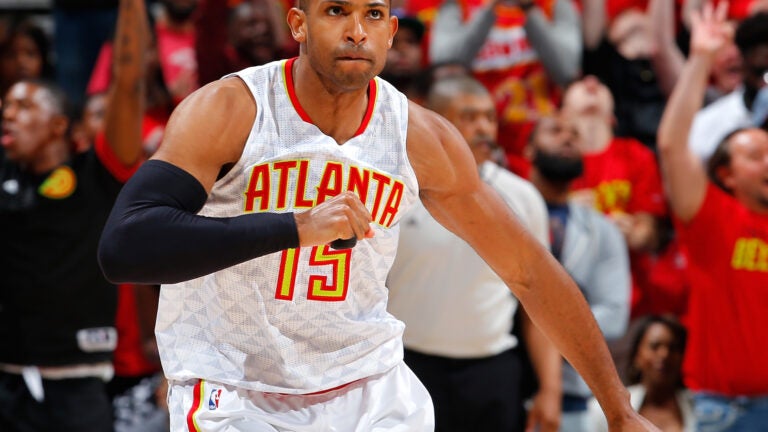 COMMENTARY
The Celtics' rebuild is just three years old, but the franchise reached a turning point in that process on Saturday when free agent center Al Horford agreed to a four-year $113 million max deal with the team.
It's a move that strengthens Boston for both the present and the future. Horford, 30, is a four-time All-Star who is an effective defensive anchor in the paint, and a consistent scorer who can spread the floor with his shooting. The 6-foot-10 big man immediately vaults to the very top of Boston's big man depth chart, giving Brad Stevens production he can count on up front on a nightly basis, something that's been hard to come by at times over his first three seasons at the helm.
The biggest aspect of this move in the short term from Boston's perspective is how the team was able to add Horford without subtracting. Danny Ainge acquired an All-Star without mortgaging any of the trade assets he's steadily built over the past couple seasons. Boston's front office deserves plenty of praise for pulling off that feat.
With the aid of assistant general manager and cap guru Mike Zarren, Ainge meticulously built a roster filled with high value contracts that produces a surprise 48-win team. That kind of cost control made Boston one of the few teams on the market with not only a solid young core that was attractive to free agents, but also with enough cap space to land a stud like Horford and potentially other free agent additions.
While trade opportunities surely popped up for the Celtics before February's trade deadline and again on draft night, Ainge remained patient. Unless it was a franchise altering deal, he determined it wasn't worth sacrificing any of the team's salary cap space.
"We had opportunities to do some trades," Ainge said on draft night. "But they weren't significant enough of an upgrade to our franchise to do and we felt like it was more important to preserve flexibility this summer."
That kind of thinking was questioned by critics, but ultimately that flexibility has now paid off in the form of Horford, who picked the Celtics over similar offers from the Hawks and Wizards. Ainge still also has an impressive stash of trade chips in his arsenal to help build up the roster even more with Horford, a fact that likely helped Boston sell the ex-Hawk on the team's long-term potential.
The veteran's decision also essentially ends a narrative questioning Boston's ability to land major free agents over the past two decades.
While the Celtics simply did not have salary cap space to add free agents for more than the mid-level exception prior to last season, the talking points remained about whether Boston could now be able to attract anyone of note. Past their prime free agents such as Rasheed Wallace, Jason Terry and Jermaine O'Neal signed for mid-level money during the Big Three era, but Boston simply never had an opportunity to make a big score until they opened up significant salary cap space for the first time in Ainge's tenure last offseason.
After a couple modest signing in Amir Johnson and Jonas Jerebko last summer, the Celtics were primed to make a splash after a top-4 finish in the East and the ability to create over $50 million in  salary cap room. Maximizing that space with Horford does just that, a player who was at least a top-10 free agent on the market this summer. He is the kind of player that others around the league respect and enjoy playing with, so his presence in Boston should help the team attract players of his caliber in years to come.
While Boston's offseason is far from over, Horford's decision should signal to the league that the Celtics' ascent in the Eastern Conference could be faster than most anticipated.
Danny Ainge's biggest trades
[bdc-gallery id="1020444″]