Celtics
The Celtics' near-miss on Kevin Durant brings big frustration and small encouragement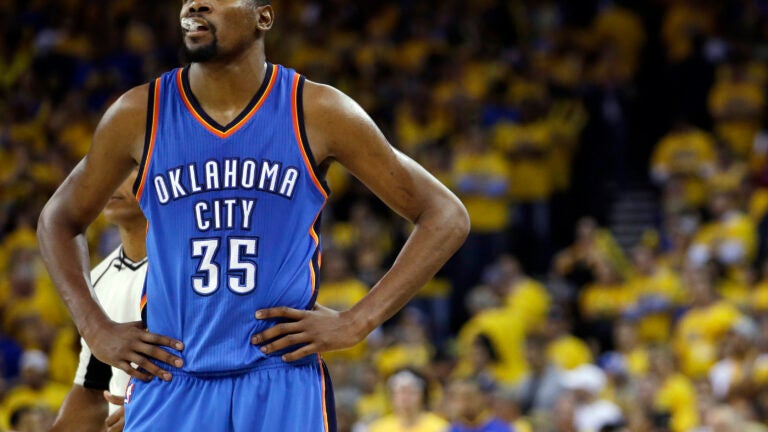 COMMENTARY
Well, that stings. Maybe a union of Kevin Durant and the Celtics is never meant to be. This is twice now that the franchise has endured a near-miss with the freakishly talented superstar.
The first came before the 2007 NBA Draft when the ping-pong balls refused to cooperate. If you think Danny Ainge might have taken Greg Oden over Durant had the Celtics landed the No. 1 pick, you weren't paying attention and you haven't paid attention since. Durant was the choice.
The second? Well, of course, that came Monday morning, when our constant refreshing of Twitter and The Players' Tribune at last yielded an answer that disappointed Celtics fans and devastated Thunder fans: Durant had chosen, from among the three finalists, to form a Superfriends crew with the Golden State Warriors.
From the Celtics' perspective, this hurts because something so many cynics in the media and fan base proved patently false: The Celtics really did have a chance at signing Durant, after all. Who knows what the chances actually were, but they did exist. It hurts because hopes were high and that chance went unfulfilled.
If you're looking for consolation and context, I suppose it is an achievement and a tribute to Ainge that they were in the final mix for Durant's services with two other teams: the franchise he had been with for nine years and created so many memories, and a Warriors team that is a sharpshooter's dream.
That's some heady company. The Celtics are respected league-wide among the players, and the importance of that cannot be exaggerated. Durant didn't choose them, but make no mistake: They are now a destination.
That the perception of the Celtics has changed — as further evidenced by coveted Al Horford signing on as the biggest free-agent acquisition in franchise history — is one of the positives to take away from this. Horford is here, and while losing Evan Turner will have an effect, it's still a major net gain.
And Ainge still has options. I bet he's already asked about Russell Westbrook, a free-agent-to-be left behind in Oklahoma City. Andrew Bogut, who appears to be done as a Warrior to make room for Durant's salary, would be an intriguing fit if they think he can play in tandem with Horford.
It is not an exaggeration to say that this is a seismic decision in NBA history, one we'll be talking about forever no matter how it plays out. It gives the Warriors, winners of a record 73 games and one or two made shots late in Game 7 of the Finals, from a second straight NBA title, one of the three best players in the league and probably the best tall shooter in league history.
In Durant, Steph Curry, Draymond Green and Klay Thompson, the Warriors have, what, four of the top dozen players in the league? With health, they might win 78 games next year. Maybe 80, if they can find a center who can stand upright for 20 minutes a game. Durant will be taking all of those shots that Harrison Barnes missed in the Finals. I suspect he will make many of those shots.
In a vacuum, I don't know how anyone outside of the Tulsa city limits can blame him for wanting to join the Warriors. Behind the Bird Celtics and the Showtime Lakers, they are the most fun dominating team I have ever had the aesthetic pleasure of watching.
He'd fit anywhere, but he is born to play in the Warriors' system. Anyone who is saying they won't watch the NBA next year because the Warriors are stacked probably isn't much of a fan anyway. It's going to be an incredible show, even if they are undeniably the villains now, much in the same way the Heat were after LeBron's decision.
Of course, there is a huge can't-beat-'em-join-'em element to this, and it doesn't make Durant look great.
The poor Thunder are left with so many sliding doors/butterfly effect repercussions with this. What if Klay Thompson hadn't gone off with impossible shot after impossible shot in Game 6 of the Western Conference Finals? What if the Thunder had prevailed in Game 7? What if Draymond Green hadn't been suspended in the NBA Finals, the Warriors had won in 5, and decided to pass on Durant and not mess with a two-time defending champion roster?
The Thunder and their fans should be devastated, even if they lose some sympathy points since the franchise itself was plundered from another market. (Easy to forget, but Durant was a SuperSonic for the first season of his career).
The Celtics, who were either the first or second runner-up in this thing? It's not devastating, but it sure is disappointing. At least Thunder fans, for all the old joy and fresh pain, know what it's like to have Kevin Durant play his beautiful brand of basketball for their team.
Celtics fans have not been so lucky, yet. Maybe the third time will be that charm, whenever that someday comes.