Celtics
Why Al Horford is the perfect on-court fit for the Celtics
The 6-foot-10 All-Star will give the Celtics a major boost on both ends of the floor.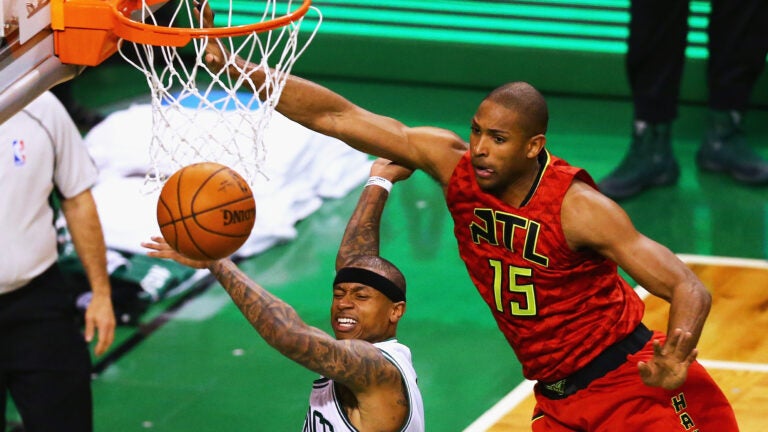 COMMENTARY
While Celtics fans may still be getting over the disappointment of falling short in the Kevin Durant sweepstakes, they should not overlook the fact that Boston managed to land one of premier free agents on the market in Al Horford. The four-time All-Star is one of the most complete bigs in the NBA and immediately addresses a number of Boston's weaknesses on both ends of the floor. Just how will the  fit into the fold in green?
Let's explore how the 6-foot-10 big man's abilities will mesh with an up-and-coming Celtics roster:
On Defense
Last season, the Celtics and Hawks were two of the five best defensive teams in the NBA. After snatching away Atlanta's defensive anchor in Horford, the Celtics have the talent to potentially be the best defense in the NBA in 2016-17.
How does Horford boost Boston's chances on that front? It starts first with rim protection, an area that Celtics coach Brad Stevens said was a top concern for his team heading into free agency.
"The biggest needs as we look at it are continuing to grow ourselves on the offensive end, and what we decide to do with regard to protecting the rim," Stevens said. "You can protect the rim in a couple of different ways. No. 1 is you have somebody in there to protect it. No. 2 is you don't let the ball get there, and you need versatile guys at a bunch of different positions. You need to keep guys out of rotations. If you look at our team right now, No. 2 would be more of the option."
With Horford on the roster, the Celtics will no longer have to rely on the likes of Jared Sullinger and Kelly Olynyk to contest scorers at the rim. Horford is not an elite shot blocker despite averaging a career-high 1.5 blocks per game last season, but he is tremendous at contesting shots in the restricted area.
The Hawks were the best team in the league in that department last season, limiting opponents to hitting just 58 percent of their shots within three feet. In comparison, the Celtics were 15th overall. Boston saw firsthand the impact of Horford's presence in the paint in the postseason when Atlanta made a shorthanded Celtics offense stall for quarters at a time by denying them at the rim and forcing outside jumpers. Horford averaged 2.7 blocks per game in that series as the Celtics shot just 38.4 percent from the field overall.
Rim protection isn't the only thing that Horford will bring to the court for Boston defensively, though. He's a smart and agile defender at age 30. He defends the pick-and-roll well, shutting down passing lanes, sticking with shooters and preventing top scorers from getting easy looks in deep. Boston's core of perimeter defenders (Avery Bradley, Jae Crowder, Marcus Smart) will have the ability to be more aggressive with their men knowing that Horford is behind them to cover up mistakes. That fact alone should give opposing offenses cause for concern when matching up with the Celtics next season.
The other area to keep an eye on with the former Hawk is his rebounding. It's regressed over the past couple seasons in Atlanta to a subpar number for a center. Since Boston is already one of the five worst defensive rebounding teams in the league, that's an area that will remain a weak point with Horford in the fold. Celtics president of basketball operations Danny Ainge will still need to find reinforcements this offseason, especially if restricted free agent Jared Sullinger is not back next season.
On Offense
The nine-year veteran has always been one of the most efficient midrange big man shooters in the game, but he became more dangerous by adding a 3-point shot to his arsenal last season. On the surface, Horford's 34.4 percent shooting from distance is rather pedestrian but that's high enough of a number that opposing defenses consider him a threat from downtown.
That development should have Isaiah Thomas smiling from ear to ear because it makes Horford an ideal pick-and-pop partner who should help space the floor better than Jared Sullinger or Amir Johnson ever could. With Stevens' propensity to play small down the stretch of games, Horford is a guy who will create maximum floor spacing at the 5 and still give the Celtics a solid defensive anchor with a smaller lineup.
Horford's impact does not end with just his perimeter shooting though. He's tremendous from midrange and easily becomes Boston's best finisher at the rim as well, where he hit 74.5 percent of his field goal attempts from inside of three feet. That's a sharp upgrade from players like Tyler Zeller (67.5 percent), Kelly Olynyk (65.7 percent) and Sullinger (59.1 percent) who struggled with defenders in the paint on a regular basis.
Don't expect Horford to take over a game with his scoring (26 points is his career high), but he plays his limited role within the offense perfectly. He's efficient with his shots, doesn't turn over the ball much (1.3 per game) and sets terrific screens on and off the ball.
The Celtics were a top-10 offense last season without him and his versatility should help them jump a couple spots in those rankings next year.
While Horford's numbers won't make him look like an All-Star, he's easily the most talented big man that Stevens has had to work with in Boston. With him in the fold, the Celtics are on their way to emerging as the top threat to the Cavaliers in the Eastern Conference over the next few seasons.
All statistics used via Basketball-Reference.com