Celtics
5 storylines to watch during Celtics summer league
A crowded depth chart makes summer league a critical time to evaluate young Celtics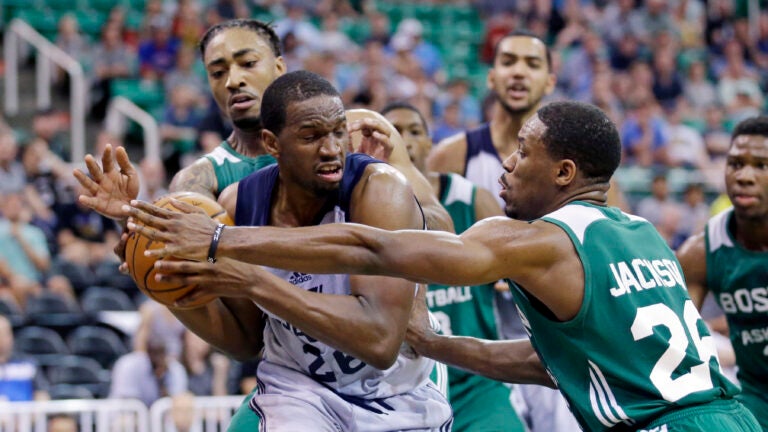 While most Boston fans have been distracted by an eventful start to NBA free agency, the Celtics' summer league squad has gotten off to a strong start this week. The team already has wins over No. 1 overall pick Ben Simmons and the Philadelphia 76ers as well as the Utah Jazz on their home court in Salt Lake City.
The game results obviously don't matter much in summer league, but there are plenty of questions to keep an eye on the coming week as the team wraps up action in Utah and heads to Las Vegas for another week's worth of action. With a roster situation that's still very much in flux for Danny Ainge, it's a strong possibility the team's brass will use these next two weeks to play to help them settle on roster and rotation spots, as well as evaluate potential trade possibilities involving Boston's young pieces.
What's worth keeping an eye on? Here are five things to watch for as summer league action continues.
1. Can Terry Rozier play his way into the rotation?
The Celtics shocked the NBA world by taking the former Louisville guard in the middle of the first round last summer. As expected, Rozier spent much of last season getting some seasoning with the Maine Red Claws due to a crowded Boston backcourt, but he did start to break through with some regular minutes when injuries popped up against the Hawks in the postseason.
Evan Turner's departure has opened the door for a playmaker to fill his role off the bench and Rozier is emerging as a notable candidate to fill that role with his play thus far. He's averaged 17 points, six rebounds and 4.5 assists per game in Utah, giving Boston a little bit of everything on the floor like Turner used to. The 6-foot-1 guard going to be in competition for Marcus Smart and potentially another free agent addition for ballhandling duties, but continued productive play in Utah and Vegas could give the Celtics the confidence to give him that role heading into training camp.
2. Is Jaylen Brown ready to contribute on offensive end?
The 19-year-old out of Cal is a long-term bet for the Celtics' front office, but Brown's size (6-foot-7) and defensive versatility fills an area of need for Boston immediately. The question the team must answer this summer is whether some of the wing's raw offensive game translates to the NBA level. Brown's shooting woes have been well documented (29.4 percent from 3-point range at Cal), but his ability to get to the free throw line is an area the Celtics must address.
He gave the team a taste of his aggressiveness on that front with 17 free throw attempts in his summer debut Monday before a hyperextended knee sidelined him. Assuming he gets back on the floor, Brown's shooting range will be tested by opposing defenses. The No. 3 overall pick must prove he's a threat on the perimeter in order to keep lanes to the rim open for his explosive drives.
3. Will Jordan Mickey get healthy enough for an opportunity?
One look up and down the Celtics summer league roster shows a team that is lacking true bigs. That was done purposefully by Boston's front office, as it planned on giving Mickey 30-plus minutes a game in Utah and Las Vegas after a year of grooming with the Red Claws. A shoulder injury suffered in practice last week has kept Mickey back in Boston receiving treatment however as the team plays ultra small-ball without him in the fold.
Since the free agent situations of Jared Sullinger and Tyler Zeller's are still quite murky, Mickey would have been auditioning for a spot in the frontcourt during summer league. Whether or not he gets that chance in the next week could alter Boston's plans in free agency, since if they can't count on Mickey, the team may need to sign another veteran big for depth purposes. For that reason, you can bet Ainge and co. are hoping Mickey's shoulder is healthy enough to see the floor when the team heads to Las Vegas Friday.
4. Are R.J. Hunter and James Young playing for spots on the roster?
The Celtics had limited roster room heading into the offseason and thus far Ainge has failed to consolidate the glut of youth at the bottom of the depth chart via trade. The likelihood of Amir Johnson and Jonas Jerebko getting their contracts guaranteed for next season limits the team to just a couple open roster spots to work with for the time being.
The team still needs to address shooting and rebounding issues, and it's unclear how much the Young/Hunter duo will be able to help Boston in the shooting department based on their numbers from last season. That means each of them could be playing for their Celtic lives this summer, so their performance these next two weeks will be crucial. Both have cheap salaries making them easy trade or outright cut candidates and unless Ainge trims other sections of the roster, it's hard to envision having room for both on next year's roster.
5. Will any non-Jaylen Brown 2016 draft picks play their way on the roster?
The odds are not in their favor, but the Celtics made a number of intriguing picks in the 2016 NBA Draft. First round pick Guerschon Yabusele is highly likely to need another year or two of seasoning in Europe, but the Celtics landed a couple intriguing prospects in the second round in Demetrius Jackson and Ben Bentil that could be NBA ready.
Jackson was a projected first-round pick who slid on draft night, but he's No. 4 on the Celtics point guard depth chart. Bentil, the ex-Providence standout, may be the better bet to push his way into a roster spot based on his offensive versatility. Unless Ainge clears up some roster spots via trade though, chances are both players will wind up in Europe with Yabusele and center Ante Zizic.