Celtics
Danny Ainge on Celtics' offseason: 'We're not done yet'
The Celtics are still pursuing trades and upgrades after landing Al Horford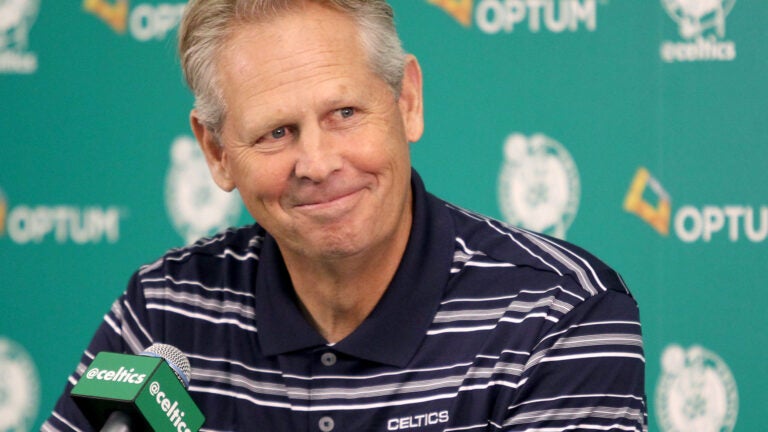 Danny Ainge did not land his top free agent target this offseason in Kevin Durant, but the Celtics president of basketball operations remains determined to keep improving his team's roster.
"We're not done," Ainge explained in Salt Lake City Thursday night. "We have the same plans. If you don't get what you want you have to keep fighting and make the best of it. Everybody wants Kevin Durant on your team and not everyone gets him."
In the wake of missing out on the superstar forward, Ainge has elected to keep both Jonas Jerebko and Amir Johnson on the roster for the 2016-17 season for now, letting their contracts fully guarantee after the July 7 deadline.
"Amir and Jonas are two of coach's favorite guys," Ainge said. "They play hard. They are loved by their teammates and they had terrific years last year for us. We are excited to have them back."
Johnson is set to earn $12 million and Jerebko will make $5 million as both enter the second season of two-year contracts with Boston, deals that provide the team with positive value in an expensive free agent market.
"They are good deals and if they have a good year, they'll be unrestricted free agents next year in a similar type of market," Ainge explained. "Maybe even a bigger market. We really like those guys and like not just what type of players they are, but we like who they are just as much."
The decision to keep both players and the Al Horford signing puts the team's roster crunch at 13 players for the time being. Ainge notes he still wants to upgrade the team's personnel in a number of areas as the second week of free agency begins as well.
"We need more shooting. We have some guys who are versatile and can play center and four. We can use a stronger center, and those are the two biggest things. Maybe another ballhandler as well," he said.
While the Celtics have already lost one key contributor from last season (Evan Turner) in free agency, it remains unclear whether Ainge will look to bring back a pair of restricted free agents in Jared Sullinger and Tyler Zeller as the number of players on the open market dwindle.
"I've talked with both those guys and we'll continue to see how it all plays out," Ainge said. "We are still looking at doing deals and we're certainly not finished for the summer. Those are two very good players and we'll continue talking with them as the summer goes along."
Boston's No. 23 overall pick, center Ante Zizic, will not be filling the stronger center role for Boston next season as Ainge said the team will draft-and-stash him in Europe. No decision has been made yet on fellow first round pick Guerschon Yabusele, who remains in consideration to take one of the team's final roster spots along with second-round picks like Demetrius Jackson and Ben Bentil.
While Ainge tries to piece together the remainder of the roster, he admits the road will be daunting to catch a 73-win Warrior team that just added the best free agent on the market. However, that reality is not going to stop his quest from taking a big step forward as a franchise after landing Horford.
"It's pretty tough to win more than 73 games," he said. "Listen, [the Warriors] are an outstanding team. And nobody can deny the great talent that they have. But we're not going to just lay down and die, I'll tell you that."