Celtics
Danny Ainge: 'It's time' for James Young to show what he can do
Young is shooting 66.6 percent from 3-point territory in summer league.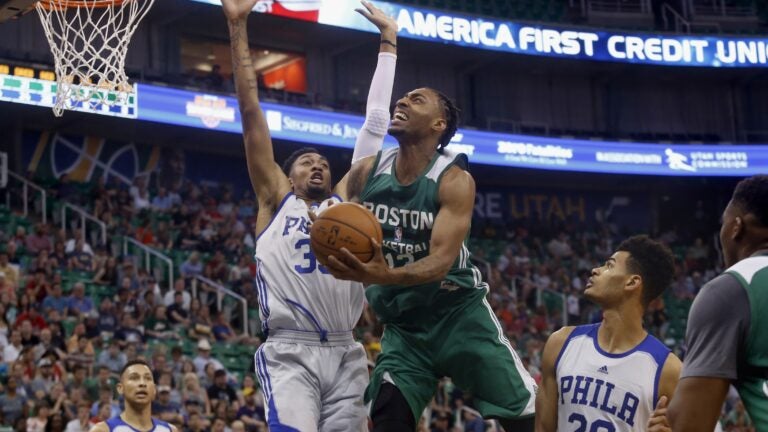 The Celtics drew up a play for James Young to take the final shot of the Celtics-Spurs summer league game on Thursday. But Young never got the ball. Instead, Terry Rozier called for the shot, and knocked down a game-winning 3-pointer.
Young, who is two years younger than 22-year-old Rozier, has struggled to get minutes and opportunities with the Celtics during his two years with Boston. On Thursday, Boston tried to give Young an opportunity, and perhaps fittingly, another player grabbed that opportunity away from the young shooting guard.
The offseason departure of Evan Turner, however, could free up more game time for Young, who has averaged 8.9 minutes in 60 NBA games.
"Listen, you have to earn a roster spot," Ainge said of Young, via ESPN.com. "There are some exceptions, like James Young is an exception. He was drafted at 18 years old, and we have to be patient with him, but now it's time. But competition is a good thing. It brings out the best in these guys."
Rozier, one of the Celtics' many guards in competition for game time, is fully aware of the opening as well. He said on Thursday that he intends to fill the void created by Turner's departure. But don't count out Young just yet.
During three games in Utah summer League, Young averaged 11.6 points, five rebounds, 1.6 assists, and 1.6 steals. He shot 11-of-27 (40.7 percent) from the field and 8-of-12 (66.6 percent) from the 3-point line. And while it's not NBA-level competition, those numbers are a considerable improvement from his 30.6 field goal percentage and 23.1 3-point percentage from the 2015-16 season.
"I've been putting a lot of work in," Young told Celtics.com after leading the C's with 17 points on Tuesday. "So it's just starting to show off and I'm just going to keep working until I'm where I need to be."
https://twitter.com/celtics/status/750106703924867072