Celtics
Jaylen Brown's MRI comes back negative on knee, rookie remains day-to-day
The 19-year-old small forward hyperextended his right knee in Boston's summer league opener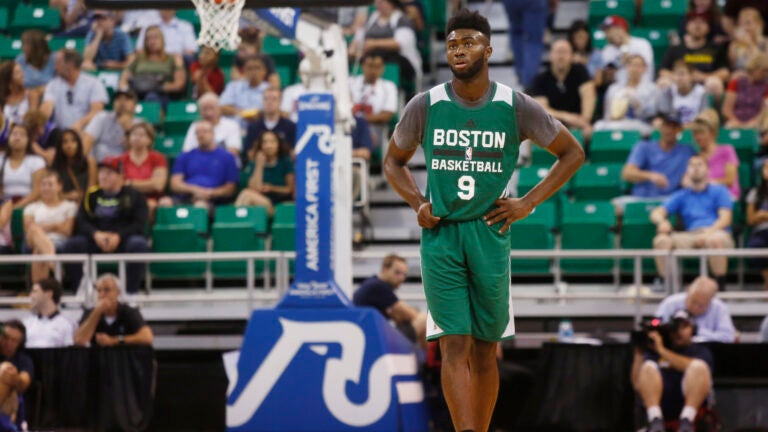 Jaylen Brown, the No. 3 overall pick in the 2016 NBA Draft, could return to summer league action for the Celtics as soon as this weekend after an MRI revealed only a bone bruise in his sore right knee.
The rookie small forward sat out Thursday's matchup with the Spurs, the team's final game during Utah summer league.
"I want to play," he said. "I know it's summer league, but I want to play, so I'm gonna try to get back as soon as possible if I'm healthy. I'm gonna be very cautious, but I want to play."
Assistant coach Micah Shrewsberry understandably leaned more towards a cautious approach when discussing how he would handle Brown's eagerness in returning to the court.
"It wasn't anything that was drastic. A bone bruise, he's sore, but I like my job," Shrewsberry said with a smile. "If I put him in there Danny [Ainge] and Brad [Stevens] will probably be telling me tomorrow I'm looking for new employment. I'd be interviewing in Las Vegas."
Despite Brown missing his second straight game, Shrewsberry is confident that the former Cal star will be able to take plenty out of his summer league experience so far.
"He wants to play, he wants to prove himself and show everybody how good he is," Shrewsberry said. "It's still learning. And he has to learn in any way, whether that's sitting on the bench next to one our assistants and watching, they can point things out to him. That's how he has to take it. Every opportunity is a learning opportunity for him."
Brown initially suffered the knee injury in his summer league debut against the Sixers on Monday night.
"It was a loose ball and I guess one of the players dived on the floor and his shoulder went into my knee and my knee kind of hyperextended backward," Brown explained.
The 19-year-old wing managed to finish the game anyway and finished with 16 points and a game-high 17 free throw attempts in just 28 minutes of action. Brown has paid the price though for that kind of aggressiveness with some various aches over the past few days.
"You've got to get your body prepared," Brown said. "You've got to put on some extra weight to make sure you can bump and grind with those big guys down there. Getting to the line 17 times, your body's taking a beating down there. It's taking a lot of pounding, so my body has to be prepared. Mentally I have to be ready and it's a man's league."
Brown's next opportunity to suit up will come on Saturday in Boston's Las Vegas summer league opener.