Celtics
Celtics fans banked on getting Tim Duncan in 1997, but instead he became a legendary what-if
The Spurs hit the jackpot in the 1997 NBA lottery and ended up with a generational superstar— one who called it a career Monday.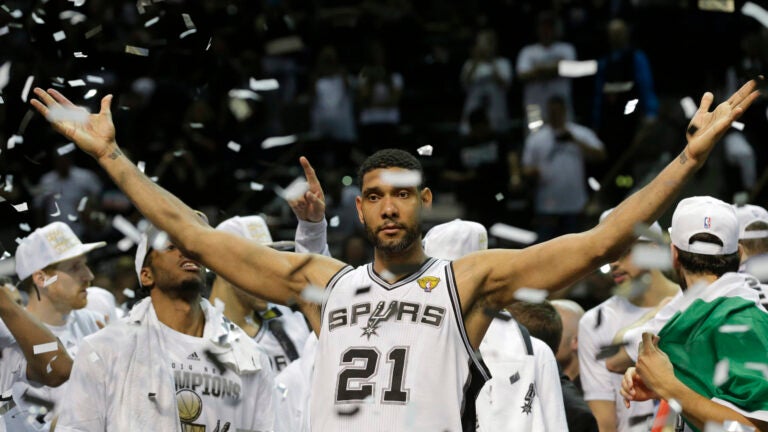 COMMENTARY
Unless it involves Derek Jeter, whose entire career was one prolonged fist-pump of a salute, I'm not one to begrudge a soon-to-be retiring legend's farewell tour.
It's not just about the athlete saying goodbye to the fans, but the fans saying goodbye to the athlete. It matters both ways. No one wants David Ortiz to just walk away and become a baseball ghost at season's end, save for perhaps Yankees fans and the vast majority of sensible American League pitchers. Besides, it's fun to see all of the ridiculous, kitschy gifts the departing icons get as parting tributes. I'll bet you this never made it to Mariano Rivera's zip code, let alone his actual house.
But, man, Tim Duncan's official farewell Monday — which arrived not via some abstruse sentimental post on The Players' Tribune but instead in the form of a 539-word press release from the Spurs, and not a verb more — was as fundamental and perfect and old school as his trusty bank shot.
Like his trademark shot, we could see it coming, and yet there was nothing that could be done to stop it. Duncan is 40 — sixth months older than Celtics coach Brad Stevens — and his skills had slipped, but the void he leaves affects more than just the Spurs. He's one of the top 10 players of all time, the greatest player to retire this year, and there's no successor, in style or substance, to be found.
In our corner of the world, of course, the ending of Duncan's NBA career inevitably carries Celtics fans back to its beginning. It's impossible to think of him as anything other than a Spur after 19 seasons, five championships, and a pair of Most Valuable Player awards among countless other accomplishments. (An unheralded yet extraordinary one: The Spurs never missed the playoffs during his career.) But in Boston, he will always be remembered as a what-if.
Missing out on Duncan despite having the highest odds (36.3 percent) of landing the top pick in the 1997 NBA Draft is not the most lamentable what-if in Celtics history. Len Bias occupies that top spot, hopefully forever, and Reggie Lewis is his fellow tragic runner-up. But in terms of basketball matters, believing they were going to get Duncan and ending up with a not-ready-for-prime-time Chauncey Billups and Ron Mercer in the No. 3 and 6 spots that year was nothing short of devastating.
Duncan was such a sure thing coming out of Wake Forest that even Rick Pitino, the then-Celtics coach whose NBA player evaluations would prove hindered by impatience (hello, Travis Knight), had him pegged exactly right in the hopeful days before the '97 lottery.
"When you get a Tim Duncan, you are getting something really, really special, not only as a basketball player, but with an incredible attitude," said Pitino. "He uses the glass as well as any young player I've seen. You don't see many young kids use it like he does. He's just got the total package."
While Duncan instantly fulfilled those total package predictions with the Spurs, winning Rookie of the Year in his first season and Finals MVP in his second, the Celtics endured various fits and stops in trying to build a team that could hang Banner 17 from the rafters. It was a decade later that they finally did so, when Danny Ainge pulled off deals for Ray Allen and Kevin Garnett after the ping-pong balls again refused to bounce their way before the 2007 NBA Draft.
I suspect I'm in the minority here, but I'm not sure I'd take a do-over on the 1997 lottery and the Duncan disappointment if such a thing were possible. I mean, I probably would — Celtics fans would have adored Duncan's style — but I'm not sure.
Yeah, there were some hard times, especially before Pitino bailed out. But had Duncan ended up here, we probably never would have known Paul Pierce, who fell to 10th in the draft the next year. The Truth became the quintessential he-gets-us Boston athlete of his era. I wouldn't have wanted to miss out on him. We'd never have known Garnett — the longest-tenured player in the league — and everything that was possible on his watch. He was special, too.
Maybe the Celtics would have surrounded Duncan with a skilled supporting cast — hell, maybe they would have had the sense to draft Tony Parker in 2001 — and we'd be talking of hanging Banner 19 or 20 now. But we know what we missed out on in Duncan. I wouldn't have wanted to miss out on all of the good things that happened in the aftermath, things we would have never known or suspected had the ping-pong balls cooperated. As it turned out, it was a win-win situation either way. It just took longer without him.
I am, however, comfortable in saying that the answer to this hypothetical is a resounding "No."
@GlobeChadFinn Does the Tim Duncan/Rick Pitino Celtics team win an NBA title?

— Justin Rebello (@justinreb21) July 11, 2016
The Celtics would have won with Duncan, eventually, had he stayed. But would he have stayed? Remember: He was a free agent in the summer of 2000, and nearly bolted the Spurs to join the Magic (along with Grant Hill, with Tracy McGrady signing with Orlando after Duncan stayed put).
I couldn't find evidence of it via the Google machine, but I swear I remember Duncan admitting in recent years that he dreaded the possibility of ending up in frigid Boston. He considered leaving the Spurs — and Gregg Popovich, David Robinson, and a near-perfect situation — after three years. I cannot convince myself he would have stayed in Boston to play for Pitino and his misguided pressing defense and with … uh, who, Toine?
Duncan ended up in the best place for him. Nineteen decorated seasons later, he's leaving, and the reminder of what have been in Boston fades just a little more.