Celtics
Is Terry Rozier ready to be the Celtics' next Evan Turner?
The second-year guard has made major strides during Celtics summer league action.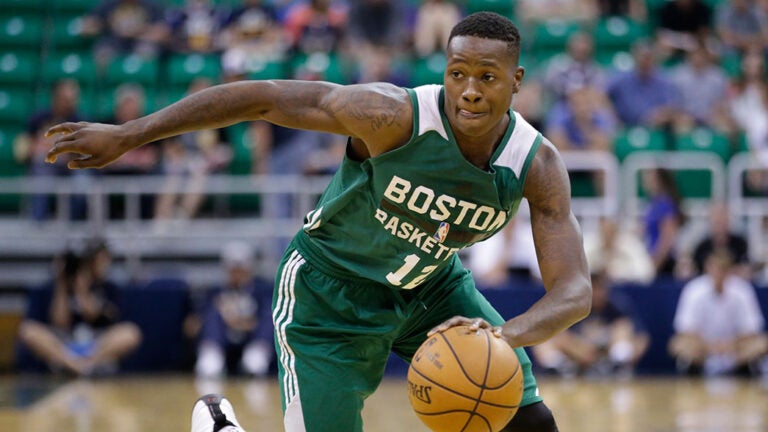 Just over one year ago, Terry Rozier was considered by many pundits to be the biggest reach of the 2015 NBA Draft. The No. 16 overall pick had limited opportunities during his rookie season to shed that reputation, averaging only 1.8 points per game while shooting a mere 27.4 percent from the field over 39 contests.
Celtics president of basketball operations Danny Ainge selected the Louisville product last June knowing full well Boston's backcourt was already stocked with talented players in Isaiah Thomas, Avery Bradley, Marcus Smart and Evan Turner. Following an uneventful rookie season, it was unclear just when and how Rozier was going to get a chance to show what he could do in green.
Fortunately for Rozier, the backcourt logjam cleared up quickly this month in the wake of Turner signing a four-year $70 million deal with the Blazers. With the Celtics opting to spend their salary cap space on a frontcourt upgrade (Al Horford) instead of a veteran replacement for Turner, Ainge is betting on some of his younger internal options to steer the second unit next season.
After two weeks of summer league action in Utah and Las Vegas, Rozier is making Ainge's gamble look wise. The 6-foot-2 speedster has regularly been the best player on the floor for either team during Boston's seven summer league contests.
Terry Rozier #FTW!??? pic.twitter.com/v9qrItheWL

— Boston Celtics (@celtics) July 8, 2016
The 22-year-old has turned plenty of heads with his consistency, scoring double-digits in six straight games while captaining Boston's offense. He's shot an efficient 52 percent from the field and 43 percent from 3-point range, showing off dramatic gains with both his jumpshot and finishing ability.
"One of the things I said before training camp is that I'm smarter [now]," Rozier said in Las Vegas this week. "I felt like I could always play, but I just feel that my opportunity came late obviously in the playoffs [last season]. I got to see that see that as a rookie early and it made me smarter to just see things. Then, this summer I went over a lot of things and touched on things I could do as a point guard. I think I just became smarter more than anything."
Rozier believes the playoffs reps he was given once Avery Bradley went down with a leg injury against Atlanta have been invaluable to his on-court progress.
"A lot of rookies can't say that [they played in postseason]," Rozier said. "Obviously, I played because of injuries, but just to be thrown in there as the next man means a lot. It just gave me the confidence that I can play at this level and I just want to keep it going."
There's a big difference between excelling in summer league and the regular season, but Rozier's all-around play in July is just one of the reasons why he appears poised to replace Turner's production. Much like the ex-Celtics swingman, Rozier has been a contributor in several components of the game, including rebounding (5.3 per game) and playmaking (3.5 assists per game) in summer league.
"I think that Terry Rozier has made a great case for himself for next year," Ainge said on ESPN Wednesday night. "He's been our best player from the first day of training camp this summer. He's been terrific for us. He was a good player last year in training camp, just didn't get a lot of opportunities because of our depth at guard. I think he's winning a spot [in the rotation]."
Ultimately, a battle at training camp between Rozier and Smart is likely to determine which guard gets the primary ballhandling duties with the second unit after Turner's exit. Still, it's evident already that Rozier has separated himself from the young talent at the bottom of the Celtics' depth chart. If the guard's production carries over to the fall, Boston may not end up missing Turner very much after all.
https://twitter.com/celtics/status/753021466598223872