Celtics
Where do the Celtics go from here?
Danny Ainge has a lot on his mind this summer.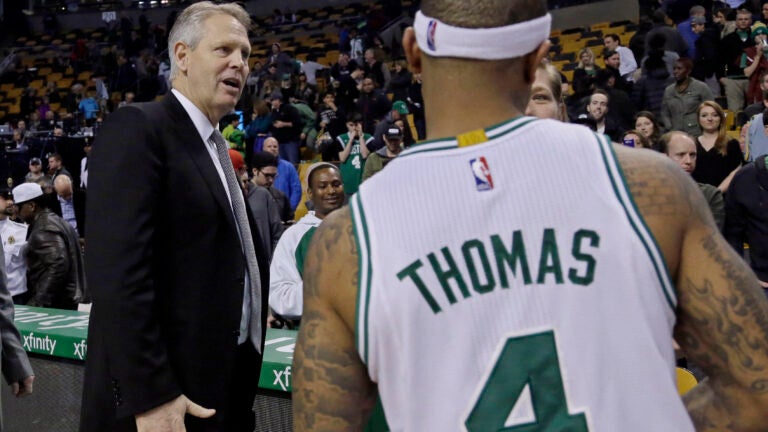 COMMENTARY
Breaking news, guys.
Get those retweets ready.
This information is about to set the Internet on fire.
According to multiple sources from around the globe, the Boston Celtics are actively looking for ways to improve their basketball team.
It's true.
At this very moment, the front office is working the phones in pursuit of championship talent and has no intent on stopping until the job is done. In the meantime they'll continue to monitor stars like Russell Westbrook, DeMarcus Cousins, Jimmy Butler and Blake Griffin. They'll keep tabs on the entire league and stay prepared to swoop in. Giannis and Jabari Parker aren't clicking in Milwaukee? Boston's on it. Andrew Wiggins and Tom Thibodeau can't get along in Minnesota? Boston's on it. Andre Drummond freaks out and takes a pair of scissors to a stack of game day throwback jerseys in Detroit?
You get it.
Boston's on it.
Now obviously the biggest challenge with these trade talks is the part where the other team says 'yes'. It takes to two tango and lately Danny Ainge and Mike Zarren are starring in a remake of A Night at the Roxbury. You wanna dance? What? No? What? Huh? No? Ahh ok. Still there's a reason Boston currently has the fourth best odds to win the 2017 title — and it's not the addition of Al Horford. It's the potential of that next addition. It's the fact that there are realistic scenarios where Boston finishes next season with either Westbrook, Cousins or Butler in green.
Does the acquisition of another star give the Celtics enough firepower to overtake Cleveland? Probably not. Can you win a title with Al Horford and Isaiah Thomas as your second and third best players? Probably not. That's where losing Kevin Durant really burned Boston. If KD didn't have the superhuman power to resist Tom Brady's advances, Ainge would have had Horford and Durant and then made another deal to contend this season and beyond. But with Durant in Golden State and free agency dry, the Celtics are already looking at next next season. Now they can only hope to trade for a star this year and lure another to town next summer. Basically, regardless of how much fun it will be to watch the 2017 Celtics compete, even if they emerge as the second best team in the East, everything is slightly insignificant until another shoe drops. It's still not about who they are as much who they might become, or who they need to become. Nothing matters until they find another star. And let's be honest, the longer this takes, the more convoluted it will be. The more time needed to bring about change, the more things will have to change.
For instance, one of the Celtics' greatest strengths right now is that so many key contributors are on super friendly deals. Over the next two years, Isaiah Thomas, Avery Bradley, Jae Crowder and Marcus Smart will make a combined $51 million. Horford alone will make $54 million. But if we're to assume the Celtics won't have the firepower to win the 2017 championship, that only gives them the 2018 season before Bradley and Thomas are both unrestricted and out for blood after years of underpayment. That's the same summer Smart hits restricted free agency. Who knows what Marcus will look like after two more seasons, but either way it's hard to imagine the Celtics breaking the bank for 29-year-old Isaiah Thomas. In that sense it might not be long before the All Star (and Boston's de facto captain) is also their most valuable trade chip.
And then there's the chance there's no trade at all. Maybe no one steps up and gives Ainge what he wants for the assets he has. Maybe next year's lottery rolls around, the Celtics win the top pick, consider their options and decide – "You know what? We may have just paid Al Horford, but we're changing course. We're drafting Harry Giles and packing our bags for the long road." In that scenario you look ahead to this next season and start asking questions like — "so what's more important, winning 50 games with Jaylen Brown averaging 10 minutes a night, or 40 games with Brown averaging 20 minutes? Are regular season minutes better used trying to squeeze all you can from Amir Johnson, or teasing out what you might have in Jordan Mickey?
That's a depressing mentality but at some point it's the right one. At some point bearing down and going for broken is as careless as it would have been in that first year under Brad Stevens. That's the mentality that's kept so many of the league's teams stuck in purgatory for years.
Fortunately the Celtics are not those teams. There's reason to believe Danny Ainge has the confidence and internal support to do whatever he knows is right for the big picture regardless of how it looks in the light of present day. If the Celtics need to change course and adjust expectations, they'll do that.
But they obviously don't want to.
That's why they're grinding.
That's why you hear their name thrown around anytime any player finds himself anywhere close to the trade block.
And that's why — BREAKING NEWS — it won't stop anytime soon.
Danny Ainge's biggest trades
[bdc-gallery id="1020444″]