Celtics
Predicting all 82 games of the 2016-17 Celtics season
We forecasted the whole season so you don't even have to watch!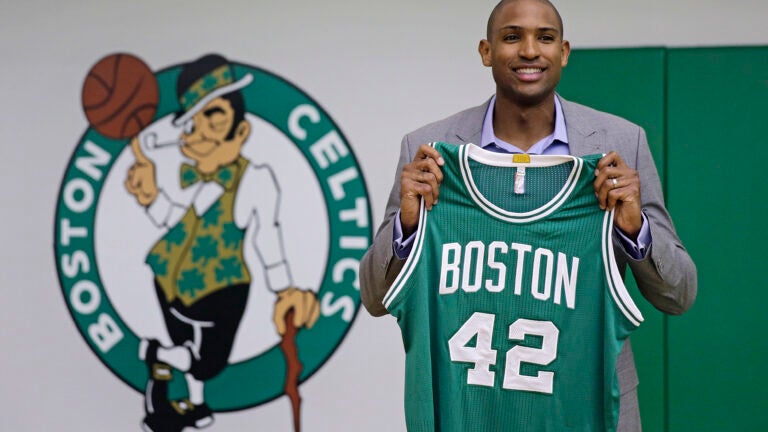 COMMENTARY
The NBA released its 2016-17 schedule last week, but it was kind of a lazy operation. After all anyone can 'release' a schedule. That doesn't take skill. We all know that a schedule is nothing without super serious predictions on what will definitely happen – so that's what we'll do. Right here. Right now. Individual predictions for every Celtics game from one through 82. Guaranteed 100 percent accuracy or my name isn't Vitor Faverani.
October 26: Nets at Celtics
The Garden is electric and Brooklyn's starting five of Jeremy Lin, Brook Lopez and three semi-retired Slam Ball players can't keep pace. Boston wins 129-103.
October 27: Celtics at Bulls
Chicago's up three with four seconds left when Rajon Rondo and Dwyane Wade are ejected for committing simultaneous Flagrant 2 fouls — on each other. Isaiah Thomas hits all four foul shots and Boston wins 102-101.
October 29: Celtics at Hornets
North Carolina state troopers detain Kelly Olynyk after locals reported seeing a longhaired seven-foot-tall woman try to enter the men's bathroom. He misses the game. The Celtics lose 97- 91.
November 2: Bulls at Celtics
Jimmy Butler drops 40 but the Bulls lose another close one after Rondo purposely fires two critical late game passes off Dwyane Wade's unsuspecting face. Boston wins 103-99.
November 3: Celtics at Cavs
With LeBron still easing himself into the season, the Celtics jump out to a 20-point first half lead. With LeBron then deciding to try, the Cavs ultimately earn a 107-103 win.
November 6: Nuggets at Celtics
A lot of raffle winners, co-workers and friends of season ticket holders in the stands for the first real clunker on the Celtics home schedule. Boston celebrates with a 113-97 victory.
November 9: Celtics at Wizards
Reporter: Big win tonight against the Celtics, Marcin. You wanted this one pretty bad?
Marcin Gortat: You know, man. I did the screen shot, man. I did it. And I thought about this revenge every day since.
Reporter: And now that you finally have it – that sweet revenge – do you feel better? Was it worth holding that grudge?
Gortat: You know, I thought it would be but the truth is I'm not sure. Is it ever worth it? What do I strive for? Will I ever fill this void?
Reporter: OK folks and that's all from Washington, where the final score tonight is Wizards 103, Celtics 92.
November 11: Knicks at Celtics
It's 11/11 and the Celtics wished for a visit from this weird mix of ego, talent and Sasha Vujacic. Boston wins 99-97.
November 12: Celtics at Pacers
The new-look Pacers win big and make a statement behind MVP candidate Paul George. This makes People's Sexiest Man Alive candidate Larry Bird very happy.
November 14: Celtics at Pelicans
Anthony Davis posts 20 points, 11 boards and four blocks — in the opening six minutes — and the Pelicans run away with a 114-101 win.
November 16: Mavericks at Celtics
Harrison Barnes leads the Mavs into Boston as the most disrespected 24-year-old Olympian, NBA champion and 100 millionaire in world history. Also, the Mavs stink. The Celtics win 114-102.
November 18: Warriors at Celtics
Tom Brady sits courtside and stares blankly at Kevin Durant for four quarters, periodically shaking his head in disgust. Durant shoots 4-21. The Celtics win 121-116
November 19: Celtics at Pistons
A Saturday in Detroit after a Friday in the national spotlight is bad news for Boston. They lose this one 99-83 and have also survive a scare when Boban Marjanović accidentally swallows Isaiah Thomas.
November 21: Celtics at Timberwolves
Tom Thibodeau's halftime speech ends with Zach LaVine's head on a spike and the Baby Wolves go off to earn a 114-97 victory.
November 23: Celtics at Nets
It's the night before Thanksgiving and the Nets are hungry, but their starting five of Jeremy Lin, Brook Lopez and three extras from the Dick Butkus version of Hang Time are overmatched. Celtics win 89-83.
November 25: Spurs at Celtics
A server at the Four Seasons spikes Kawhi Leonard's Thanksgiving leftovers with a near lethal dose of tryptophan — but it somehow only makes him stronger. Leonard collects 27 points, 17 rebounds, five assists, five steals, five blocks and five wads of Marcus Smart spit to the face in a 98-95 Spurs win.
November 28: Celtics at Heat
Hassan Whiteside blocks 13 shots, including all nine of Tyler Zeller's attempts, in a 93-88 Heat win.
November 30: Pistons at Celtics
Billy Curley, Danya Abrams and Uka Agbai sit courtside with Wyc Grousbeck to welcome BC great Reggie Jackson back to Boston. Celtics win 114-101.
December 2: Kings at Celtics
After more than one month together in the locker room, Matt Barnes finally punches DeMarcus Cousins in the face. Celtics win 130-111.
December 3: Celtics at 76ers
Brad Stevens' deep infatuation with Ben Simmons begins to take shape as the rookie drops a triple double in a 93-89 win.
December 5: Celtics at Rockets
Avery Bradley and Marcus Smart hold James Harden to 7-31 from the field but Harden goes 32-35 from the line and the Rockets win by 10.
December 7: Celtics at Magic
It's fitting that the Celtics play "Magic" on Larry Bird's 60th birthday. Not sure if it would be cooler if someone actually had the foresight to plan that or if it just happened coincidentally but either way this is a must-win for Boston. They take it 133-100.
December 9: Raptors at Celtics
It's "If you're gonna make a fat joke at least make it funny" night as Jared Sullinger returns to the Garden with Toronto. Boston wins 105-99 thanks in large part to Jaylen Brown's first career double-double.
December 11: Celtics at Thunder
A mid-air collision between Russell Westbrook and Marcus Smart triggers a tsunami warning off the coast of Galveston, Texas. Also Oklahoma City wins 109-93.
December 14: Celtics at Spurs
That tryptophan counter reaction opened another channel in Kawhi Leonard's brain and he's now equipped with the court vision of Pau Gasol. The teammates combine for 45 points, 27 rebounds and 25 assists in a 91-84 win.
December 16: Hornets at Celtics
Frank Kaminsky posts eight points, five rebounds and four fouls in a 104-87 loss to Boston. Michael Jordan lights a cigar.
December 18: Celtics at Heat
Hassan Whiteside picks up four fouls in the first five minutes and spends the majority of Miami's 104-89 loss on the bench.
December 20: Celtics at Grizzlies
They're older and so much richer, but the Grizzlies can still slap you around from time to time. Boston gets that tonight in a 91-78 loss.
December 22: Celtics at Pacers
The budding Celtics/Pacers rivalry intensifies when Paul George hits a buzzer beating turnaround for a 107-106 Pacers win. "I'm always confident when Paul has the ball in that situation," says Pacers team president Larry Bird. "It's pretty much the opposite of how I'd feel when Ainge shot the ball."
December 23: Thunder at Celtics
Watching Brad Stevens coach against Free Russell Westbrook will be like watching Gary Kasparov play chess against a bazooka. This time man gets the best of machine and the Celtics win 135-127.
December 25: Celtics at Knicks
Christmas day at MSG is marred by fatal outbreak of ear poisoning during a halftime performance by James Dolan's band "JD & The Straight Shots." Celtics lose 105-99.
December 27: Grizzles at Celtics
Mike Conley will make $26.5M this season. The five-man unit of Isaiah Thomas, Avery Bradley, Marcus Smart, Jae Crowder and Kelly Olynyk will make a combined $27.8M. This is not a prediction just an absolutely insane reality. Celtics win 91-82.
December 29: Celtics at Cavs
At Cavs shootaround:
Kevin Love: Ay Bron, the guys said you're having a New Year's party? Any reason I wasn't invited?
LeBron James: Oh man. Kevin dude I'm so sorry. A lot of people who were supposed to be on there are saying the same thing. Total mix up. Please come on by.
Love: Oh sweet. Yeah, of course. Yeah, man. That's great.
*LeBron five minutes later on Twitter*
"A spam folder makes no mistakes."
Love shoots 1-21 and the Celtics steal one on the road, 103-97.
December 30: Heat at Celtics
Miami lets their collective mind wander past a freezing Friday night in Boston and onto their New Year's Eve plans in South Beach. Celtics win 104-85.
January 3: Jazz at Celtics
The game is delayed for 10 minutes in the fourth after Rudy Gobert's head becomes wedged between the rim and backboard. Utah rides the inspirational escape to a 105-100 win.
January 6: 76ers at Celtics
The Celtics eat up Ben Simmons in his first trip to the Garden and avenge the earlier loss with a 20-point win. Asked what they did to coax Simmons into a career-high 10 turnovers, Brad Stevens responds: "Yeah, like I'd tell you guys."
The room laughs way too hard.
January 7: Pelicans at Celtics
The Brow is no match for Brown. Jaylen steals the show with a monster dunk on Anthony Davis's head that propels the rookie into the dunk contest. Celtics win 121-101.
January 10: Celtics at Raptors
Welcome to Canada where Olynyk is king and the Raptors still have a damn good basketball team. Celtics lose 112-103.
January 11: Wizards at Celtics
Reporter: So, Marcin. They got the best of you this time. Does that sort of, you know, sully the revenge factor from before?
Marcin Gortat: I already told you, man. I don't want to talk about that. It was a lessoned learned. I'm just trying to do Marcin.
Reporter: Well, after that hard lesson, does Marcin have any advice for the kids out there?
Gortat: *staring intensely at the camera* Do not do the screen shot, kids. Listen to Marcin. Do not do the screen shot. Do not let me suffer in vain.
Reporter: And alrighty so that will do it here from Boston, where tonight the Celtics beat the Wizards 127-99.
January 13: Celtics at Hawks
Al Horford (14 points, 10 rebounds) double-doubles in his return to Atlanta but Paul Millsap (28 points, 20 rebounds) doubles Al's double-double in a 92-85 Hawks win.
January 16: Hornets at Celtics
Isaiah Thomas and Kemba Walker each go for 40 in the most adorable showdown in NBA history. Boston sneaks away with 103-95 win.
January 18: Knicks at Celtics
Inspired by the opportunity to hate Joakim Noah in a different uniform, the Garden crowd powers the Celtics to a 125-111 win.
January 21: Blazers at Celtics
Brad Stevens walks up to Evan Turner in pre-game and whispers, "butter cup" into his ear. ET suddenly stands at attention with a funky look in his eye and goes on to play his worst game in three seasons.
After Boston's 100-81 win, Stevens walks by Turner again and whispers "shh bby is ok". ET collapses to floor and finally wakes up in a daze. "Oh hey, coach," he says. "Good luck tonight. I'll see you after the game."
January 24: Celtics at Wizards
Reporter: So, Marcin, thoughts on tonight?
Marcin Gortat: Come on, man.
Reporter: Come on, what? I asked you a question, Marcin. Do. You. Have. Any. Thoughts?
Gortat: *bursts into tears*
Reporter: And that's a wrapski from Washington folks, where the Wizards fall to the Celtics, again, 125-107.
January 25: Rocket at Celtics
Boston has no answer for Mike D'Antoni's offense but still ekes out a 176-173 win.
January 27: Magic at Celtics
Jeff Green has the ball for Orlando at the top of the key with 10 seconds left in the game. The Magic are down one . . . nine seconds . . . Jae Crowder's right in Green's face . . . eight seconds . . . Green jabs right . . . seven seconds . . . he jabs left . . . six seconds . . . he steps back and dribbles between his legs . . . five seconds . . . and between his legs again . . . four seconds . . . Crowder isn't falling for it . . . three seconds . . . Green can't shake him . . . two seconds . . . Green drops the ball and shrugs his shoulders . . . one second . . . and walks calmly off the court . . . buzzer. Celtics win 111-110.
January 28: Celtics at Bucks
Giannis Antetokounmpo sets two records as the first player in NBA history to record a quintuple double and the first to ever dunk in a game from the three-point line. Bucks win 101-88.
January 30: Pistons at Celtics
Doron Scheffer, Khalid El–Amin and Denham Brown sit courtside with Steve Pagliuca to welcome UConn great Andre Drummond back to New England. Celtics win 101-91.
February 1: Raptors at Celtics
When Al Horford is scratched at halftime with the flu, Marcus Smart heroically steps in to guard Jonas Valanciunas. The 7'2'' Valanciunas scores 25 second half points and the Raptors win 99-91.
February 3: Lakers at Celtics
Isaiah Thomas's 40-point effort ruins Brandon Ingram's first trip to Boston. The 117-98 final score harshes Luke Walton's buzz.
February 5: Clippers at Celtics
It's Super Bowl Sunday which means Paul Pierce will play his last game in Boston on the same day Tom Brady wins his fifth Super Bowl, on the same day David Ortiz kicks back laughing at the beach wondering what's taking the other two so long.
Celtics win 119-116.
February 8: Celtics at Kings
DeMarcus Cousins posts 35 points and 18 rebounds — but for which team? OK, it's still Sacramento. And the Celtics still win 113-97.
February 9: Celtics at Blazers
The Blazers win big after Paul Allen flies a microscopic drone into Brad Stevens' nostril and streams a wireless connection to the coach's brain. Final score: Blazers 125, Celtics 99.
February 11: Celtics at Jazz
Dante Exum drops 25 points and 15 assists and the Jazz are very much for real. Utah wins 95-85.
February 13: Celtics at Mavericks
Valentine's Day with Dirk sounds like a dream and the Celtics are pretty much living it. The 38-year-old scores 30 on Kelly Olynyk, but Boston steals hearts and the win in Dallas.
February 15: 76ers at Celtics
Dario Saric scores 23 points and grabs 16 rebounds and Tommy Heinsohn finally concedes, "OK, I love this Satchich kid."
Celtics win 111-101.
February 16: Celtics at Bulls
Jimmy Butler posts a triple double that leaves Danny Ainge and Brad Stevens in awe. The Bulls win by 15.
February 24: Celtics at Raptors
Jimmy Butler posts a triple double that leaves Danny Ainge and Brad Stevens in awe. The Celtics beat the Raptors by two.
(Boston gave up Jae Crowder, Isaiah Thomas and the Nets' 2018 pick. Some people are happy about the trade. Others are angry. No one knows what's real. Also the Bulls had interest in Thomas after Rondo left the team to pursue a career in China.)
February 26: Celtics at Pistons
The new look Celtics trail from the start and fall 100-75 in Detroit.
February 27: Hawks at Celtics
Boston manages 38 points in the first half, and only 35 in the second. The Hawks win by 27 points and the media starts to wonder if Brad Stevens might be over his head.
March 1: Cavs at Celtics
The new starting lineup of Marcus Smart, Avery Bradley, Jimmy Butler, Kelly Olynyk and Al Horford finally gels and Boston takes down the defending champs on national TV. The media starts to wonder if Brad Stevens might deserve Coach of the Year. Celtics win 99-94.
March 3: Celtics at Lakers
Boston makes easy work of the Lakers, leaving coach Stevens with time for some pre-production work on his role in the basketball-themed remake of American Psycho. Celtics win 102-91.
March 5: Celtics at Suns
Terry Rozier breaks out with 28 points and nine assists in a spot start for Marcus Smart. Demetrius Jackson plays well as Rozier's back up and continues to prove himself NBA ready. Boston wins 111-103.
March 6: Celtics at Clippers
Marcus Smart celebrates his 23rd birthday with a Hall of Fame showdown — and Chris Paul provides the birthday beatings. Final score: Clippers 115, Celtics 99.
March 8: Celtics at Warriors
Boston gave away team secrets in that meeting with Kevin Durant — and that's the only reason the Warriors eke out this 125-102 victory.
March 10: Celtics at Nuggets
The locker room spirals into chaos when a joint falls out of Brad Stevens' suit pocket during his pre-game speeach:
Marcus Smart: Coach man, what is that?
Stevens: It's nothing, Marcus. So listen, as I was sa—
Avery Bradley: It doesn't look like nothing, coach.
Stevens: Avery, guys, it's fine. It's legal here. Trust me. Now Gallina—
Gerald Green: Trust is earned, coach. And that's not what this looks like to me.
Stevens punches a locker and storms out.
Boston loses 110-99.
March 12: Bulls at Celtics
Jae Crowder and Isaiah Thomas return to a rousing ovation from the sell-out crowd. Butler scores 27 in the Celtics 104-98 win.
March 15: Timberwolves at Celtics
In likely his last trip to Boston as a player, Kevin Garnett puts up 25 points and 15 rebounds. Then he wakes up from his pre-game nap, throws on his suit and heads out to cheer on his baby Wolves. Boston wins by five but there's still a surprise visit from Gino.
March 17: Celtics at Nets
It's St. Patrick's Day and the Nets are thirsty, but their starting five of Jeremy Piven, Brook Jacoby and three Barclays' janitors just doesn't cut it. Celtics win, 95-87
March 19: Celtics at 76ers
Ben Simmons is out with an injured wrist but Joel Embiid is still healthy and my god does he look scary. He finishes with 26 points, 16 rebounds, five assists and four blocks as the Sixers earn a season split with Boston.
March 20: Wizards at Celtics
Playing without big men Ian Mahinmi (out with injury) and Marcin Gortat (away from the team for personal reasons), Washington has no answer for Al Horford. The Celtics win 113-89.
March 22: Pacers at Celtics
Jimmy Butler and Paul George both go for 30+ points and 10+ rebounds but Marcus Smart wins the day with a 12-point fourth quarter that pushes Boston to a 112-110 win.
March 24: Suns at Celtics
Celtics win by 20.
Gino opens that ish wide and let's you see how big his mouth is.
March 26: Heat at Celtics
Hassan Whiteside is ejected three minutes into the game for a random and senseless flagrant two foul on Kelly Olynyk. Marcus Smart is ejected for sprinting in and tackling Whiteside into the stanchion. After Avery Bradley fouls out, Terry Rozier and Demetrius Jackson play the entire fourth quarter and Boston earns a 107-101 win.
March 29: Bucks at Celtics
Jaylen Brown walks into Brad Stevens' office before the game and says, "Coach, I want to guard Giannis. Let me have him."
Stevens looks the rookie in the eyes and replies, "Absolutely no way."
Celtics win 105-99.
March 31: Magic at Celtics
Aaron Gordon explodes for 25 points, 15 rebounds and drives Jimmy Butler insane with his defense. Orlando wins 95-85 and are quickly emerging as a team everyone is fearful of moving forward.
April 2: Celtics at Knicks
Derrick Rose drops 35 points— is what we might say if Rose wasn't sitting out this game out with a nagging hamstring. Celtics win 111-105.
April 5: Cavs at Celtics
With the top seed clinched, the Cavs bench every starter but Kevin Love — who Ty Lue plays 48 minutes and then blames for Boston's 106-93 win.
April 6: Celtics at Hawks
It's the last regular season game between these before the inevitable playoff rematch, and everyone would rather be somewhere else. Atlanta wins 102-96 in front of roughly 102 fans.
April 8: Celtics at Hornets
Tyler (eight points, four rebounds) outduels Cody (six points, two rebounds) in the Battle of Zellers – but Charlotte wins the war 93-86.
April 10: Nets at Celtics
The season's winding down, and the Nets want to play spoiler, but their starting five of Ron Jeremy, Brook Hogan and three dry board erasers is no match for Boston. Celtics win, 99-87.
April 12: Bucks at Celtics
It's over.
The regular season and this marathon prediction clinic are finally over.
The Celtics have been through a lot but tonight it's all worth with when they pick up their 50th win of the season. It's their first 50-win season since 2011 and the first of Brad Stevens' career.
Boston finished third in the East behind Cleveland and Indiana and will obviously host the Hawks.