Celtics
Jae Crowder's improved shooting and other impressions from the Celtics' preseason opener
Al Horford also meshed well with the starters in Boston's preseason opener.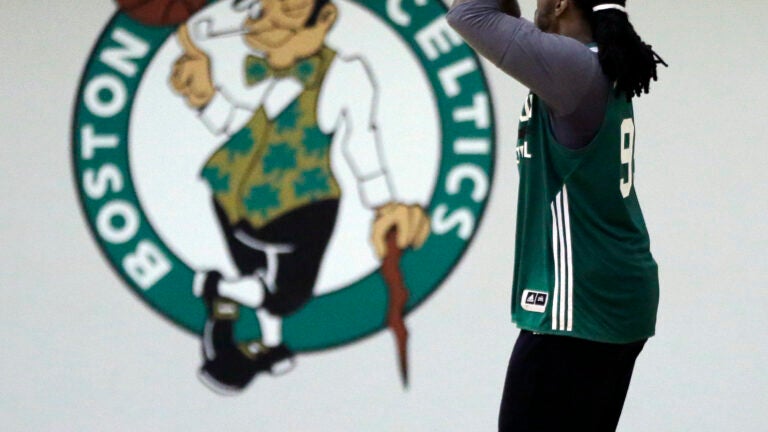 COMMENTARY
Al Horford only needed 12 seconds to score his first two points as a member of the Boston Celtics on Tuesday night. His first basket, a smooth 18-foot jumper from the top of the key kicked off an impressive start by Boston's new-look starting lineup in the team's preseason opener.
The Celtics eventually fell 92-89 to the Philadelphia 76ers at the Mullins Center in Amherst, but the early returns on Boston's 30-year-old free agent addition were promising. Horford looked right at home with his new teammates out of the gate, forming an imposing backline alongside Amir Johnson that meshed well on both ends of the floor.
The 6-foot-9 veteran scored eight points and grabbed eight rebounds in 15 first half minutes on a healthy mix of jumpers and finishes around the basket as he was utilized regularly as the screener in pick-and-rolls.
The former Hawk also showcased an impressive handle by dribbling coast-to-coast with speed on multiple occasions to setup easy buckets for Boston in transition.
The $113 million man has three more weeks to get a complete grasp of Brad Stevens' system down, but was very encouraged by how well he is already picking things up.
"I think when you're able to move the ball like that, you become a dangerous team," Horford told reporters after the game. "I know it's just the first exhibition game, but I take a lot of positives from this. We were getting a lot of good looks, and that's what you want on offense."
Other impressions from the Celtics' preseason opener
Avery Bradley is showing improved court vision
For much of his career, Avery Bradley has been mostly a one-trick pony on the offensive end of the floor: shooter/scorer. That was not the case on Tuesday night as the 6-foot-2 guard dished out six assists in 18 minutes, just one shy of his regular season career-high.
Bradley (1.6 career assists per game) sought out his teammates for better looks, creating terrific ball movement within the first unit early on. The new wrinkle to the shooting guard's game should only make Boston's starting five tougher to defend if he help keep opposing defenses on their toes.
The Celtics' bench needs its offensive weapons to get healthy
While Terry Rozier (12 points) carried over the momentum from his strong training camp on Tuesday, the rest of Boston's reserves struggled mightily for most of the night on the offensive end. The team's bench shot just 38.8 percent from the field and a paltry 1-of-13 from 3-point range, scoring a mere two points in over eight minutes during one first half stretch.
Kelly Olynyk (shoulder) may not be ready for the start of the regular season, but Gerald Green (hip pointer) could return to action later this week. Both players should provide a much needed scoring boost to the team's second unit upon returning to the floor.
Jae Crowder's offseason work on his jumper is already paying dividends
After the small forward stumbled down the stretch last season following an ankle injury, Crowder put in extra work to improve his 3-point jumper this offseason.
"Of course with Isaiah (Thomas) who's going to draw a lot of attention and Al's going to draw a lot of attention, I should have a lot of shots on the court where it's just me stepping into a shot and making it," Crowder said at practice last week. "So I'm just trying to work on those shots. And of course like I said, I just feel more comfortable off the dribble, making a shot, making a pull-up, or if it be just coming off the pick, stepping back and shooting a three."
As he predicted, Crowder was the beneficiary of several open looks on Tuesday night and he made the Sixers pay for them, going 3-of-6 overall from beyond the arc while showcasing a quicker release. If he can sustain that kind of improvement from his 33.6 percent 3-point shooting from last season, Boston's offense has the potential to jump higher into the league's top 10.