Celtics
5 keys to the Celtics' success this season
Improved rebounding and 3-point shooting will be among the points of emphasis for the Celtics this season.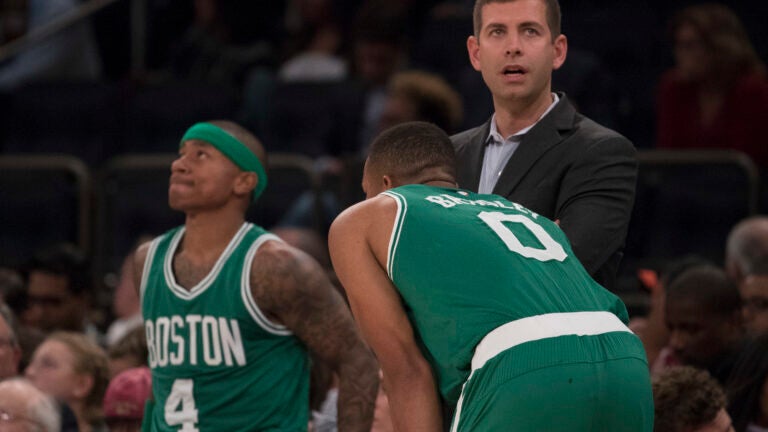 COMMENTARY
For the first time since the height of the latest "Big Three" era, the Celtics are forecast to be one of the best five teams in the league. For the the 2016-17 season, the Westgate Casino in Las Vegas has pegged Boston's over/under win total at 51.5, the second highest mark in the Eastern Conference. Another sports book (Bovada) has given the Celtics the fourth-best championship odds out of any team in the league.
Higher expectations are understandable after Danny Ainge added All-Star Al Horford to the fold this summer, but plenty still has to go right for the Celtics to live up to the hype. Here's a look at five items that will be critical to the Celtics' success this year.
1. Everyone chipping in on the defensive glass
While most Boston fans were not sad to see the Jared Sullinger era come to an end this past summer, there's no denying that the Celtics will miss his contributions on the glass. The power forward had the 15th best total rebounding percentage rate in the entire NBA last season, and no other big on Boston's current roster was above-average on the defensive glass.
New addition Al Horford's rebounding has been on the decline for the past couple seasons as well, a particularly troublesome sign since he'll be replacing Sullinger in the starting five. When you combine that reality with Brad Stevens' propensity to go with smaller lineups, the Celtics could be very vulnerable team on the boards.
The Celtics weren't a good rebounding team even with Sullinger (26th in defensive rebounding rate) in the fold last year, so the entire roster must make a committed effort on the glass to hold their own against bigger lineups.
2. Becoming an average 3-point shooting team
Ainge has given Brad Stevens plenty of rotation parts throughout his tenure in Boston, but that depth has failed to include a decent number of outside shooters. The Celtics have been unable to shoot above 33.5 percent as a team from 3-point range over the past three seasons, finishing 27th or worst in the NBA from beyond the arc during each of those campaigns.
In order for the Celtics to progress towards becoming a legitimate contender in the Eastern Conference, this year's team needs to take a big step closer middle of the pack NBA team from the perimeter. Replacing Sullinger (27.6% career shooter from 3-point range) with Horford (34% career shooter from 3-point range) should help, as will the departure of Evan Turner (24.1% from deep in 2015-16), but internal improvements are also needed. Jae Crowder (33%) and Marcus Smart (25%) need to become respectable threats, especially if they continue to hoist over four attempts from long distance each game.
A promising sign out of the preseason? Reserve guard Terry Rozier is showing the same improved accuracy that he exhibited during summer league.
Since summer league started, Rozier now 16 for 31 from deep (51.6 percent). Over preseason he's 9 for 15 (60 percent).

— Jay King (@ByJayKing) October 20, 2016
3. Taking the defense to the next level
Last year the Celtics showed the early makings of a defensive juggernaut. Avery Bradley, Crowder and Smart routinely hounded opposing guards and wings on a nightly basis, helping the team finish fourth overall in defensive rating, despite the lack of a true rim protector.
While Horford is not an imposing presence in the paint at 6-foot-9, his athleticism and experience will upgrade Boston's rim protection and make the defense even more potent, 1 through 5.  
"He's going to make them better defensively," Nets coach Kenny Atkinson said this week, "Which is a little scary, because of his pick-and-roll defense, and he protects the rim."
Horford's ability to switch onto and recover against penetrators will give Boston's guards and wings more flexibility to be aggressive on the perimeter against their men. That kind of floor coverage should give Stevens the formula for an incredibly stingy defense that could help Boston win games during off shooting nights.   
"I feel like the sky's the limit for us," he explained last month of the team's defensive potential. "I'm hoping that we can be one or two in the NBA on the defensive end. If we all lock in and that's our mindset going into every single game, I feel like it will not only help us win games but all our goals will come true being a top defense in the NBA."
4. A playmaker emerging within the second unit
Evan Turner was an effective catalyst off the bench last year, earning several votes in the Sixth Man of the Year balloting. The swingman headed west after receiving a four-year $70 million contract in Portland however, leaving the Celtics to look internally to replace his production and ballhandling.
Smart is a candidate to take on that added responsibility, and he's shown improved passing and handling throughout the preseason. Still, the struggles with his shot remain in place (3-of-22 from 3-point range this preseason) and an ankle injury could keep him on the shelf for the first couple weeks of the season. Both of those issues could limit his impact early in the year. 
Gerald Green was brought into the fold on a veteran's minimum deal, but an early-season hip issue has set him back out of the gate. He's still picking up Stevens' schemes and trying to shake off the rust with his own shot. Rookie Jaylen Brown could see minutes ahead of him as well.  
The one player who has risen to the occasion thus far is Rozier. His impressive strides during summer league have translated to the preseason, both with his shot and command of the offense.
"He's really, really improved as a shooter and scorer, and that's been something that he's worked hard on," Stevens said Wednesday. "So he's a grinder. He works hard at the game and it's no surprise that he's having success.  But we need him to, to be quite candid…We're going to rely on him."
The 22-year-old guard likely won't be able to sustain his preseason production (10 points in just 17 minutes per game, 54% FG), but if he can provide an offensive spark while Isaiah Thomas is resting on the bench, the Celtics could be dangerous offensively for 48 minutes every night.
5. Internal improvement continuing across the roster
Ainge has expertly assembled a young collection of talent over the past two seasons and he's also resisted trade overtures for core pieces like Bradley, Smart and Crowder. In order for Boston to take a step toward the elite in the Eastern Conference, those players have to reward Ainge for his faith in them.
Bradley has already started to do that this fall after focusing much of his offseason on becoming a more versatile offensive playmaker, instead of just a shooter.
"I know it's something that I needed to improve in order to take my game to the next level," Bradley explained. "I needed to add that to my game, trying to get my teammates involved and not just being a lockdown defender and shotmaker off of pindowns. I wanted to add something else to my game. And that's something that I'm challenging myself every single game, every single practice to get my teammates involved."
While Bradley has shown progress already, Smart and Crowder must build upon their own offensive games to create a formidable small-ball unit that can hold its own offensively while shutting down teams on the defensive end. If all three players reach those heights, Ainge will have the pieces he needs to pull the trigger on a trade for a superstar or potentially build with them via free agency to form a contender in the years to come.