Celtics
Isaiah Thomas scores 25, Celtics fight off Nets 122-117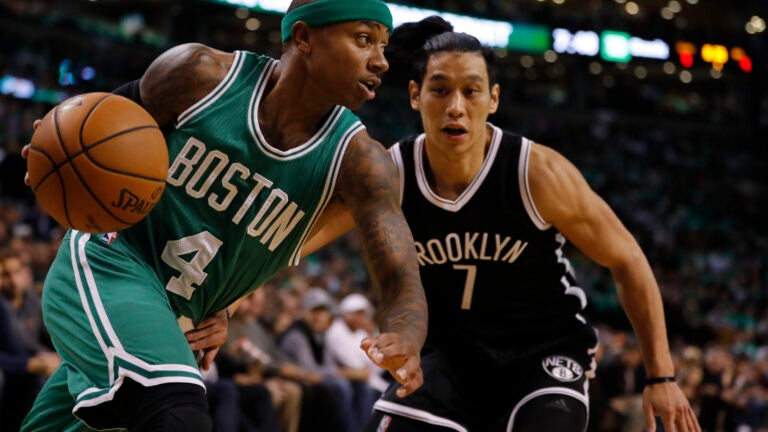 BOSTON (AP) — With 2:31 left to play, Brooklyn's Trevor Booker made a layup to cut the Celtics' lead to 10 points and Boston coach Brad Stevens pointed at his resting starters and told them to get back on the floor.
The Nets had erased most of a 23-point deficit against the Boston backups, and they would make it an eight-point game before Stevens got his first team back in.
''It's a reminder of how quickly things can turn in this league,'' Stevens said after his starters preserved a 122-117 victory in the season opener on Wednesday night. ''I probably will be less likely to leave them in that long if we're in a similar scenario. Hopefully we learn from it, and we're not.''
Isaiah Thomas had 25 points and nine assists, Jae Crowder added 21 points and Al Horford pitched in 11 in his Boston debut for the Celtics.
Bojan Bogdanovic scored 21 for Brooklyn, including a 3-pointer to make it 120-117 with 47 seconds left. But he missed another 3 with a chance to tie it after Joe Harris intercepted Thomas' cross-court pass, and the Celtics were able to hold on.
Justin Hamilton came off the bench to score a career-high 19 points and grab 10 rebounds for the Nets.
''Very pleased that we didn't give up and we kept on fighting,'' coach Kenny Atkinson said after his debut.
The Celtics led 112-89 with 8 minutes to play, and they led by 19 with 5:28 left when Avery Bradley went to the bench to join the rest of the first teamers, who started the quarter there. Brooklyn scored 11 straight points before Stevens decided he'd seen enough.
Thomas, Crowder, Horford, Bradley and Amir Johnson re-entered the game with an eight-point lead and 2:07 left and did just enough to protect it. Bradley had nine rebounds, the biggest after Hamilton's missed 3-point shot with 15 seconds left on another attempt to tie it.
Hamilton gave the credit to the Nets bench for closing the gap.
''They came in with the energy that we needed to have the whole game,'' he said.
MONEY WELL SPENT
Horford added five rebounds and six assists for the Celtics, who signed him during the NBA's offseason spending spree to a four-year, $113 million deal.
The Celtics are hoping he will help lead them to an Atlantic Division title this season, one year after they finished eight games behind Toronto with the No. 5 seed in the Eastern Conference playoffs.
''He's the same the same old Al,'' Atkinson said, ''doing the stuff and hitting the big shots.''
NEWCOMERS
Celtics No. 3 overall draft pick Jaylen Brown was pleased to hear that he didn't seem to have any nerves in his NBA debut. Brown scored nine points on 3-for-4 shooting, and he added two blocked shots in 19-plus minutes.
How nervous was he?
''On a scale of 1-10, I was a seven or eight,'' he said with a smile. ''You want to have a lot of energy, and it's hard to suppress your energy.''
FIRING AWAY
The Nets shot 44 3-point attempts, making 15. Atkinson said he wanted them to shoot more this season, but that number may be a little more than he planned.
''Yeah, 44 is a lot, but we'll look at them,'' he said. ''We said we want to take them, but they have to be open 3s.''
TIP-INS
Nets: Earlier in the day, Jeremy Lin donated $1 million to Harvard, where he graduated in 2010. The money will be used for undergraduate financial aid and to help renovate the school's basketball arena.
Celtics: Injured guard Marcus Smart gave the traditional season-opening thanks to the crowd for the Celtics.
UP NEXT
Nets: Thursday host Indiana. The Nets open their fifth season in Brooklyn.
Celtics: Thursday visit Chicago. The Bulls will try to hold onto the city's attention on an off-night for the World Series, where the Cubs are trying to win their first championship since 1908.