Celtics
Watch Brad Stevens' animated reaction after earning rare technical foul
The Celtics head coach took issue with a foul call that went against Jonas Jerebko in the fourth quarter.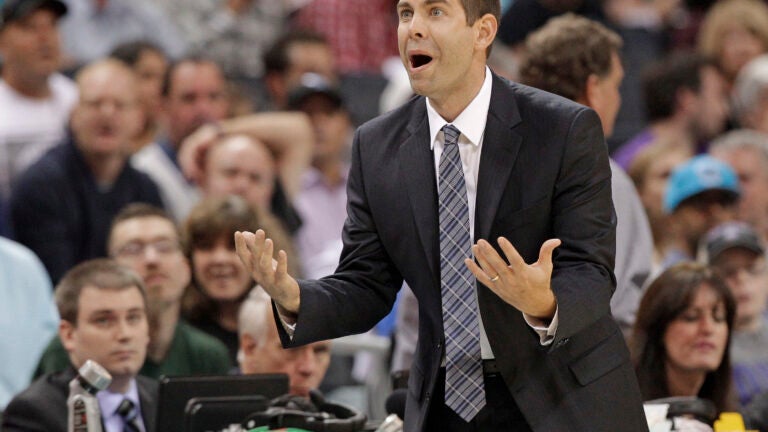 Celtics head coach Brad Stevens earned just one technical foul during the entire 2015-16 NBA season. It took a mere three games of the 2016-17 Celtics campaign for him to match that mark.
Stevens was whistled for a rare technical with 8:48 remaining during the fourth quarter of Saturday night's Celtics-Hornets matchup. Boston did not earn a friendly whistle from officials for the majority of the evening (Charlotte finished game with a 33-17 edge in free throws attempts), causing Stevens to erupt in frustration when Jonas Jerebko was whistled for an offensive foul while attempting to set a pick. The official's call and subsequent technical foul left Stevens looking flabbergasted by the whole sequence.
Brad Stevens looks petrified after that foul call https://t.co/5Gz1noco9H

— Brian Robb (@CelticsHub) October 30, 2016
The animated reaction Stevens had the Celtics bench buzzing at the time, according to Isaiah Thomas.
"Even Al [Horford] said something on the bench," Thomas told Adam Himmelsbach of the Boston Globe. "He was surprised that Brad got it. But he was like, 'You need that every now and then.' Brad shows that every now and then, every blue moon. We probably won't see it for another 50 games."
The Celtics were motivated by Stevens' outburst, breaking open the tight two-point game by going on a 15-3 run to help close out a 104-98 win and spoil Charlotte's home opener.