Celtics
Celtics exercise team options on Marcus Smart and Terry Rozier
The two young guards will return to the team for the 2017-18 season.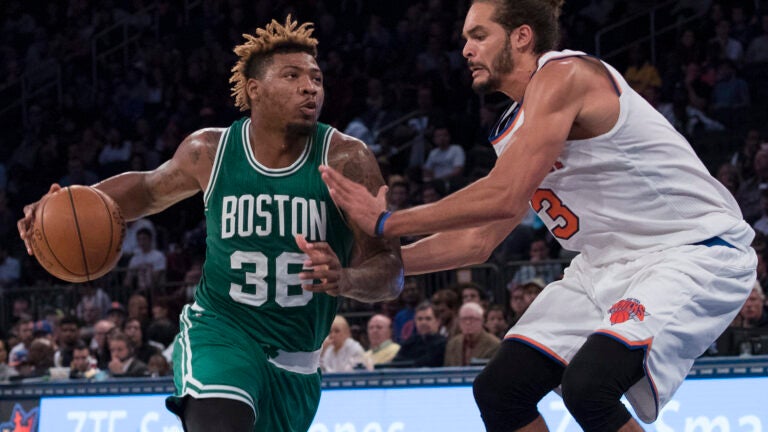 The Celtics made two moves Monday night that give insight into general manager Danny Ainge's vision for the future, exercising the 2017-18 options on the contracts of Marcus Smart and Terry Rozier.
In addition, Ainge declined to pick up the fourth year option on Smart's fellow draftee James Young, and didn't extend Kelly Olynyk as other teams hurried to extend their '13 draft picks before the midnight deadline last night.
Celtics now have their top four guards (Thomas, Bradley, Smart, Rozier) under contract for 2017-18 season for a combined $21.5 million.

— Brian Robb (@CelticsHub) October 31, 2016
He also allowed key contributor Evan Turner to sign with the Portland Trail Blazers this past summer.
Smart and Rozier have thus been guaranteed at least one more season with the team beyond this one, barring a trade. After being selected with the No. 6 overall selection in the 2014 draft, Smart set career highs averaging 9.1 points and 4.2 rebounds last year, but shot a paltry 35 percent from the field and 25 percent from beyond the arc.
But on the other hand, Smart has been lauded for his defensive tenacity and playmaking instincts, averaging 1.3 steals through his first two season.
Rozier was the 16th selection in the 2015 draft, and played sparingly in his rookie season until Isaiah Thomas missed time later in the season. He impressed in the summer league and preseason, but has struggled out of the gate in 2016 averaging just 6.0 points in 24 minutes per game. Rozier has been efficient though, shooting almost 44 percent and 38 percent inside and outside the 3-point line respectively.
The two guards will need to step up off the bench this season in light of Turner's departure.
It is no secret that Ainge believes the team can be improved, and he has made it a priority to be stingy with his salary cap allocation. According to Spotrac, the Celtics will have roughly $61 million in guaranteed contracts next season, plus $10 million more in non-guaranteed deals and almost $20 million in cap holds.
Depending on whether they waive non-guaranteed players and/or renounce cap holds, they will have anywhere between approximately $10 and $40 million to spend.
"Obviously you have to think about cap flexibility going forward and, when we look at the players, if those are good deals for us as we're trying to build the team. Every player is unique and different," Ainge said. "There's nothing that says they won't be with us, regardless of what we do."