Celtics
The Celtics players who have come closest to averaging a triple-double
Russell Westbrook is trying his best to do it this season.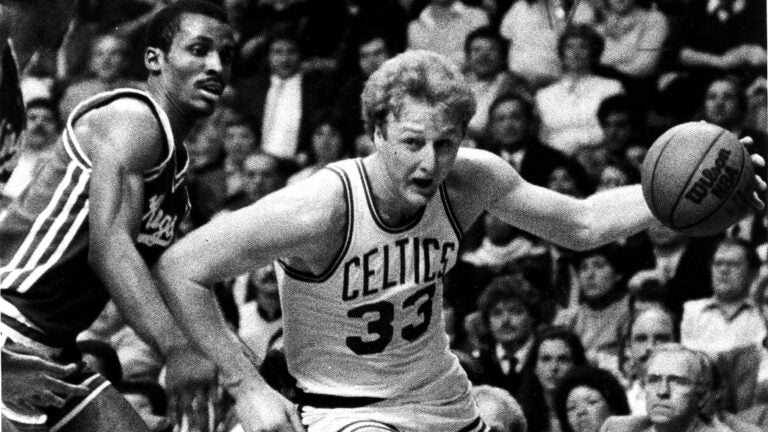 Averaging a triple-double – averaging at least 10 of something per game in three different categories, usually points, rebounds and assists – is really hard. It's only been done once in NBA history, by Oscar Robertson. In the 1961-62 season, Robertson averaged 30.8 points, 12.5 rebounds and 11.4 assists. No one has done it since, but this season, Russell Westbrook has been talked up as someone who could give it a run. So far, he's delivering – he has two triple-doubles in his first four games, and he missed a third triple-double by one assist, with season averages of 37.8 points, 10.8 rebounds, and 10.0 assists.
This got me thinking – which Celtics have come the closest?
If you're a devoted Celtics fan, you can probably guess which name is at the top of the list – Larry Joe Bird. But before we get into how close Bird and others got, let's talk context. We'll start with points per game. There have been 301 seasons in which a Celtics player has qualified for the minutes per game leaderboard and averaged 10 or more points per game, and these 301 seasons were put together by 77 different players. All the way from Bird's 29.9 points per game in 1987-88 down to Eric Montross' 10.0 points per game in 1994-95.
From those 301 players, I then culled the list, looking for players who have averaged 10 or more units in another category. No one comes close in steals (Rajon Rondo twice averaged 2.3 per game) or blocks (Robert Parish averaged 2.6 in 1980-81). The only player in team history to average 10 or more assists per game is Rondo, and he did it twice – 11.7 in 2011-12, and 11.2 in 2010-11. Bob Cousy's high water mark, in case you're curious, was 9.5 in the 1959-60 season.
Rebounds was a bit more fruitful. Out of our 301 player-season sample, 44 of them featured players who also grabbed 10 or more boards per game. Those 44 seasons belonged to 11 different individuals. Ten of the 11 are names you probably know – Bill Russell (12x), Robert Parish (8x), Dave Cowens (7x), Bird (6x), Paul Silas (4x), Tom Heinsohn (2x), Al Jefferson, Jim Loscutoff, Jack Nichols, Antoine Walker and Sidney Wicks. If you have heard of Jack Nichols, then congrats – you're either really old, or even nerdier than I am.
What we're left when we finish paring down the list are 15 player-seasons, put together by four players, who came within five units per game of averaging a triple-double.
Bob Cousy
Of the 15 seasons here, Cousy's 6.8 rebounds per game is easily the lowest, but his 8.9 assists per game are also the highest. As a point guard it makes perfect sense that he wouldn't have as many rebounds. This season was actually the final season before Russell joined the team, but it was also the season when Nichols averaged his double-double. In addition, Loscutoff pulled down 8.8 rebounds per game, and Arnie Risen grabbed 8.1, with Cousy's 6.8 coming in fourth on a Celtics team that led the then-eight-team NBA in rebounding. This season was the fourth straight season that Cousy led the NBA in assists per game, and his 18.8 points per game were second-best on the C's behind Bill Sharman, and seventh-best in the NBA. Cousy was always able to pour in the points and assists, but as he aged, his rebound total dropped lower and lower, and he never got any closer to averaging a triple-double.
Bill Russell
Just as Cousy got the closest before Russell was on the team, Russell got the closest after Cousy retired. He came the closest in his third-to-last season as a player and first as the team's player-coach. Bill Russell came up with the brilliant strategy to have the ball go through Bill Russell. I bet Rick Pitino wishes he could have devised that strategy, huh? (Though Pitino probably would have found a way to trade Russell for Vitaly Potapenko.) Russell's point totals in these two seasons were easily the lowest in the group, but his rebounds were far and away the highest. The assists were harder to come by though, even though he was the team leader in assists per game in one of those seasons, and finished just behind K.C. Jones in the other.
John Havlicek
While I never saw Hondo play aside from highlights, I heard a lot about him growing up from my dad. And with good reason, he's one of the best to ever play the game. He got close in back-to-back years, and he got closer to achieving the triple-double season than did Cousy or Russell. Interestingly enough, he played the most minutes in the NBA in both of these seasons, so he earned his place in the discussion for sure. This isn't like the time when George Brett hit .390 but only played in 117 games, so he didn't have as many chances for his average to be dragged down. No, Hondo was a fixture. In both seasons, he finished in the top five in the NBA in both points and assists per game, though he finished outside the top 20 in rebounds per game.
Larry Bird
The other three players combined came close five times, but Bird came within five units of the triple-double 10 times. TEN TIMES! Bird only played 13 seasons! His rookie season and his final season didn't make the cut, and then also the 1988-89 season missed the cut. This was of course the season when he was lost to double heel surgery after just six games. In every other season of his career, he was within five units per game of a triple-double. He has the five closest seasons among Celtics, and four of them came consecutively from 1983 to 1987, which is just about the greatest stretch of any basketball player's career you could possibly string together. For those four seasons, he averaged 26.6 points, 9.9 rebounds and 7.9 assists per game. It's hard to get much closer than that. And yet, he did, slightly.
In the 1989-1990 season, he came back from his heel surgeries like a man possessed. He shot .930 from the free-throw line, his all-time best mark, which is saying something considering his career average was .886. He didn't quite shoot as great as he had in the mid-80s, but his 9.5 rebounds per game were his most in since the 1985-86 season. His 7.5 assists per game were the second-highest average of his career, and just barely, as he had averaged 7.6 in 1986-87.
This should tell you how hard it is to actually achieve. Sure, Bird had some uber talented teammates that he had to share the ball with, and the fact that Westbrook really doesn't (Steven Adams and Victor Oladipo are pretty good, but Kevin McHale and Robert Parish they are not) but even if you can dominate the ball like Westbrook can, it'll be a pretty tall order. Looking past just the Celtics, there have only been 280 player-seasons in NBA history where a player qualified for the minutes per game leaderboard and averaged at least 10-5-5 per game. Just 108 averaged 10-6-6, 39 averaged 10-7-7, and just 10 have averaged 10-8-8 (none of them Celtics). Being this well rounded for a whole season is hard, and if Westbrook actually pulls it off, he's not just going to be messing around like Ice Cube.
Sources: Basketball-Reference
http://www.basketball-reference.com/play-index/psl_finder.cgi?request=1&match=single&type=totals&per_minute_base=36&per_poss_base=100&season_start=1&season_end=-1&lg_id=NBA&age_min=0&age_max=99&is_playoffs=N&height_min=0&height_max=99&franch_id=BOS&birth_country_is=Y&as_comp=gt&pos_is_g=Y&pos_is_gf=Y&pos_is_f=Y&pos_is_fg=Y&pos_is_fc=Y&pos_is_c=Y&pos_is_cf=Y&force%3Apos_is=1&qual=mp_per_g_req&c1stat=pts_per_g&c1comp=gt&c1val=10&c6mult=1.0&order_by=pts_per_g
http://www.basketball-reference.com/play-index/psl_finder.cgi?request=1&match=single&type=totals&per_minute_base=36&per_poss_base=100&lg_id=NBA&is_playoffs=N&year_min=&year_max=2016&franch_id=&season_start=1&season_end=-1&age_min=0&age_max=99&shoot_hand=&height_min=0&height_max=99&birth_country_is=Y&birth_country=&birth_state=&college_id=&draft_year=&is_active=&debut_yr_aba_start=&debut_yr_aba_end=&debut_yr_nba_start=&debut_yr_nba_end=&is_hof=&is_as=&as_comp=gt&as_val=&award=&pos_is_g=Y&pos_is_gf=Y&pos_is_f=Y&pos_is_fg=Y&pos_is_fc=Y&pos_is_c=Y&pos_is_cf=Y&qual=mp_per_g_req&c1stat=pts_per_g&c1comp=gt&c1val=10&c2stat=trb_per_g&c2comp=gt&c2val=5&c3stat=ast_per_g&c3comp=gt&c3val=5&c4stat=&c4comp=&c4val=&c5stat=&c5comp=&c6mult=1.0&c6stat=&order_by=pts_per_g&order_by_asc=&offset=200