Celtics
8 times Ray Allen defined clutch for the Celtics
And a bonus shot from his UConn days.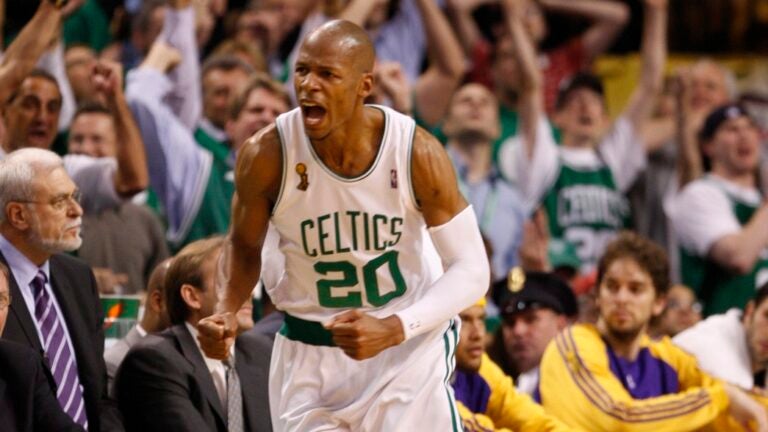 Ray Allen retired this week as the NBA's all-time leader in 3-pointers made, a two-time NBA champion, and a forgotten Slam Dunk Contest entrant.
Allen played for the Celtics from 2007 to 2012, hitting 798 3-pointers during that time. Here are some of his biggest shots.
— Setting an NBA Finals record eight 3-pointers vs. the Lakers: In Game 2 of the 2008 NBA Finals, Allen hit 8 of 11 threes, setting a Finals record for the most in a game.
— Nailing this game winner vs. Derrick Rose's Bulls: The last three of Allen's 30 points came off a brilliant out of bounds play.
–More playoff heroics vs. Chicago: Allen had 51 points vs. the Bulls in Game 6 of that series, including a ridiculous three to send the game to a third overtime.
— This game-winner in Philly: Allen slips to the corner, makes the shot. Chest bumps for everyone. Allen even got to rub Sam Cassell's head.
— Beating the Bobcats…twice: Come for the critical steal to regain possession, stay for Allen being nails.
–Willing his way to this 2011 playoff game-winner vs. Knicks: The Knicks knew Allen was taking the shot, but they couldn't stop it.
— Crossing over Sasha Vujacic for a critical layup in Game 4 of the Finals in 2008. 
— Bonus: Allen takes out Allen Iverson in the 1996 Big East title game.
https://www.youtube.com/watch?v=FcmfjKTA9Sk