Celtics
Jae Crowder on sprained ankle: I won't rush back like last season
The small forward suffered his second ankle sprain of the year last week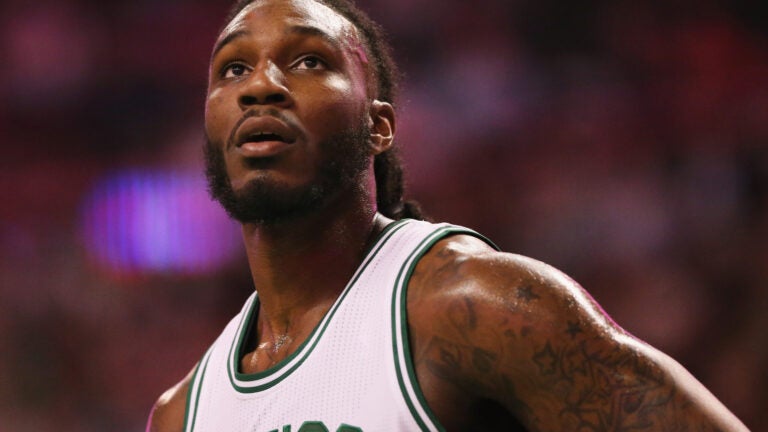 Jae Crowder rushed back to the court from a sprained right ankle last season. He vowed Sunday not to make the same mistake again as he recovers from a sprained left ankle suffered last Wednesday night.
The 6-foot-6 small forward spoke to reporters at the TD Garden for the first time since rolling his ankle after landing on the foot of Bulls guard Rajon Rondo. Crowder has missed Boston's last two games (both losses) since being sidelined.
"As of now, we're still looking at a week or two, I feel like," Crowder said of his potential return date. "I really don't have a set date, to be honest with you.  I'm gonna talk to (trainer) Ed (Lacerte) about a set date, but like I said, I'm not gonna rush it, even though I want to be out there so bad. I really want to get my health as close to 100 percent as possible."
Crowder missed just over two weeks of action with a high ankle sprain last March, but his on-court performance was largely hampered by the injury in the final few weeks of the regular season and postseason. While his current sprain is on a different ankle and not as severe (low ankle), the 26-year-old aims not to push himself back towards the parquet as quickly this time around.
"In this league it happens," Crowder said of the injury. "But I'm a tough-minded individual. I know I'm going to get through it. I'm moving at a good pace right now, training staff has done a great job with me. We're working on it eight hours a day on this thing. So I'm doing what I gotta do to get back on the court as soon as possible. I'm not going to rush it like it did last year, due to the end of the season, playoffs, trying to get a rhythm.
"I'm not going to rush it, I'm just going to do what I gotta do and take care of my business. But it's very frustrating for me to happen, my ankles. It seems they're getting weaker but I'm trying to build them up as much as possible, just trying to build everything around them. Build it up for the long haul this season."