Celtics
John Wall got ejected for this flagrant foul on Marcus Smart
Smart and Wall had to be separated after a hard foul by the Wizards point guard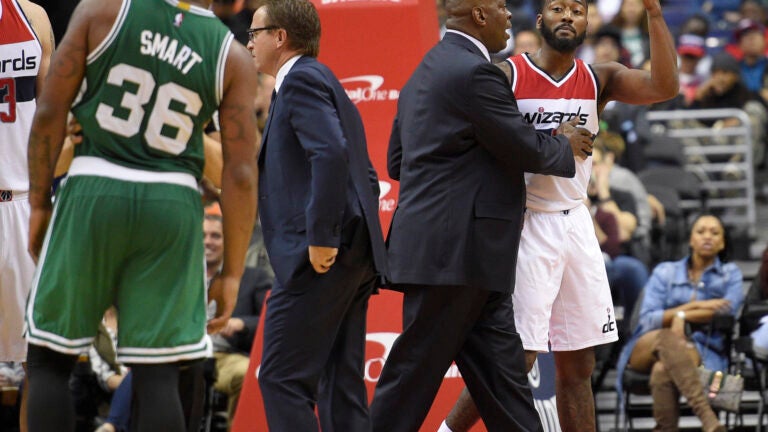 Celtics point guard Marcus Smart has a tendency to get under the skin of opposing players and he did so yet again during Washington's 118-91 win over Boston on Wednesday night.
Wizards point guard John Wall took out some frustrations on Smart the final minutes of the blowout victory, hitting the Celtics' guard with a hard foul as he dribbled the ball up the floor.
Wizards' John Wall ejected for Flagrant 2 foul on Celtics' Marcus Smart. Appeared to pull him down by the head/shoulders pic.twitter.com/M6SSQqXR2N

— Kenny Ducey (@KennyDucey) November 10, 2016
After an official review, Wall was called for Flagrant 2 foul and was ejected. Smart was also given a technical foul for getting in Wall's face after the play.
After the game, Smart voiced his dismay about the sequence.
"He made a hard foul and I didn't take too fond of it. So I let him know what I had to say," Smart told reporters in Washington. "I ain't backing down from nobody and that's going to be understood from here on out. I don't know what he thought but I think he got the message."
Wall did not apologize for the play after the game, but he did indicate he was on the receiving end of some dirty play by the Celtics earlier in the contest that boiled up on the foul in question.
"Just me getting frustrated," Wall said of the sequence. "Got stepped on on purpose. Drove to the basket a couple times, didn't get calls. The play before I did that, got smacked across the face and my ear [by Avery Bradley]. I just let my frustration get the best of me."
The ongoing war of words between the two guards sets the stage for a heated rematch when the Wizards make their first trip of the season to Boston on Jan. 11. That game will be nationally televised on ESPN.