Celtics
Celtics lose 106-105 to Pelicans as Anthony Davis scores 25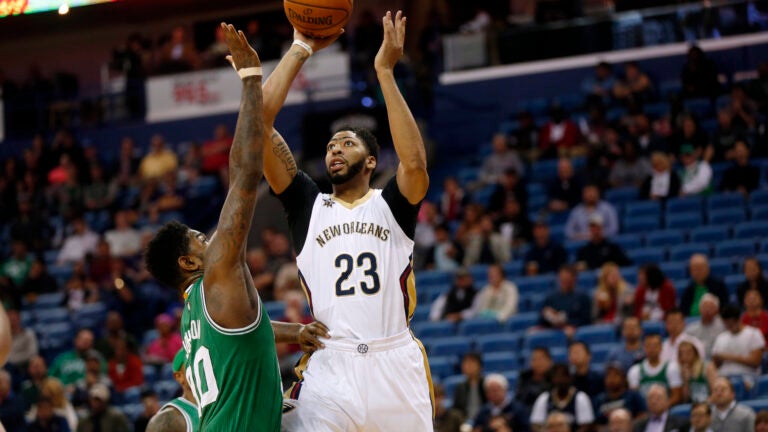 NEW ORLEANS (AP) — Anthony Davis wore a supportive strap on his aching back and still managed to carry the New Orleans Pelicans on his shoulders until scrappy guard Tim Frazier could finish it off with clutch plays on both ends of the court.
Davis had 25 points, 16 rebounds, four steals and two blocks, and the Pelicans won for only the second time in their first 11 games, 106-105 over the Boston Celtics on Monday night.
Frazier made a crucial steal of Marcus Smart's inbound pass near New Orleans' basket with 14 seconds left. He also drew a shooting foul from Kelly Olynyk with 2.5 seconds left, setting up his go-ahead free throw for the final margin.
''He plays big,'' Davis said of Frazier, who finished with 10 points. ''He went in there with all them trees down there and got that steal. … And then, that was a great job, a high basketball IQ, to draw that foul.''
Langston Galloway scored a season-high 21 points for New Orleans, which began the season with eight straight losses. Fellow reserve Terrence Jones added 15 points and a season-high 10 rebounds.
Celtics coach Brad Stevens said his concern coming into the game wasn't so much what Davis would do, but whether he'd get more of the help he's been lacking.
''Anthony is going to be Anthony,'' said Stevens, whose team limited Davis to 7-of-22 shooting. ''You can't let Langston Galloway go off. Jones has had great games against us for as long as I can remember. … They really hurt us tonight.''
Isaiah Thomas scored 37 for Boston, including a driving scoop that tied the game with 7 seconds left.
Frazier then pushed the ball up the floor and the 7-foot Olynyk picked Frazier up defensively near the perimeter.
''I knew I had a big on me, so I tried to see if I could get him to go, and he went,'' Frazier said.
Olynyk said he tried to challenge what initially looked like a shot attempt, and then Frazier ''jumped into me and I picked up the foul.''
In part because the Celtics were out of timeouts and unable to advance the ball, they failed to get a decent shot off in the final 2 seconds. Boston's first inbound attempt from its own baseline deflected off New Orleans along the sideline with a tenth of a second left.
The Celtics then attempted a long pass in hopes of a tip-in, but the inbound hit the rim and Smart's attempted put-back in a crowd of players was off the mark.
Boston's Avery Bradley had 19 points and 10 rebounds. Smart scored 15 points, but Bradley said the Celtics didn't play well and failed to give Thomas help.
''It can't just be Isaiah,'' Bradley said. ''It's got to be other players out there making shots. … Everybody's upset about it.''
TIP-IN
Celtics: Al Horford missed his seventh straight game because of concussion symptoms and it remains unclear when he'll return. ''I don't want to put a timetable on it because I think it's about how he feels day to day,'' Stevens said. Stevens added that once the Celtics decided not to play Horford, they got him an early flight back to Boston so he could get more rest.
Pelicans: Rookie shooting guard Buddy Hield made his first start in place of E'Twaun Moore. After tip-off, the Pelicans announced coach Alvin Gentry had decided to give Moore the night off to rest a right big toe injury. … The Pelicans' win was their first at home, where they improved to 1-5.
BACK PAIN
Davis could be seen lying on the court near the bench when he wasn't playing and said it was to ease stress on his back.
''Every time I sit down it just tightens up, so that was the best way for me to try to keep it loose,'' Davis said. ''You've got to play through it, fight through and try to do whatever you can do to help your team win.''
SQUANDERED LEAD
New Orleans led by as many as 14 points when Dante Cunningham's 3 made it 65-51 in the third quarter, but the Pelicans briefly lost the lead in the final minutes.
''We've got to continue to eliminate some of the mental mistakes and putting ourselves in harm's way,'' Gentry said. But Gentry also added that he was pleased his team ''hung in and found a way to win.''
UP NEXT
Celtics: Hosts Dallas on Wednesday night.
Pelicans: Visit Orlando on Wednesday night.