Celtics
How Isaiah Thomas has emerged as an elite crunch time scorer
The 5-foot-9 point guard is second in the NBA in fourth-quarter scoring.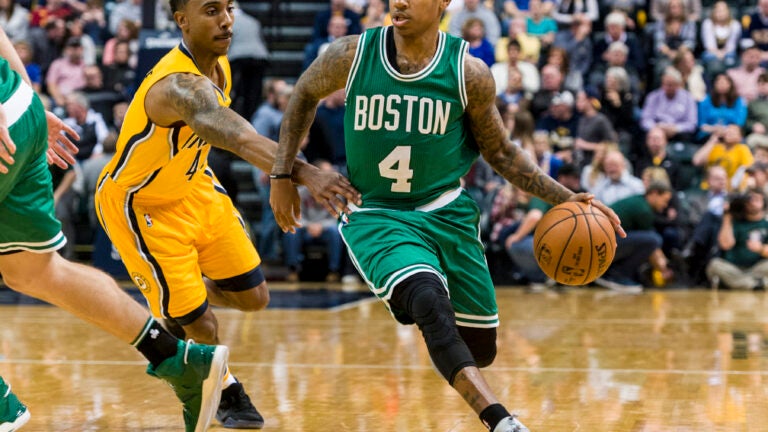 When examining the stellar play of Isaiah Thomas during the early stages of the 2016-17 season, you can start by looking at the company he is keeping at the top of one NBA leaderboard: Steph Curry, James Harden and Russell Westbrook. Those three names and Thomas are the only players averaging over 27 points and six assists per game nearly one month into the regular season.
While the first three names on that list are perennial MVP contenders, Thomas is making a steady push towards becoming one of the best offensive guards in the league. The All-Star is posting career-highs in ppg (27.2), assists (6.6), FG% (45.5) and free throw attempts per game (10.1) all while captaining an offense that has been without two of its top four weapons (Al Horford, Jae Crowder) for over two weeks of action.
"The game is slowing down for me," Thomas said of his improved play this week. "I worked so hard this summer just to continue to get better and not be satisfied. And I'm just reading the game of basketball and reading it at a different level. And also my teammates. I can't do it without them and they put me in position to be and allow me to be myself. Like I always say, I've always been ready to take advantage of my opportunity and my opportunity is here to try to be great and I want to be great."
The toughest time for any scorer like Thomas to produce is late in games and that's where things get even more interesting for the 5-foot-9 point guard. Even with opposing defenses keying in on him (thanks to a injury-riddled supporting cast), the six-year veteran is soaring to new heights in crunch time. The 26-year-old is averaging 9.7 points per game in the fourth quarter alone, the second highest mark in the entire NBA
Fourth quarter scoring leaders (points per game)
Russell Westbrook 10.2
Isaiah Thomas 9.7
Damian Lillard 9.1
Andrew Wiggins 7.9
Kawhi Leonard 7.7
What are the biggest factors that have allowed Thomas to emerge from the pack and produce so well in late-game situations? A closer look at the numbers show the former second-round pick is doing his best work in both isolation situations and at the free throw line.
Through 11 games, the speedy guard has been the most efficient player in the league in isolation matchups (minimum: 10 possessions). He's averaging a staggering 1.43 points per possession in those 1-on-1 situations, or in other words, he's coming away with two points nearly 75 percent of the time he tries his hand at it.
The other big key for Thomas has been his ability to get to the charity stripe. His 10.1 free throw attempts per game average is the fifth-highest mark in the league, which is an impressive number on its own. Thomas is doing most of his damage on that front in the fourth quarter though, with nearly half of his attempts (4.9) coming in the final 12 minutes of a contest on average. That 4.9 total in the final frame leads the league, and when you combine that with a 86% accuracy mark from the free throw line, that's a pretty useful formula in creating one of the best fourth quarter scorers in the league.
"He understands the game," Brad Stevens said of Thomas' late-game success. "He understands how to get angles. He understands all that. But it's probably a combination of fearlessness and explosiveness. His fearlessness, he's not scared of doing anything, but he has just special explosion. He can go from that burst off the dribble and just explode up, take a hit and finish, spin or off the glass. He's just got a uniqueness to him that makes him pretty good, makes him really good."
"I guess I just like that quarter, man," Thomas said of his standout play of late. "Sometimes guys get a little tired and the pressure gets a little tougher for them. I guess I like the pressure."
It remains to be seen whether Thomas can sustain this kind of production and usage (35.5 percent of all Boston's offensive possessions, fifth-highest in NBA) over the course of 82 games. Some of the onus will be taken off of him when Crowder and Horford return to the fold, but he's embracing the bigger role he's been handed in the meantime to lead his team to victory.
"I work too hard not to take advantage of the opportunity that I'm given," he said. "I'm ready for whatever Brad and this team and this organization throws at me. I've always wanted to be in this position."