Celtics
Kevin Durant doesn't think Celtics fans should be mad at him for choosing the Warriors
The All-Star considered Boston this past summer before signing with Golden State.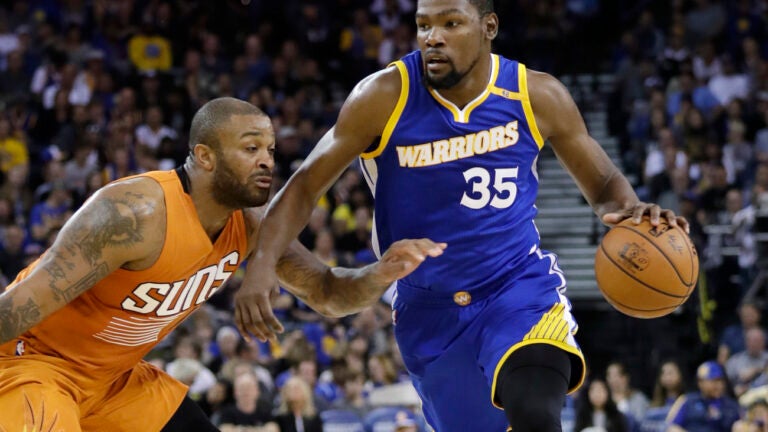 Kevin Durant will make his first appearance in Boston on Friday night since considering the Celtics as a free-agent destination in July. The superstar forward sent shockwaves through the NBA over the summer by electing to sign with the Golden State Warriors over Boston, Oklahoma City and a host of other teams.
He does not expect Boston fans to show any ill will toward him for that decision.
"What can they be mad about?" Durant told Chris Haynes of ESPN.com on Wednesday night. "I never played there, I never said I was going there. But, they're going to support their team. It's one of the best fan bases in the league. Top 5 easily. So, no matter who goes in there, they're going to boo them. But I have no attachment to Boston at all."
Jae Crowder was one of the few members of the Celtics' organization who publicly voiced displeasure with Durant after meeting with the 6-foot-9 forward this summer in the Hamptons. A sizable contingent of Celtics players, management and even Patriots quarterback Tom Brady spent time with the star. They were all trying to lure him to Boston to join a core that had shown it could play well against the team Durant had trouble getting past during his time with the Thunder: Golden State.
"We told him everything we do to beat these guys, and we beat them, and he went and joined them." Crowder told MassLive in July. "I mean, that's part of the process, but I did not think he would go to those two teams …I felt like afterward, I was talking to Isaiah (Thomas), like maybe after you sit back, you shouldn't have told him everything, but who the thought he was going to Golden State, realistically? It was like a slap in the face for us, basically."
Durant brushed off Crowder's remarks when recently asked about them by Haynes.
"I got nothing but love and respect for Jae Crowder and how he approaches the game and how he plays, but we disagree on me coming here," Durant said. "That's just how it is. It's all good. We're going to compete no matter what. That's one thing, you can say a lot of stuff in the media or wherever you are, but we're going to compete when we're in between the lines. That doesn't change anything."
Crowder may not have a chance to face off with Durant on Friday as he remains questionable with an ankle injury. For his part, Celtics point guard Isaiah Thomas harbors no leftover ill will.
"I was just surprised. Probably like everybody else," Thomas said Wednesday. "I wasn't mad. I knew we had a chance — we had a pretty good chance, at that. I was just surprised he chose the Warriors, but that's that man's decision…I've been past that."