Celtics
Al Horford scores 26 to lead Celtics over Kings, 97-92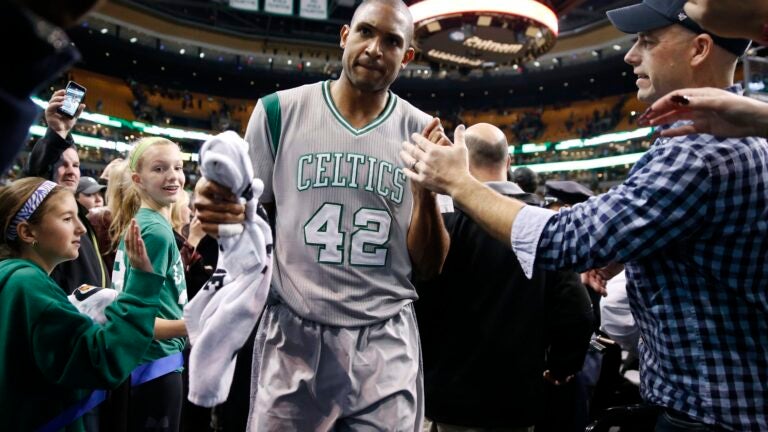 BOSTON (AP) — Al Horford scored 26 points and blocked six shots, Isaiah Thomas scored 14 of his 20 points in the second half and the Boston Celtics held off the Sacramento Kings 97-92 on Friday night.
Jae Crowder added 24 points and Avery Bradley had 15 points and nine assists for Boston, which needed a 10-0 run in the fourth quarter to pull away and finish off the Kings.
Sacramento outrebounded Boston 51-44, but hurt itself in the final period with turnovers, missed shots and a technical foul called on Matt Barnes as Boston surged ahead.
DeMarcus Cousins led Sacramento with 28 points and nine rebounds. Darren Collison and Rudy Gay scored 13 apiece for the Kings.
The Kings were playing for the first time since Monday. Sacramento's six-game road trip was interrupted when Wednesday's game at Philadelphia was postponed because of condensation on the floor.
The layoff showed early as the Celtics went up by 13 points in the first period, but the Kings regrouped and rallied to tie it by the end of the quarter.
The Kings scrapped through the third period and led 72-69 entering the fourth, but Boston answered with an 18-4 run to start the final quarter and regain the lead for good.
Crowder hit a 3-pointer to pull Boston within 74-72 early in the fourth, then Terry Rozier stole the ball from Gay and took it the other way for a layup to tie it with 10:25 remaining.
Gay hit a jumper to put Sacramento up 76-74 with 8:33 left, but the Kings didn't score again until Cousins hit a pair of free throws with 5:14 to pull Sacramento within 83-78.
Horford started a 10-0 run with a jumper to tie it, then Boston forced another turnover that led to Rozier's long pass to Jonas Jerebko under the basket for a layup. Sacramento called time out, then turned the ball over right and Boston converted with Kelly Olynyk's putback.
Thomas converted a three-point play to extend Boston's lead to 83-76 with 6:33 left, then added a free throw after Barnes was called with a technical with 5:14 remaining.
Sacramento went without a field goal from 8:33 remaining until Gay's 3-pointer with 4:51 left to play pulled Sacramento within 84-81.
TIP-INS
Kings: The Kings closed the first quarter on a 13-0 run to tie it at 29-all entering the second period. … … Sacramento entered the game having lost eight straight visits to Boston.
Celtics: Horford scored 12 of Boston's 29 points in the first quarter. … Thomas led the Celtics in scoring the previous 14 straight games.
UP NEXT:
Kings: Continue a long road trip Sunday at New York.
Celtics: At Philadelphia on Saturday in the first of three straight on the road