Celtics
Avery Bradley's rebounding is worth paying attention to
The 6-foot-2 guard went from part of the Celtics' rebounding problem to part of the solution.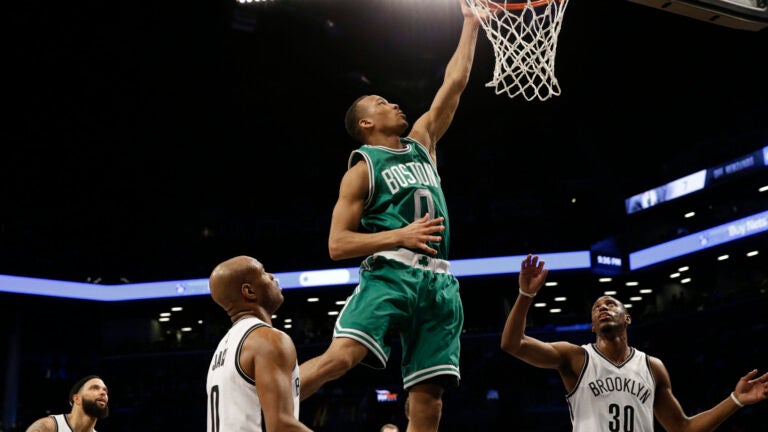 COMMENTARY
Quick, who's leading the Celtics in rebounding? Did you say Avery Bradley? Yeah, I wouldn't have either. But it's true – through the season's first 18 games, the 6-foot-2 Bradley is averaging 7.8 rebounds per game, tops on the team (Al Horford is second at 6.6 per game) and as of Thursday, tied for 33rd in the league with five centers, all of whom are at least seven inches taller than Bradley, and most of whom are nearly a foot taller.
If you can honestly say you saw this coming, you're either one of those creepy Watcher guys from Fringe or you're lying. Last season, Bradley pulled down just 2.9 rebounds per game, and before this season he's never averaged more than 3.8 in any single season. If you back up to March, he and Isaiah Thomas were the two leading culprits in the team's defensive rebounding woes. And it's not like he pulled down 30 boards in one game and has been pulling down one or two in all the others. He's pulled down at least six boards in 13 of the team's 18 games thus far, including the last four, and he has grabbed at least three in every game this season. He's literally pulled down more boards in every game this season than his seasonal average from last season. Mind blown.
Of course, we need to look at some context for this. Bradley isn't the first NBA little guy to rebound well. With the power of Basketball-Reference's Play Index, we find that there have been 53 seasons compiled by 19 players where a player classified as a guard pulled down at least seven rebounds per game.
6x: Tom Gola, Jason Kidd, Oscar Robertson, Jerry Sloan
5x: Magic Johnson
4x: Fat Lever
3x: Richie Guerin, Jerry West
2x: T.R. Dunn, Darrell Walker, Russell Westbrook
1x: Clyde Drexler, Steve Francis, Walt Frazier, Hal Greer, Michael Jordan, Lance Stephenson, Dick Van Arsdale, Norm Van Lier
Six of those players – Dunn, Johnson, Kidd, Lever, Sloan, and Walker — actually led their team in rebounding. Sloan and Walker did it just once, but Dunn, Johnson, Lever and Kidd did it multiple times. So, there is some precedent for this. There's also Russell Westbrook this year, who is leading the Thunder in rebounding as he looks to join the elusive triple-double for a season team.
All seven of those players – Dunn, Johnson, Kidd, Lever, Sloan, Walker and Westbrook – are bigger than Bradley. The diminutive (by NBA standards) Bradley is listed as 6-foot-2. The other four all were listed as at least 6-foot-3, with a couple – Sloan at 6-foot-5 and Johnson at 6-foot-9 – being significantly taller. Bradley is the shortest of the bunch.
So let's focus our search on those at his eye level. The list is a lot shorter, pun very much intended. In the NBA's seven decades, there have been exactly three players listed at 6-foot-2 or shorter who have averaged seven rebounds per game for a whole season: West (3x), Greer and Van Lier. The last of these five seasons, Van Lier's, happened in the 1970-71 season. Forty-six years later, here's Avery!
If you take a look at the full scope of history presented here, the obvious conclusion you'd come to is that Bradley won't keep this up. That he'll still have a good rebounding season, but come in closer to five rebounds than the eight he's currently brushing up against. Or perhaps that he'll still have a great season, but that Al Horford or someone else on the team will step up and overtake Bradley him, denying him the opportunity to be on that list with Fat, Magic and The Spider. Either way, Bradley has piqued our interest, and with the season nearly a quarter over, his rebounding is now definitely worth paying attention to.