Celtics
ESPN is working on a '30 for 30′ documentary about the Celtics-Lakers rivalry
The two-part film is currently slated for next June.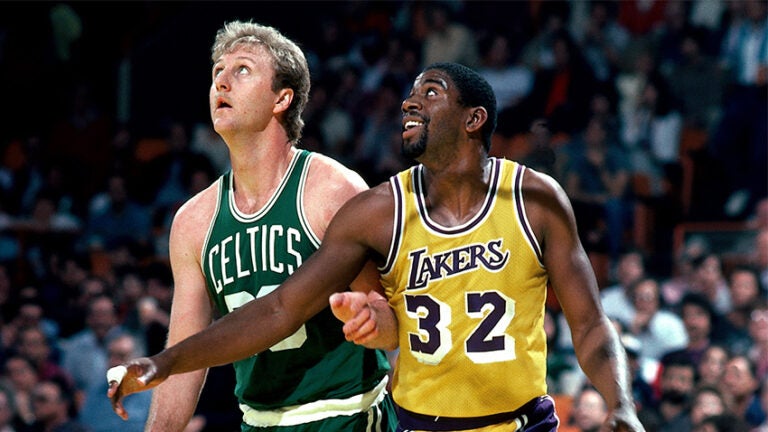 The rivalry between the Boston Celtics and Los Angeles Lakers has seen better days. To be fair, it has also seen worse days.
But for those looking to relive the classic basketball rivalry's glory days, there is good news—regardless of which side you fall on.
A documentary on the Celtics-Lakers rivalry is in the works for ESPN's acclaimed 30 for 30 series, network spokeswoman Jay Jay Nesheim confirmed Monday.
The two-part documentary is currently slated to air next June, coinciding with the 30th anniversary of the 1987 NBA finals, which was perhaps the pinnacle of the prestigious rivalry.
Jonathan Hock, the renowned filmmaker producing the documentary, told Sports Illustrated's Richard Deitsch in a piece Sunday that the film will focus on the rivalry in the 1980s (when the Celtics and Lakers met three times in the Finals) and expects to secure interviews with all the key players—think Larry Bird, Magic Johnson, Kareem Abdul-Jabbar, etc.
But Hock also told Deitsch that the film will look at how the Celtics and Lakers embodied larger racial and cultural tensions throughout the history of the NBA.
"The irony was going back to the 1960s, the Celtics were far away the most racially progressive organization in basketball, if not all of major sports," Hock said. "But people perceived them to be the white team in the 1980s and the Lakers as the black team."
Hock, a 10-time Emmy Award winner, has produced multiple 30 for 30 documentaries for ESPN in the past, including Unguarded, a 2011 documentary about Fall River basketball star Chris Herren and his battle with drug addiction.
According to Deitsch, Hock is working on the film with Jim Podhoretz, a fellow documentarian and collaborator with whom he has a shared history rooted in the Lakers-Celtics rivalry:
In 1987, Hock and Podhoretz were junior editors at NBA Entertainment and spent the year embedded with the Celtics (Podhoretz) and the Lakers (Hock) as part of the work NBA Entertainment did with top teams. When faced with the prospect of revisiting these teams as older men, they jumped at it.
Read Deitsch's full interview with Hock for more details about the project.