Celtics
Watch Jaylen Brown dunk all over Nikola Vucevic
The No. 3 overall pick added to his rookie highlight reel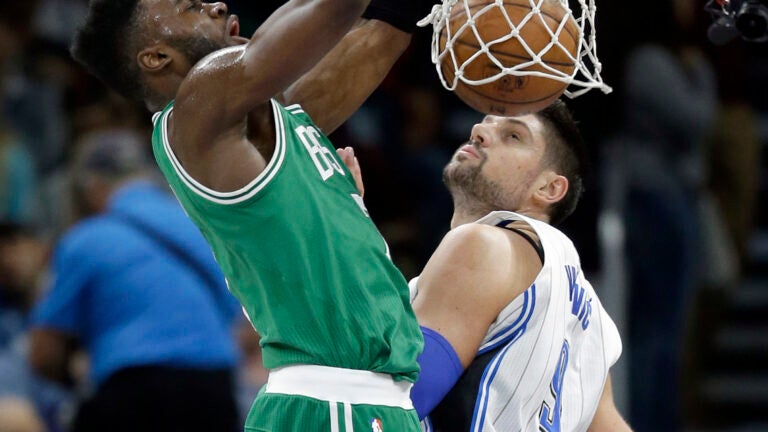 Celtics rookie Jaylen Brown has not been shy about attacking the rim during his rookie season in green. That trend continued on Wednesday night in Orlando as the athletic 6-foot-7 forward posterized Magic big man Nikola Vucevic with a tomahawk jam in the second quarter.
Jaylen Brown drives with the left, and smashes the rim with his right. Get out of the way! pic.twitter.com/sIsU3UUgEB

— Boston Celtics (@celtics) December 8, 2016
The jam highlighted what was Brown's best performance in weeks for the Celtics. The 20-year-old scored 13 points off the pine in just 22 minutes of action on 5-of-8 shooting. He did a little bit of everything on the night offensively, drilling a 3-pointer from the top of the key as well as driving the lane with a strong left hand.
Jaylen Brown doesn't care if you clog his lane. He's still slipping through. #Celtics pic.twitter.com/2ZxAX5tib6

— Jared Weiss (@JaredWeissNBA) December 8, 2016
You can add those plays to a growing highlight reel from Brown's up-and-down season, but the bigger story for the No. 3 overall pick is his improved all-around play during Boston's past two games (20 points, 57% FG). Brown played more minutes than anyone not named Terry Rozier off the Celtics bench Wednesday night, a sign he may be earning Brad Stevens' trust once again after seeing his playing time cut in recent weeks.