Celtics
Breaking down Avery Bradley's career year
Bradley is on pace to average new career highs in points (17.9), rebounds (7.5), assists (2.5) and three-point percentage (.427).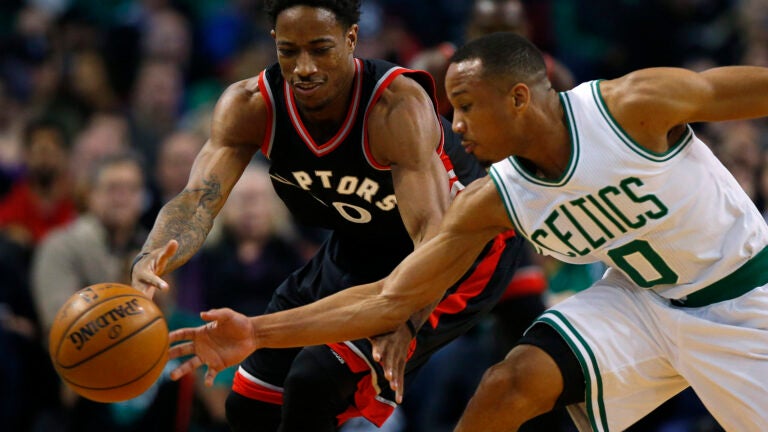 In the summer of 2010, the Boston Celtics were coming off a heartbreaking seven-game NBA Finals defeat at the hands of the Los Angeles Lakers. After spending a good portion of the regular season on cruise control, the Celtics made the Finals despite a 50-32 record, tied for ninth-best in the league. When the draft rolled around in late June, Boston had the 19th overall pick. The C's used it to select a 6'2" guard out of Texas by the name of Avery Bradley.
During his rookie campaign, Bradley hardly saw the floor. Rajon Rondo and Ray Allen were entrenched in the starting backcourt with Nate Robinson and Marquis Daniels backing them up. Head coach Doc Rivers had little interest in providing developmental minutes to a first-year player on a squad with championship aspirations. Bradley entered just 31 games in 2010-11, averaging 1.7 points in 5.2 minutes. He also spent a significant portion of the season with the D-League's Maine Red Claws.
The following year, his outstanding defensive play, along with injuries to Rondo and Allen, afforded Bradley an opportunity to start 28 games. By April, he'd wrestled the first-string shooting-guard role away from Allen.
Unfortunately, Bradley's breakout season was cut short when he dislocated his shoulder in the playoffs. Without him, Boston fell in the Eastern Conference Finals to the Miami Heat in seven games. Allen bolted for Miami that offseason and Bradley has been a fixture at the Celtics' two-guard spot ever since.
Avery's scoring numbers took a big jump in the first year of the Brad Stevens regime, which was also the season after Paul Pierce and Kevin Garnett were traded to the Brooklyn Nets. Bradley posted 14.9 points per game in 2013-14, up from 9.2 in 2012-13. In July of 2014, he inked a four-year, $32-million contract to stay with the Celtics.
Fast-forward to 2016-17 and Bradley is now an established veteran in Boston, the only remaining holdover from the "new Big Three" era. His past three years under Stevens have been quite consistent. Over that span, Bradley averaged 14.6 points, 3.2 rebounds, 1.8 assists and 1.2 steals per contest while shooting 36.5 percent from three-point land. Last season, he earned NBA All-Defensive First Team honors while putting up personal bests in points (15.2), steals (1.5) and minutes (33.4) per game.
This year, Bradley is doing even more–a lot more. With roughly a third of the season in the books, Bradley is on pace to average new career highs in points (17.9), rebounds (7.5), assists (2.5) and three-point percentage (.427).
The rebounds are particularly impressive, at the moment he's pulling down nearly twice his previous season-best (3.8 per night in 2013-14). Prior to this year, Bradley had just two double-digit rebounding games in his career, both times hauling in exactly 10 boards. This season, Bradley has already accomplished that feat on eight occasions.
Through the Celtics' first 24 games, Avery has grabbed 181 rebounds. No other Boston player has more than 98. For comparison, Bradley collected a total of 220 boards last year. At 6'2", Bradley could become the shortest player ever to lead the Celtics in rebounding (as well as put together maybe the most impressive rebounding season in league history for a player of his height).
Via the Boston Globe's Gary Washburn, Bradley said the following when asked about his assault on the boards this year:
"It's just something I know our team needs. I'm here to do whatever I can do to help our team and right now it's rebounding. That's what I'm going to try to do every single night."
Avery is also helping the team by knocking down three-pointers at an exceptional rate. His .427 three-point percentage ranks seventh in the league among players who've made 50 or more this season, ahead of guys like Bradley Beal (.422), Chris Paul (.402), Steph Curry (.395) and Klay Thompson (.378). With 53 three-point field goals on the year, Bradley now has 465 for his career, fifth on the Celtics all-time list behind only Larry Bird (649), Allen (798), Antoine Walker (937) and Pierce (1823).
Bradley's combination of scoring, rebounding and three-point shooting is not easy to find. In fact, there are only two other players in the NBA averaging at least 17 points, seven rebounds and two triples per game while shooting 40 percent or better from beyond the arc: Kevin Durant and Kevin Love, both of whom are over 6'9".
Stevens recently offered an explanation for the career year Bradley is having:
Asked about the reasoning for Avery Bradley's breakout season, Brad Stevens says, "The usage is up, so he's getting more opportunities."

— Boston Celtics (@celtics) November 28, 2016
It's certainly true that Bradley has taken advantage of opportunity. Injuries have sidelined Isaiah Thomas, Al Horford, Jae Crowder, Marcus Smart and Kelly Olynyk, leaving Bradley as the only Celtic to start all 24 games.
However, there's another factor in play that tends to be overlooked. Bradley was only 19 years old when Boston drafted him. The longest-tenured member of the C's is in the midst of his seventh NBA season, but he just turned 26 last month. Who's to say he's not still developing? And if 27 is the age most players hit their prime, the best of Bradley may still be yet to come.