Celtics
Celtics player power rankings: Jaylen Brown making case for more playing time
The rookie small forward has stepped up since Isaiah Thomas went down with a groin injury.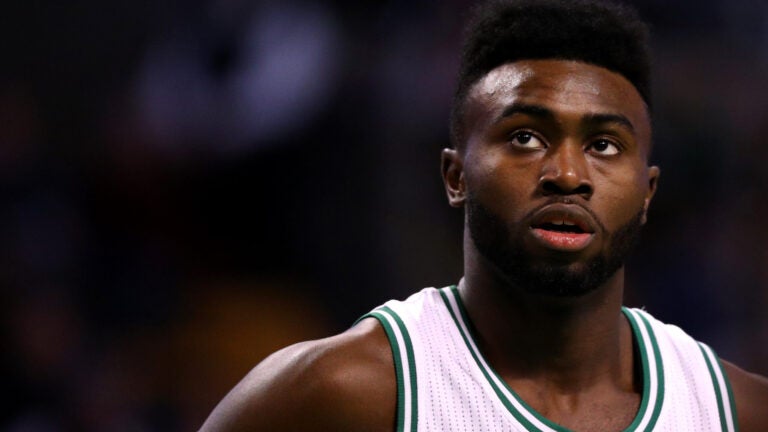 COMMENTARY
The Celtics are nearly a third of the way through the 2016-17 regular season, but they remain in search of their first signature win of the year over a quality opponent.
A handful of promising opportunities slipped away this weekend as Boston blew second-half leads against the Rockets, Raptors and Thunder to fall back closer to the .500 mark.
"It's gotta stop," Marcus Smart said of the late-game struggles on Sunday. "We play good for three quarters, first half, then we [lay] a goose egg in the fourth, and we let teams come back and take over the game."
Isaiah Thomas could provide a boost on that front Wednesday night in San Antonio when he hopes to return from a groin injury, but Brad Stevens may also have to shake up his lineups to snap his team out of its late-game funk. Which players are making a case for more action during crunch time? We examine that and more in this week's Celtics player power rankings:
15. Demetrius Jackson: The rookie was recalled for depth purposes last week from the Red Claws after Isaiah Thomas went down with a groin injury. He saw some garbage-time duty against the Magic, but he should be sent back to Maine when Thomas returns this week.
14. Jordan Mickey: A troubling sign for the young forward? The 22-year-old is on pace to play just 31 games in his sophomore season. He's seen the court just three times in the past month.
13. James Young: James Young's minutes per game in his first three pro seasons: 10.7, 6.9, 5.8. With a reliable stroke (28.6 percent from 3-point range) still not surfacing for the 21-year-old, it's hard to see his playing time increasing anytime soon.
12. Gerald Green: A date to circle on the calendar this week: Dec 15. That's when free agents signed this offseason (like Green) can be traded. With Boston's bench unit floundering, the 30-year-old journeyman will be a candidate to go if an upgrade can be found.
11. Tyler Zeller: The seven-footer received his first two DNP-CD's of the season last week, a sign that Stevens is tightening up his rotation. Zeller has done little to show he's worthy of more playing time of late, as he's scored just one point in his last five games combined (25 minutes).
10. Terry Rozier: A career-high 16 points against the Orlando Magic on Wednesday night has overshadowed an ugly December for the young guard. Rozier is shooting just 30.2 percent from the field and a dismal 12.5 percent from 3-point range since the start of the month.
9. Kelly Olynyk: There is good news and bad news regarding the recent play of the fourth-year big man. The encouraging sign is the seven-footer has led the Celtics in rebounding (6.8 per game) in the past week. The problem for the Celtics is that Olynyk isn't carrying his offensive weight. He's failed to score 10 points in any game in December, and has a horrendous 18.8 percent mark from beyond the arc.
8. Amir Johnson: We saw some signs of life this week from the veteran forward after a single game demotion from the starting lineup last Monday against Houston. He was productive against the Magic and Raptors before playing a pivotal 29 minutes against the Thunder on Sunday. That's the third-highest minute total for 11-year veteran all season.
7. Jonas Jerebko: The Swede's hot shooting has started to trail off, but the Celtics are still playing their best basketball when the 6-foot-10 forward is on the floor. He has the team's second-highest net rating (+5.0) in the past week, and has excelled when sharing the floor with Al Horford.
6. Jaylen Brown: The 20-year-old rookie leads the Celtics in both field goal percentage (57.1 percent) and 3-point shooting percentage (57.1 percent) in December, adding some additional promise and consistency to his play beyond the highlight reel dunks.
5. Marcus Smart: With Stevens unwilling to turn to Demetrius Jackson in his rookie year for spot minutes, Smart has been Boston's only true point guard since Thomas became sidelined during the past week. He's managing the Celtics' offense well (12 ppg, 5.7 apg last week) as shown by his team-best +42 in plus/minus during that stretch. The biggest problem right now for Stevens is that he can't play Smart at point for 48 minutes.
4. Al Horford: A missed game-winning layup against the Rockets and an ugly turnover during crunch time against the Thunder made Horford's last week his toughest stretch in Boston to date. The big man's shooting numbers (41 percent from field) were uncharacteristically low as well, a dip Boston's offense can't afford with Thomas on the shelf. He's still the team's best all-around player though so the panel does not feel comfortable dropping him below No. 4
3. Avery Bradley: The shooting guard continues to post career numbers and play more minutes than anyone on the roster, but there's one concerning trend to keep an eye on. Through 24 games, he's got the worst net rating (-1.5) out of any rotation player on the team. Part of that may be due to his stints with the unreliable bench unit, but Stevens will have to examine closely who Bradley is playing with since the team is struggling with him out there.
2. Jae Crowder: Not only is Crowder shooting a career-best 39.8 percent from 3-point range, he's also the team's most accurate shooter from inside the arc, knocking down 59.8 percent of his attempts in that region.
1. Isaiah Thomas: After watching his team melt down in the second half of two straight matchups without him, the 5-foot-9 All-Star can feel confident about his spot in the team's hierarchy.