Celtics
Why the Celtics should at least consider trading Isaiah Thomas
No, it's not because the Celtics are better without the All-Star point guard.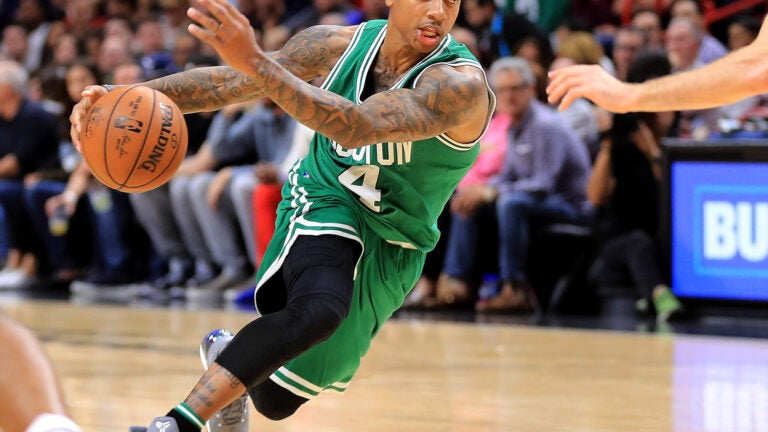 COMMENTARY
"The Celtics are a better team without Isaiah Thomas."
This is a real thing suggested somewhere on TV or radio this past week during the All-Star point guard's extended absence.
The funny part is Boston hasn't even played well without Thomas. Granted they've been competitive. Granted Al Horford kind of blew the Houston game. Granted the Rockets, Thunder and Raptors are a combined 50-24 on the year – but at least Jimmy Garoppolo was winning during the crazy "Are the Pats better without Brady?" talk. The Celtics are 1-2 since Isaiah tweaked his groin.
But regardless of record, if you asked Brad Stevens this afternoon: "Hey Brad, you have a game tonight. Would you rather have Isaiah Thomas in uniform or in a suit at the end of the bench?" He'll take Thomas every time. Obviously. Isaiah's an All-Star. He scores 26 points a game. Russell Westbrook is the only player in the league who scores more in the fourth quarter.
Are the Celtics a better team without Isaiah Thomas?
No.
End of conversation.
So, let's have a different conversation.
Let's say we go back a few years to the start of the 2013 season. Brad Stevens' first in Boston. And let's say we pull the coach aside again and ask: "Hey Brad, you have a game tonight. Would you rather have Paul Pierce, Kevin Garnett and Jason Terry in uniform or Kris Humphries, Gerald Wallace and Marshon Brooks?"
With apologies to the Hump Daddy, Brad probably would've chosen Door No. 1. The Celtics might have been just a little better with Pierce, KG and Terry. But in that case, at that moment in history, there was a distinction between "what makes the Celtics better" and "what's best for the Celtics." The franchise was at a crossroads where real time success might impede potential. And right now, despite Isaiah's talent and inspiration, Danny Ainge is approaching another intersection. It's time consider whether Isaiah Thomas, the Celtics best player, might be best served as an asset.
***
Before we do that, let's get this disclaimer out of the way.
Isaiah Thomas is a boss. Whatever the highest level of respect you can have for an athlete is, Thomas deserves it. He's earned it. This guy could have played for Red Auerbach. He could play for Bill Belichick. Hell, the Pats could probably use him right now to return kicks. Thomas is pretty much an ideal athlete/role model – and not only for everything he's overcome but for how he still carries himself after overcoming it. He says the right things and does the right things. You know this. You've watched him these last few years and fallen in love with everything.
But take emotion out of it and consider this question:
Do you think the Celtics, while keeping this core in place, can win a title in the next two years?
Can they build a contender?
And I mean a real contender.
For instance, from 2008-12 the Celtics were real contenders. That core could have won three titles. They were also lucky to win one. So much happens every season and even more every postseason to the point where all you can hope for is to be in the conversation among the handful of teams with a shot – and the Celtics aren't there right now. They're not Cleveland. They're not Golden State. They're not the Spurs. They're not the Clippers. And really, that's it. That's the list.
The Celtics are still a player short. They're a star short. In order to be taken seriously they need another guy who is a better all-around player than Isaiah. A better all-around player than Al Horford. Preferably a three or a four or someone who can play and guard multiple positions. Someone who is ready now – like Ray Allen was, like Kevin Garnett was, like Al Horford is – to compete on the biggest stage under the brightest lights.
But who is that player?
Does he exist?
Is he available?
Hmm.
Well, you can hope something goes horribly wrong with the Warriors and Kevin Durant decides to move again. Or maybe Blake Griffin gets sick of life in LA and wants a fresh start across the country. The only other two names for me are Paul George and Jimmy Butler, but they're only be available via trade. And looking at the standings (the Bulls are 13-10, the Pacers 13-12) it's unlikely either would be available until this summer, if at all. And even then, only if the Celtics hit it big with Brooklyn's pick.
Who else is out there? Not Gordon Hayward. Not yet at least. Paul Millsap is nice but he and Horford already tried this once. DeMarcus Cousins is a star but he's not ready. He's his own rebuild. He's never even played in the postseason.
So basically, in order for the Celtics to contend at some point over these next two seasons they need to catch lightning in a bottle. The same way they did with Kevin Garnett in 2007 and the way they came so close to doing last summer. Although really, not to sound defeatist, but it sure feels like last summer was that lightning.
After a full year of everyone laughing at Boston for even thinking about Kevin Durant, the Celtics got themselves a meeting. They got an invite to the Hamptons. The same day – in Horford – they found their Ray Allen. For that one insane Tom Brady-laden afternoon, the stars aligned. It felt real. In fact, you can contend that if not for a historic collapse in the Finals by the best regular season team in NBA history, Kevin Durant might have actually picked the Celtics. At which point, Boston could've have swapped Jae Crowder and picks for Jimmy Butler. At which point—ok, enough of that. The point is, Danny Ainge took his chance. Again. He played it right. Again. This time the horseshoe fell out of his ass at the last second and I don't know, what do you want to do? Fire Danny Ainge? You want to bring someone else in to run this team? Of course not. This is Danny's team. There's no one better to see them through whatever the future brings. Even if we still don't know what the future will bring.
However, we do know this:
In the summer of 2018, at the end of next season, Isaiah Thomas will be an unrestricted free agent.
Marcus Smart will be a restricted free agent.
These guys are both starting NBA point guards and will both expect to be paid like it. When the time comes, Marcus will be 24, thankfully more mature, presumably much improved and just entering his prime. He's a 6-4 man-child who can defend three positions. He's an ever-evolving playmaker and a born leader.
Isaiah Thomas will be 29. He'll likely command more money than Marcus. Thomas relies so much on quickness and athleticism to compensate for his size. He's out there killing himself every single night (not that Marcus is taking it easy) to the point where you wonder how he'll hold up. Thomas could very well play deep into his 30s based on shooting alone, but it's a little crazy to think he'll sustain this production. Especially when you talk about paying him upwards of $30M a year.
So, who do you want to build around? Who is your point guard of the future? And if you don't think Boston can slap together a contender before the end of next season, at what point does the future become the present? If you want to roll with Marcus, at what point do you wonder, out loud, on the phone, to another GM, what they might be willing to part with for a 26-year-old All-Star point guard who scores 26 a game and makes less than seven million a year.
Hey Tom Thibodeau. You need an upgrade at point guard. You need some veteran leadership. Is Zach Lavine driving you crazy yet? You want some defense? How about Avery Bradley and you throw us Gorgui Deng?
Hey John Hammond, you're the GM of the Milwaukee Bucks and your point guard situation is a little shaky, too. And yeah, we know, you want Giannis to play point. But then why are you still running Matthew Dellavedova out there for almost 30 minutes a game? You need a point guard, John. You're also among the worst three-point shooting teams in the league. So how Giannis and Jabari Parker get along? Jabari and Jason Kidd? Talk to us, Johnny.
Hey there, Rob Hennigan. So, Frank Vogel's bringing Elfrid Payton off the bench now, huh? DJ Augustin is your starting point guard? OK, OK. Let's talk about Aaron Gordon, Rob.
Oh, hi, Dennis Lindsey, GM of the Utah Jazz. It seems you only have George Hill for the rest of this year and he's only played 11 games as it is. Meanwhile Dante Exum doesn't look ready, so . . .
Who knows what would come from these conversations or what one thing might lead to another. I mean, you deal Isaiah then you might as well deal Al Horford. You might as well say, "OK, we're not sniffing a title until LeBron breaks down or the Warriors break up, so let's take Marcus Smart, Jaylen Brown, Terry Rozier, maybe Zach Lavine or Jabari Parker (we're talking ideals here) not to mention a very likely Top 3 pick in a super stacked draft – and let's get ready to contend with the next wave.
It's not what anyone wants.
Not Danny. Not Brad. Not Wyc. Not Gino.
It won't make these Celtics a better team.
But if Banner 18 is the name of the game, it may very well be what's best for team.