Celtics
Celtics player power rankings: Isaiah Thomas secures a spot in franchise history
Thomas became just the fifth player in team history to score at least 50 points in a game.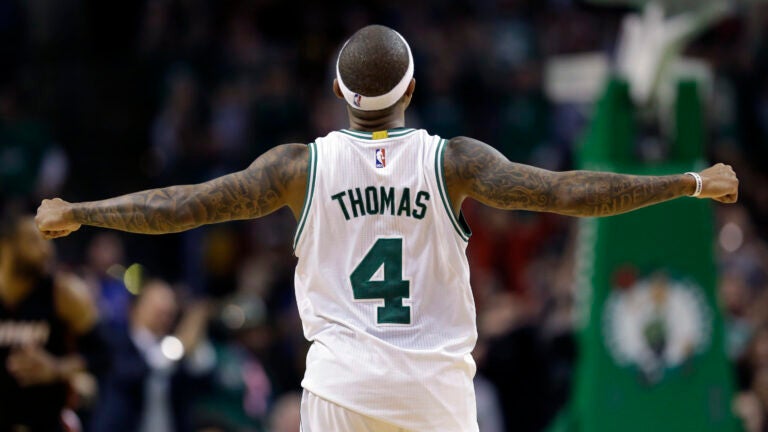 The Celtics have been road warriors for the past month, playing 10 of their last 15 games away from the friendly confines of the TD Garden.
Boston managed to survive that challenging stretch with a 9-6 record, giving the team optimism that they will be able to make up more ground in the Eastern Conference standings as the new year begins and the schedule evens out.
"With the schedule being as brutal as it's been, we got better," Jae Crowder said last week. "I think that's what tough teams do with a tough month like that. But we're ready to get out of it."
The Celtics have actually played better on the road (+2.2 net rating) than at home (+1.1 net rating), but the Green will have a chance to close that gap in the upcoming 30 days with 13 of their next 17 games at the Garden.
15. Demetrius Jackson — The 6-foot-1 guard ended the calendar year on a strong note, posting a career-high 30 points for the Maine Red Claws on Saturday in a win over the Windy City Bulls.
? ➡️ ?@NDmbb product & @celtics rook @D_Jay11 puts up a season-high 30 points for @MaineRedClaws!

12-16 FG / 4-5 FG / 2-2 FT pic.twitter.com/xIlS1H0l1O

— NBA D-League (@nbadleague) January 2, 2017
14. Jordan Mickey — The Celtics sought out some additional seasoning for the second-year forward this past week, so he played a couple games with Jackson on the Red Claws. Mickey continues to flirt with a double-double in all his D-League appearances, averaging 16.8 points and 9.0 rebounds per game.
13. James Young — Fifteen is the current number of consecutive games that Young has failed to see playing time for Boston. That streak makes the front office's decision not to pick up his team option for the  2017-18 season look smarter by the day.
12. Tyler Zeller — Life is tough when you are on the outskirts of Brad Stevens' rotation, especially since success doesn't necessarily earn you more opportunity. Zeller played well (8 points in 10 minutes) in the C's comeback against the Cavs last Thursday, but found himself back on the bench Friday night for all 48 minutes against the Heat.
11. Gerald Green — The shot continues to fall for the veteran swingman (shooting 58.3 percent from the field and 3-point range in last four games). Still, Green's instant offense doesn't necessarily guarantee the team success (-9 net rating in past two games). Stevens recognizes this as well, declining to give him minutes in the second half of Friday's win over the Heat.
10. Terry Rozier — With Avery Bradley (illness) out Friday, Rozier's three game DNP streak came to an end. The second-year guard wisely showed more restraint with his shot in the contest, attempting just one field goal in 21 minutes, while adding five rebounds and a pair of assists. There's probably not enough room for him, Green and Jaylen Brown in the rotation right now so Stevens will have some tough decisions to make this week.
9. Jaylen Brown — Brown's teammates want the rookie in the slam dunk contest and he strengthened his case for a spot with this throwdown Friday night.
Jaylen still hasn't landed after this fast break slam in the fourth. #Celtics pic.twitter.com/pkYnHQuWA3

— Jared Weiss (@JaredWeissNBA) December 31, 2016
8. Kelly Olynyk — Consistency continues to be an issue for the fourth-year big man. After breaking out of a scoring slump on Christmas Day against the Knicks, Olynyk scored only 13 points in the following three games combined, shooting just 35.7 percent from the field.
7. Jonas Jerebko — The rollercoaster ride that has been Jerebko's season is on the upswing again. The versatile 6-10 forward  slumped through most of December, going 2-of-19 from 3-point range over a nine-game stretch before turning things around last week. He went 4-of-7 from deep against the Cavs and Heat, while also contributing on the glass (10 boards) and setting up teammates (five assists).
6. Amir Johnson — While his rebounding numbers continue to flirt with career lows, Johnson is doing more in other facets of the game to make up for his decline on the glass. The veteran big man is dishing out assists at a career-best rate (14.2 percent) and is only turning the ball over on 13.2 percent of his possessions, his lowest mark since 2010.
5. Marcus Smart — 3-point shooting remains a concern for the 22-year-old guard, but it appears Smart's free throw shooting woes are a thing of the past. After starting out the season hitting just 58 percent of his attempts from the charity stripe, Smart bounced back in a big way in December, knocking down 82.2 percent from the line to raise his season average to 72.4%.
4. Avery Bradley — A stomach bug ended Bradley's streak of 33 consecutive games played on Friday night, but the guard's durability has been another plus during a career-season. In addition to setting new personal bests for PPG, RPG, APG and FG%, he's on pace to play the most regular season games yet in his seven-year career.
3. Al Horford — A nice bounceback game against the Heat Friday night (21 points, 6 rebounds) helped wipe away the bad vibes from his dud outing against the Cavs (6 points, 1 rebound). However, Horford's struggles against the defending champions recently remain a cause for concern. He shot 41.3 percent from the field against them last year, nine points below his season average.
2. Jae Crowder — The swingman now leads the team in 3-point shooting percentage (41.2%) but it's fair to wonder just how much his November ankle injury is still affecting his mobility. Crowder is averaging just 2.1 free throw attempts per game, nearly a 50 percent drop (3.3 FTA/game) from last season.
1. Isaiah Thomas — The All-Star has scored 20 or more points in 18 straight games, one of the longest streaks in the NBA this season. Combine that mark with his franchise-best 29 points in the fourth quarter on Friday night against the Heat and Thomas was a runaway winner for the top slot this week.