Celtics
Brad Stevens 'surprised' by Jae Crowder's disrespect comments toward Celtics fans
The small forward expressed regret about the situation during a meeting with Stevens Wednesday morning.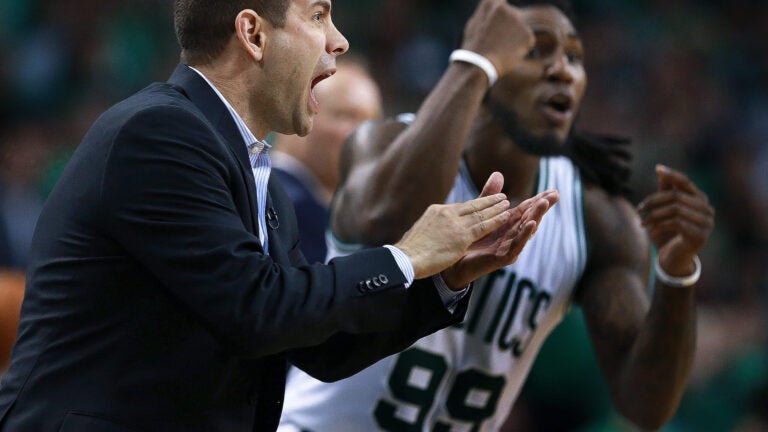 Celtics coach Brad Stevens was caught off guard by Jae Crowder's comments from Tuesday night suggesting he had been disrespected by TD Garden fans who had cheered for Jazz forward Gordon Hayward in pregame warmups.
During his weekly interview with Zolak and Bertrand on 98.5 The Sports Hub, Stevens indicated he met with Crowder on Wednesday to discuss his controversial remarks and tweets. The small forward showed some regret for the outburst in that meeting.
"I talked to Jae this morning and the first thing he said was, obviously, he wished that he wouldn't have expressed himself like that," Stevens said. "We talk all the time about embracing the expectations of being an athlete here in Boston because I do think this city is such a tremendous sports town and offers our guys such an opportunity to grow and feel those banners above us, and feel the expectations of really being a team-first player, then playing as hard as you can. A lot of our guys have embraced that. I don't know that anybody has embraced it as much as Jae over the last few years.
"To be honest, I was somewhat surprised to read what he said and tweeted. I told him that this morning because, every day that he comes in, you can tell that he's thankful to be a Celtic, and every time we have that talk about how you represent Boston as an athlete and how tough you have to be to be well-liked here, I've always thought that Jae represented the best of that. I was surprised but I think his body of work over the last two years is a better example of his appreciation for where he is and obviously playing here. I love what he brings to our team and I think that everybody would agree with me on that. I think it's just an emotional reaction, and onward we move."
Stevens also praised the Celtics fan base for their attitude and support in the interview and downplayed any belief that Crowder might not be committed to the team in the wake of deleted tweets that put his loyalty to Boston into question.
"The fan base made a difference for me coming here," Stevens said. "When you think about the opportunity to coach the Boston Celtics, one of the things you think about are the fans and just how passionate people are around here. Everybody on our teams knows that, and Jae knows that, obviously,"
"Everybody takes responsibility for playing the way fans want to see this team to play," Stevens added. "We love Jae and we love what he brings to us. I've never gotten the impression that he's anything but all-in."
The Celtics signed Crowder to a five-year deal worth $35 million in the summer of 2014. He remains under contract with the team through the 2019-20 season.