Celtics
3 reasons why the Celtics should not trade for Paul Millsap
The 31-year-old power forward is reportedly available after the Hawks traded Kyle Korver.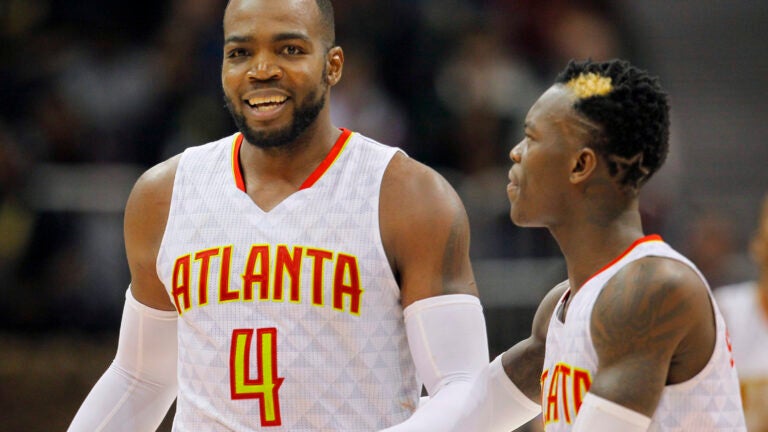 COMMENTARY
Since the Atlanta Hawks traded away starting point guard Jeff Teague for a first-round draft pick last July, it has been clear that they are starting to prepare for the future.
Hawks power forward Paul Milsap was also a rumored trade target for a few teams last July, particularly when it was believed that Atlanta's front office was trying to retain Al Horford. But the Hawks ultimately lost Horford to Boston and opted to see what a Millsap-Dwight Howard front line would look like this season.
It's nearly the halfway mark, and the early returns are not great. Atlanta is hovering just above .500, looking less and less like a contender in the Eastern Conference. Hawks head coach and president of basketball operations Mike Budenholzer recognizes this and hopes to get a return on his soon-to-be free agents, instead of losing them for nothing like Horford. He started this process on Thursday by agreeing to ship 35-year-old Kyle Korver to the Cleveland Cavaliers for a first-round pick, according to Adrian Wojnarowski of The Vertical.
Next up on his list? Likely Millsap, who is expected to decline his $21 million player option for 2017-18 and become an unrestricted free agent this summer. The Sixers, Nuggets, Pelicans and Raptors are among the teams that have already reportedly expressed interest.   
On the surface, Boston look like an ideal spot for the veteran big man in a trade. The Celtics are in need of a rebounder, and Millsap is a more than capable performer on the glass. He's got the offensive skills to fit in Brad Stevens pace-and-space offense as well, and can create his own shot on the block and get to the free throw line with regularity.
With no guarantee that bigger names like Paul George, DeMarcus Cousins and Jimmy Butler will become available via trade, will the C's try to make a run at Millsap? Despite the allure of the upgrade, here are a few reasons why they should avoid such a scenario:
1) The Celtics aren't ready to contend for a title, even with Millsap.
The landscape of the NBA has changed in a big way since I brought up Millsap as a target last summer, thanks to Kevin Durant's decision to head west. While Millsap would make the Celtics a clear cut top-two team in the Eastern Conference, he still doesn't make them a top-5 team in the NBA.
The former Hawks frontline, led by Millsap and Horford, didn't win a single game against the Cleveland Cavaliers in the postseason in eight tries over the past two seasons. Knowing that the Cavs will likely be waiting for the Celtics in the Eastern Conference Finals for the next few seasons, reuniting that aging duo (for a hefty price) doesn't seem like the best idea to push past LeBron and co.
2. Why give up assets now when you can try to sign Millsap as a free agent this summer?
Remember those Horford to the Celtics rumors that popped up throughout last season? Danny Ainge wisely held onto his assets and lured him in during free agency, a strategy that worked out perfectly.
The Hawks are likely aware they wouldn't be able to pry one of the Brooklyn draft picks away from the Celtics in a deal, but they'd still be looking for a combination of some young talent (think Marcus Smart) and future draft considerations from Boston's stash.  
That's a reasonable asking price, but if the Celtics are not convinced they will contend for a the title this year with Millsap (a fair assumption) anyway, waiting a few months to make a run at him seems like the smarter play. The Celtics won't have the ability to offer him a five-year deal in that scenario, but they are one of the few elite teams that would be able to float him a big offer (if their other targets don't pan out). It's debatable whether Millsap will be worth the 35 percent of the cap max contract (starting salary of $33.5 million) that he'll be eligible for anyway.    
3. Acquiring Millsap now would limit the Celtics' options in free agency (if they want to keep him.)
There is a long list of attractive free agents that will be available in July, and the Celtics need to maintain their salary cap space in order to chase them. Bringing in Millsap now would complicate matters.
The versatile forward is likely to decline his player option in June, making him an unrestricted free agent in July. The Celtics would maintain his Bird Rights in said scenario, but his cap hold would be $30.1 million, essentially eating up most of Boston's available cap room this summer. Ainge wouldn't be able to chase any of the prized free agents without either a) renouncing Bird Rights on Millsap or b) trading away other key pieces to open up salary. Neither of those options would be beneficial for Boston for the long term.
Trading for Millsap now would give the C's the upper hand on keeping him long-term (since they could offer him more money/years than other teams). However, if Ainge thinks there is a better free agent out there that the Celtics will have a chance at signing, he'll be handcuffing himself by trading for Millsap now.    
When you combine that issue with the fact that the Celtics would have to sacrifice significant assets for the 6-foot-9 All-Star, it's hard to justify how acquiring Millsap now would be a wise move for the team's long-term cap planning. He could still be a backup target this summer if stars like Hayward, Griffin, etc. pass over Boston, but giving up big pieces for an aging borderline star on an expiring contract should keep the Celtics sitting on the sidelines for this potential deal.