Celtics
Marcus Smart seizes opportunity as Celtics beat Pelicans, 117-108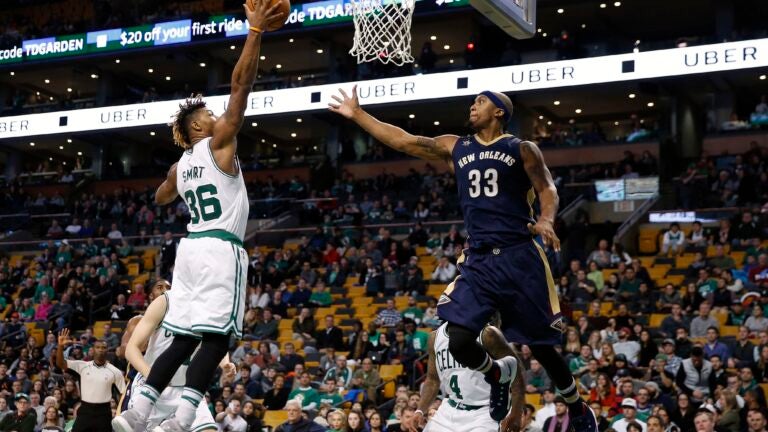 BOSTON (AP) — Marcus Smart made the most of his opportunity in Avery Bradley's absence.
With Bradley sidelined by a strained Achilles tendon, Smart scored a season-high 22 points to help the Boston Celtics to a 117-108 victory over the New Orleans Pelicans on Saturday.
"(My mentality was) just to bring it early," said Smart, who scored nine of his 15 first-half points in the opening quarter. "Avery Bradley was out, it's a tough game."
Smart also contributed five rebounds, six assists and a pair of steals.
"He cannot score a point, he can miss eight shots and not make any, and he can still have a positive impact on winning," Celtics coach Brad Stevens said of Smart.
Isaiah Thomas did his part with a 38-point outburst, his 21st consecutive 20-point game. Gerald Green scored 15 and Kelly Olynyk had 12 off the bench as the Celtics (23-14) notched their fourth straight win.
Anthony Davis had 36 points and 15 rebounds, while Langston Galloway scored 20 points for the Pelicans (14-24), who have dropped three in a row.
"We took a lot of bad shots," Davis said. "We weren't moving the basketball and they came down and capitalized on each bad shot and turnover that we made."
Boston blew open the game with a 36-point third quarter and led 93-73 entering the fourth.
Davis scored half of the Pelicans' points during a 14-4 run in the opening four minutes. His hook shot with 3:09 left in the quarter again pushed the lead to double digits at 25-15.
Boston answered with a 13-3 run capped by six straight points from Smart, including his 3-pointer with 39.5 seconds left to tie it at 28. E'Twaun Moore's jumper and free throw on the other end gave New Orleans a 31-28 lead through one.
Moore's floater midway through the second gave the Pelicans their largest lead of the period at 49-42. Smart sparked another Celtics run with his 3 a minute later.
Al Horford's 3-pointer with 2:05 left in the half gave Boston its first lead at 52-51, capping the 10-2 surge. Smart's third 3 of the half pushed the lead up to six and the Celtics took a 57-53 lead into halftime.
Davis led all scorers with 19 first-half points.
TIP-INS
Pelicans: F-C Donatas Motiejunas had 11 points and five rebounds over 20 minutes in his New Orleans debut. The 26-year-old Lithuanian joined the Pelicans on Tuesday for the remainder of the season after Houston renounced his rights in December. "It would have been more fun if we would win, but I'm pretty sure in the near future we are going to start winning," Motiejunas said.
Celtics: Bradley strained his Achilles tendon during Friday's 110-106 victory over Philadelphia and was a late scratch. "We'll be appropriately conservative," Stevens said. "Any muscular injury we want to be sure about." … F Jordan Mickey was available after missing Friday's game with an illness, but did not play. C Tyler Zeller (illness) remained out. … Stevens said G-F James Young (ankle) will be sidelined at least another week.
SEVENTEENTH HEAVEN
Boston knocked down 18 3s, marking its fourth consecutive game with at least 17. The Celtics set a franchise record with 19 made 3s Friday and are one game shy of tying the NBA record for consecutive games with 17 or more 3s, set by the Rockets earlier this season.
"We're playing to our strengths and we're taking what the defense gives us," said Olynyk, who had a pair of 3s.
UP NEXT
Pelicans: Continue a five-game road trip at New York on Monday.
Celtics: Quick stop in Toronto on Tuesday before returning home.