Celtics
Isaiah Thomas is having a season Allen Iverson might envy, and other Celtics thoughts
One thought on the current standing of each Celtics player.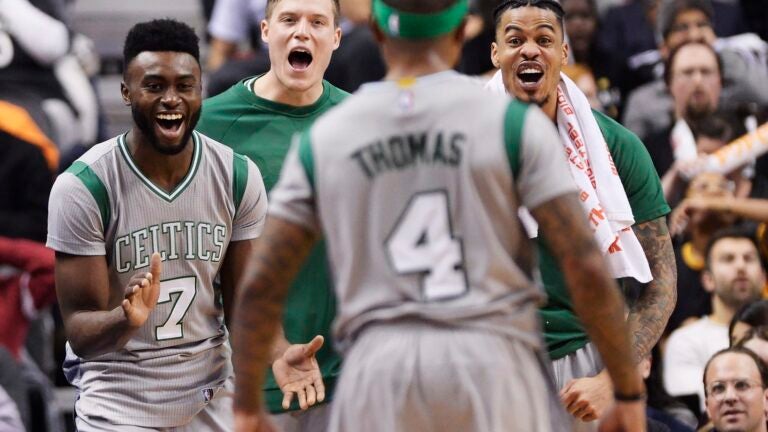 COMMENTARY
We're going to stop underestimating the Raptors, now, right?
Maybe it's because they're based in Toronto, or because their franchise doesn't have much history of note, or because their Olympian backcourt of DeMar DeRozan and Kyle Lowry is more fiercely effective than it is stylish. But it seems to me Celtics fans have treated the Raptors like a minor nuisance — something akin to a trip through customs — en route to the green's rightful place as the second seed in the Eastern Conference.
Maybe some of the Celtics players have thought this way too. If so, the lesson that comes from such foolish thinking should be hammered into their heads now. The Raptors are 2-0 against the Celtics this season, overcoming significant deficits in both games to prove that their team owns the right to think of itself as the chief would-be challenger to the Cavaliers. They're second in the standings, and that's appropriate. Until their next meeting with the Celtics — which comes February 1 at the Garden — they must be considered the second-best team in the East. They've earned it.
In the aftermath of Tuesday's loss and in advance of the quick Wednesday turnaround against the Wizards, here's a thought, in no particular order, on the current standing of each Celtics player. Because as everyone knows, 38/82nds (or 19/41sts!) of the schedule is the ideal time to evaluate an NBA roster . . .
Kelly Olynyk: He looks bigger this year, but he's still as soft as the Whistler snow. He's a skilled offensive player, and one the Celtics rely on for perimeter buckets probably more than they should. I hate doing the whole draft hindsight thing and complaining that your team didn't get the one star player to go after the lottery in a given year. But I have to ask: When Danny Ainge drafted Olynyk with the 13th overall pick in the 2013 NBA Draft, he pretty much acknowledged that his ceiling was that of a useful rotational player on a good team. And he was right. So what didn't he see in Giannis Antetokounmpo, who went two picks later and is turning out to be a revolutionary talent?
James Young: For those rooting for the Brooklyn trade to go down as a heist of Auerbachian proportions, it's somewhat disappointing to realize that the first of the three first-round picks (plus the right to swap a fourth this year) acquired for Paul Pierce, Kevin Garnett, and others is probably going to go down as a miss.
Jordan Mickey: I've never really bought it with this kid. He's an undersized shot-blocker who looks like he's reading a Granville Waiters how-to manual whenever he tries to make a post move.
Demetrius Jackson: Haven't seen enough to judge, but when he's been shipped to the D-League he's done exactly what you'd hoped — he puts up numbers that suggest he's out of his league (18.7 points and 5.9 assists per game while shooting 50 percent) while refusing to carry himself like he's above it all (a big issue for Young and R.J. Hunter last year).
Avery Bradley: A lockdown defender who keeps getting better and better as a perimeter shooter, he's the glue of this team. To put it another way: If he had played Tuesday, the Celtics win that game. And if he hadn't popped a hamstring in Game 1 against the Hawks last year, the Celtics probably win that series.
Isaiah Thomas: It's become trendy to say Thomas is having an Allen Iverson-type season, and I dig it: They're both small (though Thomas is a couple of inches shorter, depending upon whether you buy Iverson's listed height of 6-feet) and they are (or were) electrifying and fearless scorers with an incredible knack for making shots after contact. It's a fun comparison, and one that makes Danny Ainge's deal for Thomas two years ago look like an even bigger heist by comparison. But here's the thing: I'm not sure the comp does justice to the season Thomas is having — and I say that as an Iverson admirer. Iverson never averaged more than the 29.8 points per 36 minutes Thomas is putting up right now, or surpassed his 26.8 PER, or shot 37.5 percent from 3-point territory, or even approached his 61.3 true shooting percentage. Thomas is having the kind of excellent and aesthetically enjoyable season Iverson used to submit regularly — but he's doing it far more efficiently. Yeah, the Celtics have a superstar, at least on offense.
Al Horford: He's had a few hiccups here and there, a couple of makeable misses in clutch situations, the occasional clunker of a stat line. But if you watch the Celtics every night they play — and I mean, actually watch, picking up on the subtleties and such — he has to be one of your favorite players, a smart, sly, and skilled player who would have fit in beautifully on the great Celtics teams of any generation. One of my favorite recent discoveries in Horford's repertoire is his knack for reading what Thomas is doing — no easy task given all the starts and stops and changes of direction in IT's game — and inevitably getting himself in perfect position to receive a pass, whether near the hoop or on the perimeter. Horford is a quintessential Celtic in all the old-school ways. I wish he'd spent his whole career here.
Jaylen Brown: If you think Brown — a 20-year-old athletic marvel with smarts and an already established willingness to work hard — is a disappointment, you need to ditch those unreasonable expectations and brush up on how other rookies around the league are faring. He's going to be a good one — and probably more than that — when he's Buddy Hield's current age three years from now.
Marcus Smart: I love him and he drives me nuts. He's a relentless, even ferocious, defender, the kind of player championship-contending teams require. He cares about the right things. No opponent ever wants to play against him. He just needs to remove some of the ancillary nonsense from his game, even if it comes from the right place. The flopping — an effort to steal a call — has become detrimental because everyone is on to him. And he plays with confidence in moments when a little humility would do, meaning: A career 36.2 percent shooter really needs to resist the urge to play hero ball.
Amir Johnson: He has to be the most awkward good finisher around the hoop I've ever seen. A smart, useful big man, but one who can be better on pick-and-roll defense than he has been. A few more rebounds wouldn't hurt, either.
Jonas Jerebko: He's basically average at everything you could reasonably demand of a 6-foot-10 swing forward, which is a very helpful player to have.
Tyler Zeller: The middle child in the Zeller Basketball Empire was the No. 18 recruiting prospect in the country in 2008, 40 spots ahead of Klay Thompson. Also, he's tall, and he has the worst hands of a Celtics big since Mikki Moore's last cameo, and he runs the floor well, and he'll probably be elsewhere soon. That's all I've got.
Gerald Green: He's here for instant offense every few games, with the occasional violent flashback of a dunk mixed in just to remind us he can still do it when the mood strikes. It's a role he's handling well, averaging 19 points per 36 minutes, which isn't near IT territory (29.8 per 36) but is more than Avery Bradley (18.6) or Al Horford (16.8).
Jae Crowder: It feels like he's struggling with his shooting, but his field-goal (47.3) and 3-point percentage (41.7) are on track to be career bests. One last thought about that absurd recent controversy. This is a guy who was averaging 3.6 points per game for the 2014-15 Mavericks when he was traded to the Celtics in the Rajon Rondo deal. Here, he found a coach who not only gave him a chance to succeed but put him in a position to succeed, a group of teammates who played the game with similar tireless abandon, and a front office that believed in him and backed it up with a $25 million contract. Of course he was mad about the applause for Gordon Hayward; he's in a situation that two years ago didn't look possible for him, and he doesn't want to see it slip away. His frustration was wholly understandable. Anyone who tried to turn it into a race issue should be ashamed.
Terry Rozier: He had four DNP-CDs in the last eight games, and played just three minutes against the Raptors despite Bradley's absence. So, no, things aren't trending the right way for the second-year guard. I still think he grows up to be his generation's Robert Pack — hey, the guy did play 13 years in the league — but he needs to get command of his quickness first.