Celtics
Celtics player power rankings: Kelly Olynyk finally finds a rhythm
After a slow recovery from offseason shoulder surgery, Olynyk put together his best week of the season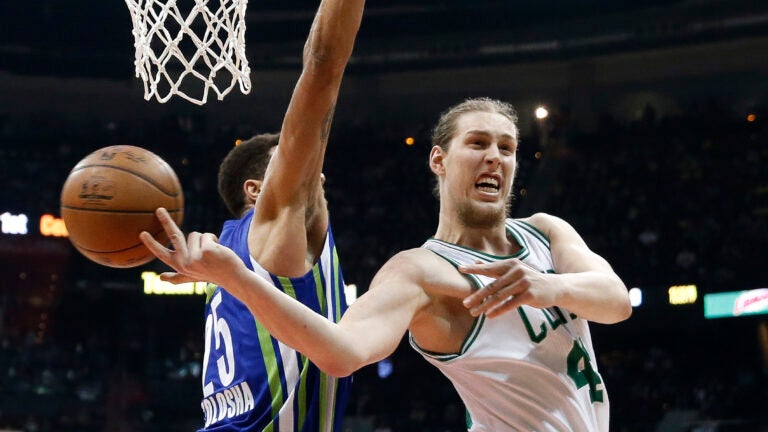 COMMENTARY
The NBA schedule has the tendency to even out over 82 games and that's exactly what the Celtics are finding out after brutal, road-heavy month of December. Boston plays nine of their next 11 contests coming in the friendly confines of the TD Garden, with only a couple road trips to Washington and Milwaukee mixed in. That's good news for Brad Stevens and co., who have won six straight games on their home floor after a slow start to the year.
The hot stretch has helped the Celtics put some distance between themselves and the pack for the No. 3 seed in the Eastern Conference, while also bringing the second-seeded Toronto Raptors back within striking distance.
With the return of Avery Bradley (Achilles) on the horizon this week, the stage is set for Boston to improve upon their impressive run of 12 wins over the past 15 games.
15. Demetrius Jackson — A big week lies ahead for the second-round pick as he's likely to get some major face time in front of NBA scouts at the D-League Showcase in Ontario from Jan. 18-22.
14. James Young — The third-year swingman was seen getting up shots before Sunday's practice, but he is still bothered by a sprained ankle that has kept him out of action for more than two weeks.
13. Tyler Zeller — An inner ear infection is officially the diagnosis for the seven-footer who has experienced "disorientation" and other notable symptoms over the past month. After missing the past five games, he's inching closer to a return according to Brad Stevens , but Celtics fans should keep an eye on his roster spot. The 27-year-old, with an$8 million salary, is now eligible to be traded as of January 15.
12. Jordan Mickey — The 6-foot-8 forward had not played in an NBA game for more than a month when Brad Stevens surprised him with his first career start on Jan. 11 against the Wizards. He posted a respectable four points and two rebounds in 14 minutes, but didn't do enough to earn himself more minutes once Amir Johnson and Jaylen Brown returned to the fold.
11. Jaylen Brown — The No. 3 overall pick is in the worst shooting funk of his brief Celtic career, going 1-of-12 from the field in his last five games. He's also failed to crack double digit minutes in four of those contests.
10. Gerald Green — His production continues to be mixed, but one thing that Green is not shy about is finding a way to get shots up in his bench minutes. His 16.6 field goal attempts per 36 minutes rank second on the team behind Isaiah Thomas.
9. Jonas Jerebko — While the Swede usually uses his 3-point range to give the Celtics a scoring boost, Brad Stevens could use some more aggression from the 6-foot-10 forward on his moves in the paint. His average of just one free throw attempt per 36 minutes is the lowest on the team.  
8. Terry Rozier — The ugly shooting slump that contributed to the guard's benching at the end of December may be in the rear view mirror for the 22-year-old. A more disciplined Rozier is shooting 56.3 percent from the field and 40 percent from downtown in his last five games, taking advantage of the added minutes he's getting in Avery Bradley's absence.
7. Amir Johnson — A dropoff in rebounding has been a major concern for the veteran big man this season, but he's shown some additional fight in the trenches in recent weeks. His total rebounding rate (15%) in the last 10 games tops the team and is a three percent increase from his season mark.
6. Avery Bradley — The Celtics has survived fairly well without their starting shooting guard in the past four games (3-1), but there has been a noticeable drop off in the team's play on the defensive end. Boston is allowing 109.8 points per 100 possession without Bradley in the lineup, a four point spike from their season average.     
5. Marcus Smart — Shot selection has been an issue throughout Smart's career, but his 3-point splits indicate that it may be time for the guard to take a closer look at where he elects to fire away from on the perimeter. He's shooting nearly 47 percent from the corners, while also 27 percent on above the break 3s.
4. Kelly Olynyk — Consistency has been Olynyk's biggest issue all season long, but he has finally found his shooting stroke in the New Year. The seven-footer is shooting 62 percent from the field and 69 percent from downtown in the past week, highlight by a season-best 28 points on Friday against the Hawks.   
3. Jae Crowder — The small forward is playing with more of an edge lately and that's a good thing as far as the Celtics are concerned. Not only has he become the best 3-point shooter on the team (42.9 percent) but he's the second best free throw shooter (88 percent) on the roster as well. At an annual salary of $7 million, Crowder has become even more of a bargain for Danny Ainge.  
2. Al Horford — It's hard to find a 6-foot-10 forward that can led a team in rebounds (7.8), assists (5.3) and blocks (1.3) per game in the same week, but that's the kind of versatility that has made this three-time All-Star an invaluable weapon for Brad Stevens this year.
1. Isaiah Thomas — How much of a tear has Thomas been in late-game situations since returning from his groin injury last month? Not only does he lead the NBA in points per game in the fourth quarter (9.9), but he's putting up historic numbers in his past 14 games:
https://twitter.com/CelticsHub/status/820116292866809856