Celtics
Isaiah Thomas is the NBA's best 4th-quarter scorer since …
Thomas continues on his current pace in the fourth quarter, he could rewrite both franchise and NBA record books.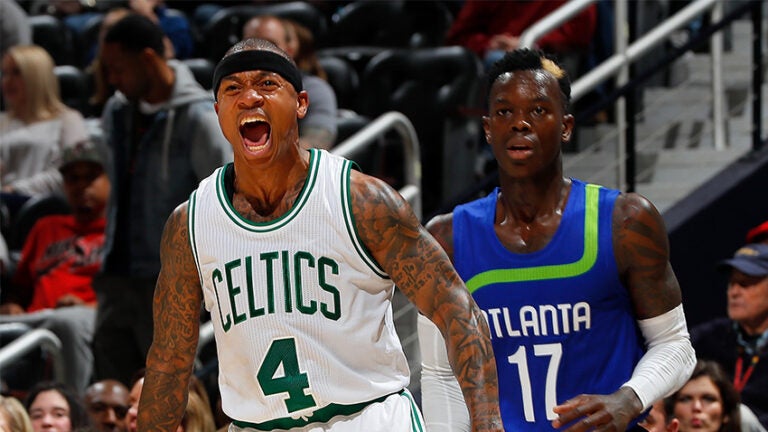 Isaiah Thomas has become one of the biggest stories in the first half of the 2016-17 season, largely due to his fourth quarter heroics. He's leading the NBA by averaging 10.1 points per game in the game's final frame, a number that has helped put him in the mix to be an Eastern Conference All-Star starter next month.
"He's been playing well," Hornets guard Kemba Walker said Monday's loss in Boston. "He's been playing better than anyone in our league [in the fourth quarter]. He's playing with great confidence and making the plays for his team to win games. He's been great."
While there's no question about where Thomas stands in the NBA this year in the fourth quarter, we wondered just how well his play late in games stacks up against some of the best individual seasons in both team and franchise history? A look at the results signal it's better than you might have imagined.
–Thomas is currently on pace to score more fourth quarter points than any player in franchise history
He's also good a pretty sizable edge over the next closest competitor in Paul Pierce. The future Hall of Fame forward averaged 7.3 ppg during the 2002-03 season in the fourth quarter.
While Thomas point totals may get most of the headlines, his efficiency late in games has almost been just as impressive. He's shooting 49 percent from the field in the final frame and a sensational 45 percent from 3-point range. Comparatively, Pierce shot just 41 percent from the field and 29 percent from downtown in the fourth during that 2002-03 season.
–Thomas is averaging more points in the fourth quarter than any NBA player in at least 20 years
The NBA database only goes back to the 1996-97 season on this front, but through 41 games, Thomas is on pace to top names like Kobe Bryant, Shaquille O'Neal, Kevin Durant and other top names of this generation.
The closest competition Thomas has right now for a full season is Kobe Bryant (9.5 ppg in 4th) during the 2005-06 campaign. Russell Westbrook is also currently on his heels with a 9.6 ppg average during this current season.
It's unlikely that Thomas will ever have the chance to break the all-time NBA points per game average in he fourth quarter, especially since the likes of Wilt Chamberlain averaged 50.4 ppg nearly 50 years ago. However, if the 5-foot-9 point guard can maintain the pace he is currently on, it could land him the distinction of being  one of the best guard crunch-time scorers in the league history.