Celtics
3 Celtics' trade deadline targets who can help solve the team's biggest problem: Rebounding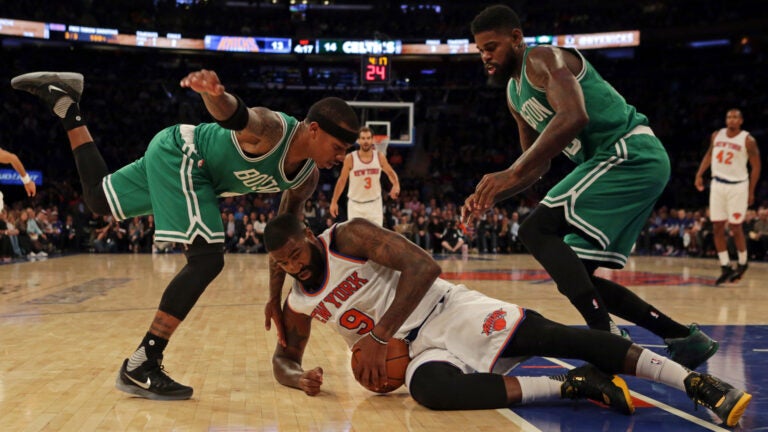 COMMENTARY
The Celtics are one of the best teams in the NBA. The additions of Al Horford and Jaylen Brown (and to a lesser extent, Gerald Green), the maturation of Marcus Smart and the ascension of Isaiah Thomas have led the Celtics as high as the second seed in the Eastern Conference, a spot they currently occupy. But to go deep in the playoffs, they are going to need a little help.
Will Danny Ainge and Co. find it on the trade market before the deadline on Feb. 23? Only time will tell, but in the meantime, let's look at what and who the team should be targeting.
The Celtics' need is fairly simple: Rebounding.
Offensively, the team is first in the NBA in free throw percentage, third in assists per game and tenth in three-point percentage. They also rank in the top 10 in a bevy of advanced stats: Offensive rating, true shooting percentage, effective field goal percentage and turnover percentage.
Defensively, they do well on the perimeter, as their opponent three-point shooting percentage is best in the East and fourth-best in the NBA, behind only Golden State, San Antonio and Memphis. But the team is consistently defeated on the boards.
In Boston's first 54 games, they were outrebounded 38 times (70 percent of the time). In 22 of those 38 contests, they were outrebounded by five or more rebounds. Their record in those contests was 10-12. In six of those games, they were outrebounded by at least 17 boards. They lost all six of those games, three of which came on the road against Cleveland, Toronto and Washington, who are the other three teams at the top of the East. The C's have been constantly pushed aside on both the offensive and defensive boards, and they also generally come up with fewer blocked shots than their opponents as well.
One of the big reasons for the deficit is that Amir Johnson is simply not as good as he was last season. He's still the team's most prolific rebounder, but this is precisely the issue. The team has needed more from him, and he hasn't been able to deliver. If the team was able to shift his minutes down and acquire someone who could pound the glass with more ferocity, it would make a huge difference.
Rebound percentage is an estimate of the percentage of available rebounds a player grabbed while he was on the floor. Johnson's 12.9% total rebound percentage pales in comparison to many players who could be on the trading block between now and the 23rd. (For reference, that is Johnson's TRB%. His ORB%, or offensive rebound percentage is 9.1%, and his DRB% — defensive rebound percentage — is 16.8%.) Let's take a detailed look at three of them.
Tyson Chandler, 12.8% ORB%, 34.0% DRB%, 23.1% TRB%
Chances are, if you're an NBA fan, you're familiar with Chandler. He's been around a long time. Currently, he's with the Phoenix Suns. He shoots well for a big man at the line — his free throw percentage this year is .730, much better than Johnson's also respectable .667 mark. The issues with Chandler are that he is old and expensive — he's 34 this season, and he makes more than $12 million per year, and will through the 2018-19 season. Still, only 12 players in the NBA have pulled down more total rebounds. He ranks eighth in the NBA in rebounds per game, and tenth in TRB%. There is no better rebounder who may be on the block. Certainly, Phoenix doesn't need him. They can finish last in the Western Conference with or without the 7-foot-1 Compton native. And, while his salary is high, assuming he stays healthy, the Celtics should be able to find a trade partner for him this summer if they decide they don't want his salary tying up the books long-term. Chandler is a respected vet who would fit well on any team.
Andrew Bogut, 9.9% ORB%, 32.2% DRB%, 20.7 TRB%
Bogut could be a trade candidate, he could also be a buyout candidate. He is playing well on a Dallas Mavericks team that looks to finally have bottomed out, after four years between 41 and 50 wins. Bogut is a more attractive proposition from a contract standpoint, as he is in the final year of his contract, though he is currently on the shelf with a hamstring injury. Also disconcerting is the fact that he has only shot .273 from the free-throw line, which is easily the worst mark of the 32-year-old's career to date.
Kyle O'Quinn, 14.5% ORB%, 24.9% DRB%, 19.8% TRB%
A fifth-year player who was drafted in the second round of the 2012 draft, O'Quinn doesn't log a ton of minutes. He has consistently logged between 11 and 17 minutes per game throughout his career, but when he does play, he is very effective. Over the past three seasons, he has shot .772, .767 and .750 from the line. Among power forwards or center who have logged 1,000 or fewer minutes this season, O'Quinn's 68 assists rank third in the NBA. His 71 blocks are tied for 18th in the NBA. If he had played enough minutes to qualify for the rebounding percentage leaderboards, he would have the 10th-best DRB% in the NBA. And O'Quinn's lack of minutes may be a bonus, since he should be fresh for the stretch drive and won't come in expecting 30 minutes a game. Finally, he's cheap. He makes just $3.9 million this season, $4.1 million next season and $4.25 million in 2018-19, the final year of his contract. The Knicks might be loath to trade with Boston, but they should also be trading anyone not named Kristaps Porzingis.
These three players are far from the only ones who could be on the trade block, as there are plenty of big men playing on below-.500 teams right now. They include Kenneth Faried (Nuggets), Nikola Vucevic (Magic), Tarik Black (Lakers), Trevor Booker (Nets), Cole Aldrich (Timberwloves), Alex Len (Suns), Kosta Koufos (Kings), Thomas Robinson (Lakers), Salah Mejri (Mavericks), Willie Reed (Heat), Omer Asik (Pelicans), Cristiano Felicio (Bulls) and Luis Scola (Nets). All of these players have a TRB% of at least 15.9%. There's also always the home run play for DeMarcus Cousins (18.6% TRB%), though that ship seems to have sailed.
Other familiar names who may become available but may not help the C's rebounding problems include Jimmy Butler and Paul George. Obviously, if they come cheap, they are worth pursuing, but they wouldn't be a big upgrade to the team's biggest need.
The Celtics are in contention this season, and the team can no longer afford to ignore the present in deference to the future. The team has struggled on the glass, and should look to upgrade. The best part is that they don't need a home run trade, they are doing just fine right now despite their rebounding woes. If they solve them, they might get back to the NBA Finals.