Celtics
Isaiah Thomas scores 33, Celtics hold off late push by 76ers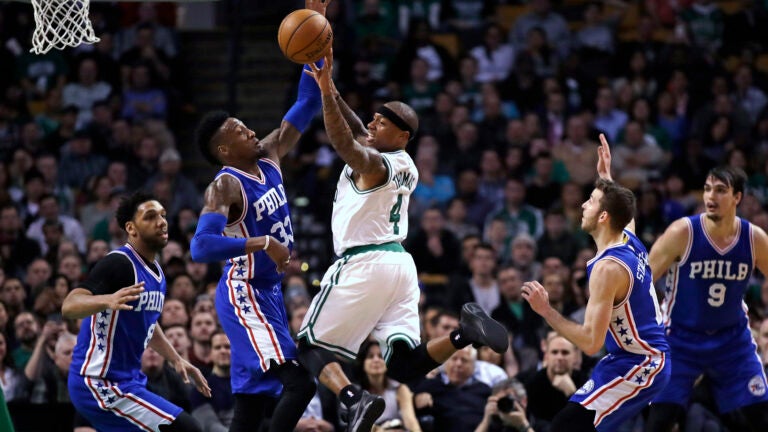 BOSTON (AP) — The fourth quarter has been good to Isaiah Thomas all season.
The same was true in another close game with the 76ers.
Thomas scored 13 of his 33 points in the final period and the surging Boston Celtics held on to beat Philadelphia 116-108 on Wednesday night.
It was the 40th straight 20-point game for Thomas, tying the team record set by John Havlicek during the 1971-72 season. Marcus Smart added 21 points and eight steals for the Celtics.
''It doesn't seem real for my name to be mentioned with such greats and Hall of Famers,'' Thomas said. ''It means I'm doing something well. And I'm just glad we're winning on top of it.''
And winning a lot.
Boston has won four in a row and 11 of 12. Philadelphia's loss ended its three-game winning streak.
As much as Thomas' scoring was an issue down the stretch, 76ers coach Brett Brown said Smart's defense set the tone for Boston.
''There's a toughness in him that you can't help but respect,'' Brown said.
Though Smart has improved offensively in his third season, he thinks he might have found a niche in providing energy on the defensive end.
''I can honestly say this is the most comfortable I have been in a Celtic uniform,'' he said.
Boston won despite committing a season-high 24 turnovers.
Dario Saric led the 76ers with 20 points and 11 rebounds. Robert Covington added 18 points but left late in the fourth quarter after crashing into the Boston bench while diving for a loose ball.
Boston won the first two games of the season series by a combined five points. Wednesday's meeting was nearly as tight, with 10 ties and 11 lead changes.
The Celtics were a little erratic on offense to begin the game, turning the ball over five times in less than four minutes and 12 times in all during the first half.
Philadelphia took advantage, scoring 21 points off Boston turnovers in the opening 24 minutes.
It was tied 61-all at halftime, but Boston used 12-2 run at the start of the third quarter to create some breathing room. Philadelphia didn't go away, and took its first lead of the second half on Nerlens Noel's dunk with just under eight minutes to play.
Then it was Thomas time.
After struggling in the second and third quarters, he scored nine straight Celtics points to put them back in front 101-99 with 5:42 left.
Noel tied it with a pair of free throws following a flagrant foul on Al Horford. But then Boston surged again, scoring seven straight as part of a 13-2 run.
TIP-INS
76ers: Gerald Henderson got ejected with 51.8 seconds left after receiving a pair of technicals for arguing a foul call. … C Joel Embiid missed his 10th straight game with a bruised left knee. … Philadelphia center Jahlil Okafor was back in a Sixers uniform after beginning the week expecting to be headed to a new team. He was held out of the 76ers' last two games as trade talk intensified, but rejoined the club in Boston. Okafor played 17 minutes, finishing with four points and four rebounds.
Celtics: Thomas has only one game all season in which he failed to reach 20 points. He scored 18 in a 104-88 loss to Golden State on Nov. 18. … Gerald Green played just six minutes before leaving with a bruised left heel. … Boston played without G Avery Bradley (sore right Achilles) and rookie forward Jaylen Brown (right hip strain). Celtics coach Brad Stevens said Bradley and Brown will also miss Thursday night's game in Chicago.
TRADE TALK
Despite the ongoing trade talk surrounding him, Okafor said he hasn't looked at the experience negatively.
''They didn't tell me that I was certainly out the door. They just told me it was a possibility,'' Okafor said. ''I'm just grateful that I have Coach Brown and guys in this organization who are up front with me because I know it's rare for teams to do that. And I haven't been left in the dark.''
UP NEXT
76ers: Return to action next Friday at home against Washington.
Celtics: Head to Chicago for their final game before the All-Star break on Thursday.
___
Follow Kyle Hightower on Twitter at http://www.twitter.com/khightower