Celtics
Can Isaiah Thomas dunk? A brief investigation
It seems like the NBA's littlest man can sure get up.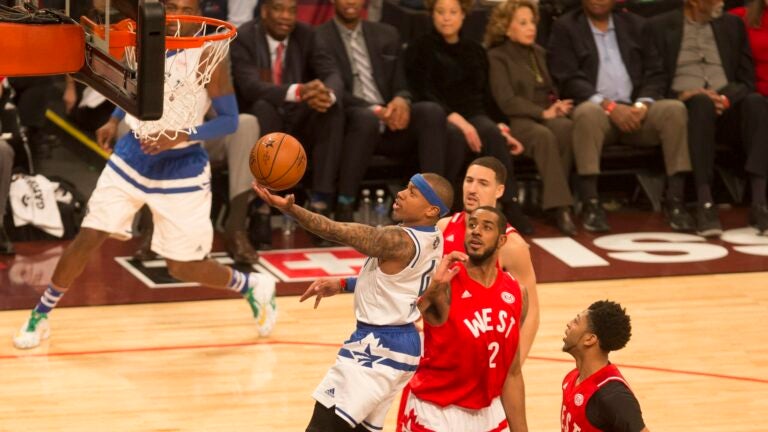 In case you hadn't heard, Isaiah Thomas is relatively short for an NBA player. Officially listed at 5-foot-9 — and actually even shorter — the Celtics point guard is the shortest active player in the league.
"Relatively" might be an understatement.
Somehow, Thomas has been able to overcome his inherent disadvantage on the hardwood to astounding success on the offensive (if not defensive) end of the court. Some have even asked if he should be considered an MVP candidate.
But as Thomas laces up for his second straight All-Star Game — a free-wheeling midseason exhibition — on Sunday, another question seems more pertinent: Can the little man dunk?
The short answer is yes. But that would belie the fact that the diminutive guard has a pretty impressive dunk reel dating back to his college days.
Here's a brief history:
2009
Perhaps the most definitive and striking footage of Thomas dunking was during his sophomore year at the University of Washington in a pre-season "Midnight Madness" inter-team dunk contest — which he won.
Thomas got things started off with a self-alley-oop reverse dunk.
But he really brought the house down when he set up his 6-foot-10 teammate as a prop in front of the hoop.
"Isaiah, we have practice tomorrow," the PA announcer can be heard reminding the sub-6-foot guard.
2010
So Thomas can dunk — that's for sure. According to the Celtics guard, his first dunk came in during his junior year of high school.
But has he ever pulled it off during a game? In a 2010 Maui Invitational game against Kentucky, he certainly tried.
During that game, the arena was reportedly shook by a 4.7 magnitude earthquake. But can we say for sure it wasn't just that dunk attempt?
2011
Less than two months later against Oregon, Thomas got another opportunity.
Following his junior year with the Huskies, Thomas declared for the 2011 NBA draft and was taken with the final pick by the Sacramento Kings. A few months into his first season, the rigors of NBA life didn't appear to have diminished his jumping ability too much.
Here's Thomas wishing Kings fans happy holidays in the form of a dunk video:
2012
According to Basketball-Reference.com's shot finder index, Thomas has never had an in-game dunk during his six and a half NBA seasons, though he did unsuccessfully try twice during his rookie season.
I need a dunk!! I promise ima get 1 soon #kings fans

— Isaiah Thomas (@Isaiah_Thomas) April 5, 2012
Thomas did however throw down a nice windmill in an April 2012 charity game, albeit with a little boost from a teammate.
2015
Since joining the Celtics, Thomas has developed a reputation for being a great finisher at the rim and fans have frequently asked him on social media whether we'll be seeing an in-game dunk anytime soon. For his past, Thomas has grown increasingly less optimistic about the prospects.
Maybe. I doubt it tho lol RT @BradynMayberry: @Isaiah_Thomas Do you think you'll ever dunk in a game?

— Isaiah Thomas (@Isaiah_Thomas) December 3, 2016
However, he has been known to show off from time-to-time during Celtics practice or warmups.
Here's Thomas dunking off the backboard during warmups to a 2015 preseason game in Italy, which was somewhat exaggerated by Celtics commentator Brian Scalabrine.
Here's another angle, via Boston Globe reporter Adam Himmelsbach:
2016
Here's Thomas again during a Celtics practice last February
Dunk contest next year for Isaiah? pic.twitter.com/t392JQVcxa

— Chris Forsberg (@ESPNForsberg) February 18, 2016
Even if he won't be in the dunk contest anytime soon, here's hoping 2017 brings a few more instances of Thomas finishing at the rim. Of course, Celtics fans won't be too disappointed if that just means more ridiculous layup alley-oops.