Celtics
5 buyout candidates the Celtics could target after quiet trade deadline
Danny Ainge still has some options after the trade deadline to improve the team.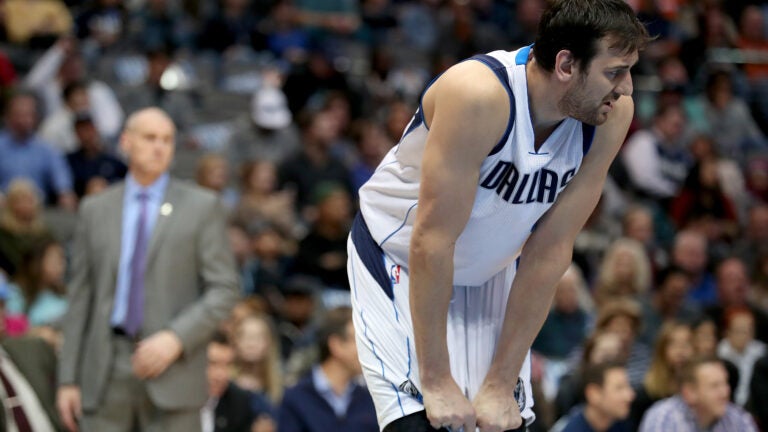 COMMENTARY
The Celtics may have had a quiet trade deadline, but that doesn't necessarily mean they won't be making any more changes to the roster in the coming days. Several useful players across the league could be granted buyouts from their respective teams as they look to join playoff contenders down the stretch and Boston may be an appealing destination for some.
Some of the bigger names (Deron Williams) have already committed to teams (Cleveland), but there will still a number of potential upgrades on the free-agent market for Boston. The Celtics would have to waive one player from their 15-man roster in order to make room for a new signee.
Will Danny Ainge be able to land a big man who can help the team's rebounding down the stretch run?
Here's a look at five potential candidates the Celtics may try to add:
Andrew Bogut: No player expected to hit the buyout market is a better fit for the Celtics than the former Mavericks center. Bogut was dealt to Philadelphia as part of the Nerlens Noel trade, but is expected to engage in buyout talks with the Sixers. His size (7'0''), track record, and rebounding ability (13.4 boards per 36 minutes) make him an ideal target for any team looking for a boost in the frontcourt. Unfortunately for Boston, several title contenders such as the Cavs, Spurs and Rockets are reportedly in the market for Bogut as well. The good news for the C's is that Boston can offer Bogut a meaningful role right away, potentially starting at center alongside Al Horford. The 32-year-old already has a ring, so if playing time is his priority, Boston has a shot. Otherwise, he may join the Cavs for his best chance to get revenge against the Warriors, the team who traded him last offseason.
Terrence Jones: It's rare to find such a young and promising player without a team at this point in the season. Jones took a gamble by signing a minimum contract with the New Orleans Pelicans this season to improve his free-agent value and is in the midst of a productive season (11.5 ppg, 5.9 rpg). However, Jones' playing time was set to be seriously cut by the Pelicans' acquisition of DeMarcus Cousins, so he was granted his release. The 6-foot-9 power forward is not much of a shooter, but his defensive rebounding rate (20 percent) would be the best mark on the Celtics right now. His athleticism also makes him a versatile defender, and he has a strong track record in the postseason from his stint with the Houston Rockets two years ago. He's certainly an upgrade over C's reserve power forward Jordan Mickey and should be a target over the next week.
Jared Sullinger: Things couldn't have gone much worse for the power forward during his stint with the Toronto Raptors. After signing a one-year contract for the mid-level exception, Sullinger broke his foot before the season began, sidelining him until last month. Since returning, the big man has struggled with his conditioning, failing to make a positive impact in most games (the Raptors lost nine of 11 contests he played in). He spent time in the D-League with Toronto's affiliate as he tried to play his way into NBA shape, but he was deemed expendable by the Raptors. After previously acquiring Serge Ibaka, Toronto shipped Sullinger to Phoenix at the deadline in the deal that brought back P.J. Tucker.
Would the Celtics be interested in a reunion with the 24-year-old if he is waived as expected? There's no doubt Boston could use his rebounding, and there would be value in bringing in a player familiar with Brad Stevens' system. Still, there is a reason why he will seemingly be available, and there are definitely players who could help the Celtics more on this list. He's a guy to keep an eye on if Boston's other options fall through.
Matt Barnes: The Celtics reportedly had their eye on P.J. Tucker at the trade deadline before he was ultimately moved to the Raptors. Barnes is another veteran in that mold. He's a gritty defender and good rebounder for his size (6-foot-8) but his offensive game has fallen off a bit of a cliff the last two seasons (shooting just 38 percent from field). The Kings waived him earlier this week after dealing away Cousins to free up more playing time for their youngsters, but there's no question that a number of contenders will be after him with his proven playoff track record. At age 36 his best days are behind him though, so you have to wonder whether Danny Ainge would be interested in bringing in an upgrade like him if it comes at the cost of playing time for another wing like Jaylen Brown.
Mike Scott: The 6-foot-8 power forward made a nice impact for the Atlanta Hawks against the Celtics last postseason off the bench, but his play has fallen off considerably in 2016-17. Horrendous shooting (29.3 percent) helped him fall out of the Hawks' rotation entirely. The Hawks dumping him at the trade deadline to the Suns, who are reportedly planning on buying him out. Scott's track record of stretching the floor well (33.8 percent career 3-point shooter) may be attractive to teams, but his lack of rebounding ability makes him a long shot to land in Boston.