Celtics
Celtics player power rankings: Avery Bradley has found a groove quickly since return
The Celtics close out the final 15 games of the regular season with one of the easiest schedules in league.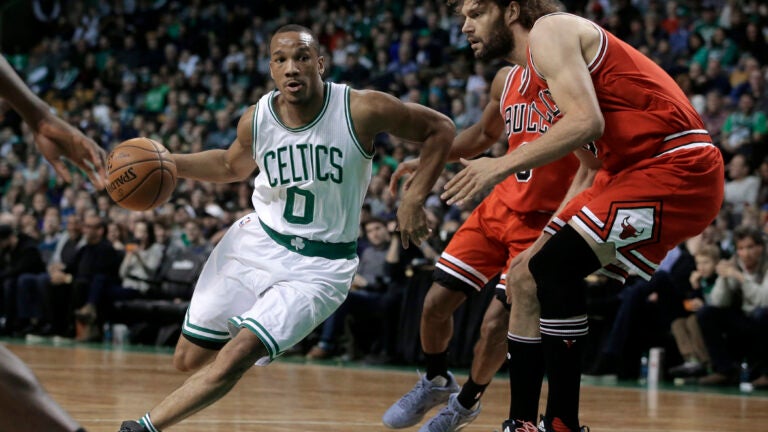 COMMENTARY
Through 67 games this season, the Celtics have played one of the most rigorous schedules in the NBA, with more road games (36) than any other team in the Eastern Conference.
Despite dealing with a heavy dose of injuries in the those contests, the green have managed to stay in the running for the top seed in the East down the stretch.
More importantly, the reward for that front-heavy schedule is coming in the next month as the C's close the season with 10 of their final 15 games coming in the friendly confines of TD Garden. With all five remaining road games in the Eastern time zone, Boston won't have the travel fatigue most other teams face down the stretch, as ESPN's Micah Adams notes:
Remaining distance to travel for NBA teams
– Average: 8,900
– Celtics: 2,800

Celtics play all 15 final games in Eastern time zone.

— Micah Adams (@MicahAdams13) March 13, 2017
15. Demetrius Jackson: The rookie point guard has emerged as an elite distributor in the D-League in March, averaging a season-high 9.6 assists per game over the stretch. He also may have some additional talent to pass to in the coming days, with the possibility that first-round pick Guerschon Yabusele could play a few games with the Red Claws after finishing his season in China.
14. Jordan Mickey: Mickey should be concerned about Boston's lack of success at both ends of the court when he's on the floor. He has a team-worst offensive (99.3) and defensive (116.7) rating, which doesn't bode well for his chance to be on the roster next year.  
13. James Young: Isaiah Thomas complained about Brad Stevens 'experimenting' with lineups last Monday after a disastrous sequence in Los Angeles with James Young playing the 4. Since then? Young has not played a minute, partially due to a back injury that sidelined him for the remainder of the C's west coast trip.
12. Gerald Green: With Avery Bradley returning to full health and Brad Stevens tightening up his rotation, Green is set to fall back into an offensive spark plug role for the stretch run. He was one of the few bright spots in the blowout loss to the Nuggets, with a team-high plus/minus of +6.  
11. Tyler Zeller: The seven-footer has appeared in 13 games since the start of February, but he hasn't cracked double-digit minutes in a single contest since Feb 1.
10. Jonas Jerebko: The Swede appeared to fall out of the rotation during Sunday's game against the Bulls (7 minutes played during garbage time), but Brad Stevens noted after the game that it was due to a lineup adjustment with the Bulls, rather than a change in philosophy from him. "It's bigs," Stevens said. "They played double bigs all the time…Most teams, right, are playing a stretch four who's more of a three than a four…certainly their fours are capable of shooting, but I felt like it was important to maintain our size so we could rebound."
9. Terry Rozier: The 6-foot-2 guard has been one of the worst finishers in the NBA at the rim this season (46.4 percent shooting inside three feet) but Sunday's game against the Bulls showcased a potentially ideal alternative for the 22-year-old: dunk more.
Rozier strips the ball from Payne and finishes with authority! pic.twitter.com/aOg7ytoJEY

— Boston Celtics (@celtics) March 12, 2017
8. Marcus Smart: After the best shooting month of his pro career in February (45.2 percent), Smart's numbers have come crashing down to earth again this month (32.3 percent FG, 20.8 percent from 3-point range). The silver lining? Smart's getting to the free throw line (5.1 attempts/game) more than ever in March, including a career-high 12 in Phoenix last week.
7. Amir Johnson: When Brad Stevens wants to emphasize defense, Johnson is a good bet to see extended minutes like we saw Sunday against the Bulls. The veteran big man has to start to ramp up his impact (1.3 blocks and 1.0 steals per game in March), and with the C's trying to right the ship on the defensive end, Johnson and Horford remains their best big man defensive combination.
6. Jaylen Brown: The best 3-point shooter on the Celtics' roster since the All-Star break? That would be none other than the No. 3 overall pick, who has buried 46.7 percent of his attempts from downtown since mid-February. "He's getting valuable minutes on a playoff team and he's taking advantage of it," teammate Isaiah Thomas explained. "He's learning each and every game. Not just in practice. He's learning throughout the game."
5. Kelly Olynyk: When you play the best game of your Celtic career against the best team in the league (Golden State) on the road, that earns you a spot in the top 5.
Kelly Olynyk's line: 17 pts, (7-of-9 FG), 5 rebs, 5 asts, 3 stls. Don't think he has played a better all-around game in his Celtic career.

— Brian Robb (@CelticsHub) March 9, 2017
Unfortunately, Olynyk followed it up with a scoreless dud in Denver on Friday night, but it's hard to fault him too much for that at the end of a road trip.   
4. Jae Crowder: The small forward's offensive slump is real (four straight games without scoring double digits), particularly from inside the arc. The 26-year-old is shooting just 28.8 percent from two-point range in his last four games, but still remains a net positive for Boston on the floor most nights, thanks to his rebounds (team-leading 8.3 boards per game in March).   
3. Avery Bradley: The timing of Bradley's return to full strength couldn't have been much better for Boston's sputtering offense. The shooting guard has been red hot from 3-point range (50 percent, 15.5 ppg) in the last week and his defense (team-leading 2.3 steals per game in last week) has shown little rust as well.    
2. Al Horford: After one of the worst offensive months of his NBA career in February, Horford has been a model of efficiency in March. He's shooting 61.4 percent from the field while maintaining his playmaking tendencies in the middle, (averaging a team-leading 5.4 assists per game in March).   
1. Isaiah Thomas: While any suggestions that Thomas belongs in the MVP discussion  have rightfully died down in the past couple weeks, there's no better example of his offensive consistency than his production at the free throw line. The point guard has gone to the line in 61 of 63 games this year, ranking 5th overall in FTA (8.6/G) and 3rd in FT% (91 percent).