Celtics
Bulls rally to beat Celtics 106-102 in playoff series Game 1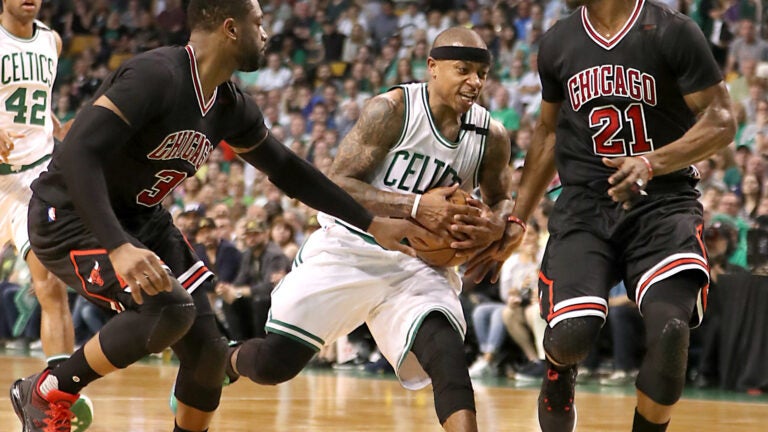 BOSTON (AP) — Jimmy Butler had 30 points and nine rebounds and the Chicago Bulls outlasted Boston 106-102 in Game 1 on Sunday on an emotional night for grieving Celtics star Isaiah Thomas.
Playing a day after 22-year-old sister Chyna Thomas was killed in a car accident in their home state of Washington, Thomas led the top-seeded Celtics with 33 points.
Butler scored 23 points in the second half. Bobby Portis finished with 19 for the Bulls.
Al Horford had 19 points, eight assists and seven rebounds for Boston.
Game 2 in the first-round series is Tuesday night in Boston.
Neither team had more than a two-possession lead until Butler made three free throws with 4 minutes to play make it 95-88. Butler scored 10 straight points to put the Bulls back in front early in the fourth, the first of three lead changes in the fourth quarter.
Later, Thomas had a scary moment when he was hit on his left hand on a 3-point attempt before landing awkwardly on it. After a quick visit to the trainer, he calmly made all three free throws.
It was part of a stretch in which he scored seven straight points.
Celtics fans rallied behind Thomas, showering him with a deafening cheer when he was introduced.
Still, Thomas appeared to be a little emotional at the start of the game, badly missing his first free throw short off the front rim. He wasn't the only Boston player a little off their game in the first half.
Boston's second unit started the second quarter 1 for 7 from the field and was outscored 10-0 to surrender the Celtics' first-quarter lead.
The Bulls had their moments of fallibility as well.
Late in the second quarter Wade intercepted an errant pass by Thomas, but got hung on the front of the rim as he attempted a dunk on the fast break.
TIP-INS
Bulls: Outrebounded the Celtics 32-16 in the first half, including 16 offensive rebounds.
Celtics: Were 18 for 45 from the field in the first half.
___
More NBA basketball: https://apnews.com/tag/NBAbasketball