Celtics
This one play captures how Rajon Rondo is giving the Celtics fits
OK, maybe these two plays.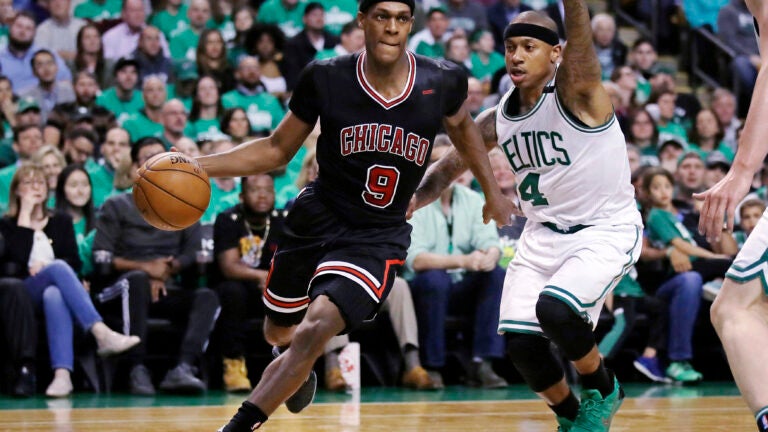 The Celtics know Playoff Rajon Rondo. He's the guy who put up 44 points, 10 rebounds, 8 assists, and 3 steals once in an Eastern Conference Finals game against the Heat.
That guy is scary.
But that was five years ago, and it was reasonable to assume based on everything that happened in the interim that Playoff Rajon Rondo was never coming back.
Celtics fans found out the hard way Tuesday night that he still exists.  Rondo finished one rebound shy of his 11th career playoff triple double, putting up 11 points, 9 rebounds, 14 assists, and 5 steals. No assist was prettier or more indicative of how Rondo can take over a game than this one:
#Celtics Rewind pres. by @NissanUSA: Rajon Rondo long outlet pass to Jimmy Butler. Celtics down by 8 in the 2nd quarter. pic.twitter.com/zwTdrrZF0n

— CSN New England (@CSNNE) April 19, 2017
Of course, Rondo can also give teams fits in other ways.
Rajon Rondo delivers the Dream Shake & ties the @ChicagoBulls Playoff record w/ 14 assts: Sam Vincent 5/1/88 MJ 6/2/93 Kirk Hinrich 4/27/13 pic.twitter.com/nBDuPAzq6E

— NBA History (@NBAHistory) April 19, 2017
Shades of…