Celtics
3 thoughts on the Celtics' Game 4 win over the Bulls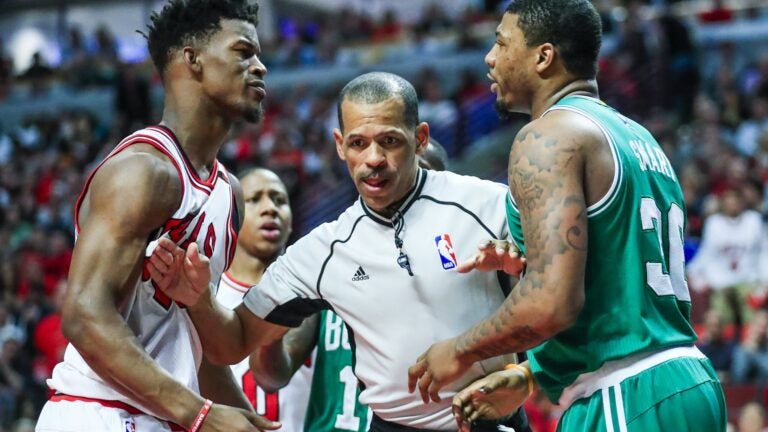 COMMENTARY
Let's start where it started: With another dazzling start by an unlikely starter.
Gerald Green played 47 games this season in his return to the Celtics, a decade after he was exiled to Minnesota in the Kevin Garnett trade. Most nights, he enjoyed having one of the best seats in the house alongside James Young.
And he started exactly zero regular season games this season – or two fewer than he has started in the Celtics' last two postseason games.
Suddenly, he's the modern-day Vinnie Johnson, a heat-check in human form. Green gave the Celtics a little spark in their Game 3 win, scoring 8 points in 20 minutes, including a pair of 3-pointer. But that was nothing compared to the five-alarm fire he unleashed on the unsuspecting Bulls in the first half Sunday night.
By the 9:21 mark of the second quarter, Green had 16 points, helping the Celtics jump out to a 45-25 lead. The Bulls eventually made a game of it and Green ceded the stage to a more familiar scoring machine, Isaiah Thomas, in the second half.
But he had one more highlight in the second half – a follow-up dunk of his own missed jumper – that put the Celtics up 8 with 9 minutes left in the third. Green can still break out those dunk-contest pogo sticks when he needs them.
They would not be even in this series without him. It's a credit Brad Stevens for knowing how to deploy his personnel. But it's a bigger credit to Green for being ready when he was called upon.
***
Was Isaiah Canaan on the Bulls before Game 4? Was he even in the league before Game 4? He was? Are we sure?
The record does show that Canaan played 592 minutes for the Bulls this season – or 58 more than Green played for the Celtics. So I guess he's legit. And for a time Sunday, it looked like he'd give the Bulls a similar spark to the one Green gave the C's.
Filling it at point guard for Jerian Grant and Michael Carter-Williams, who themselves were abysmal filling in for the injured (but lurking!) Rajon Rondo, Canaan buried a 3-pointer seven minutes into the third period to cut the Celtics' lead to 63-58.
Canaan ended up scoring 13 points in 34 minutes, while rating a plus-11. Grant and Carter-Williams were a combined minus-21 in 12 total minutes between them, which means we'll probably see a lot of Canaan again, at least until Rondo is out there playing with one hand like Carl Weathers in Happy Gilmore.
Of course, he was not nearly the best guard who answers Isaiah to participate in this one. Isaiah Thomas had 33 points, 7 assists, and 5 rebounds, and he was especially creative finishing at the rim even by his own how-did-he-just-do-that? standards.
It was a remarkable performance, beyond even what we're used to from him, especially given the engulfing sadness he's been dealing with since the death of his 22-year-old sister Chyna in a car accident last week. It's hard to fathom how he has the strength to do this, but he tried to explain his state of mind after the game. "Being here is what makes me, I guess, sane,'' he said afterward. "It makes me feel somewhat normal through these tough times."
***
Marcus Smart finished with 5 points (on 2 of 7 shooting), 8 rebounds and 6 assists. He also had 5 fouls, a steal, a block, 3 turnovers, and finished plus-9. And as usual, the box score tells only a fraction of the story regarding Smart's impact – negative early, and extremely positive late – on the game.
He hit a crucial 3-pointer with 3 ½ minutes left after Avery Bradley passed up an open look to find him, which I interpreted as a hint at the faith his teammates have in him late in the game. The block and steal were both pivotal second-half plays. And he had a huge tap-out rebound in with 2 ½ minutes left to keep the ball in Celtics' possession, leading to a Thomas basket. He's an enigma. He's inconsistent. But he is, again, a winning player.
I say this all the time, but Smart has some similar characteristics to Dennis Johnson, another guy who could shoot 3 for 13 but the three makes would come when you needed them most. Right now, he's the 1977-78 version of DJ, I'd say.
What else? He got into a beef with Jimmy Butler after a turnover, and while Butler seems like an tough dude, I'll take Smart in that showdown without a second thought. Smart plays basketball like Rodney Harrison played safety, and in the end his determination and defense were essential in the Celtics' win. This game was the full Marcus Smart experience, weird and typical at once.