Celtics
3 thoughts on the Celtics' Game 5 win over the Bulls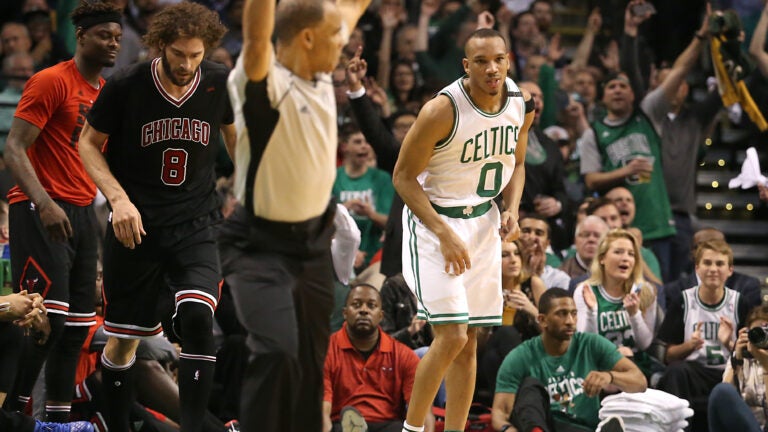 COMMENTARY
Avery Bradley is that brand of dependable in which he can be appreciated and taken for granted at once.
On many nights he is the Celtics' best all-around player. Some nights – such as when he's refusing to yield a step to Kyrie Irving with the game on the line or attaching himself to Steph Curry no matter how many screens try to peel him off – we remember to salute him after a job well-done yet again.
Other nights – when Isaiah Thomas drops 20 in the fourth quarter, or a refugee from the bench like Gerald Green steals the show – it can be easy to allow his steadiness to become an afterthought. He is a rock, constant and consistent on a roster with a half-dozen regulars whose contributions from game-to-game vary wildly.
We always appreciate Bradley, sure. But we can forget to acknowledge it when the unexpected arises elsewhere.
Wednesday night, we noticed him and noticed again, because he kept reminding us we had better.
Bradley finished with 24 points while contributing his usual relentless defense on Jimmy Butler and lesser Bulls in the Celtics' 108-97 victory Wednesday in Game 5, which gives them a 3-2 lead in the first round series.
The victory did not come easy for the Celtics, who started sluggishly and led by just two, 52-50, at halftime. Bradley was the Celtics' leading scorer at the half, with 17 points, and tied Jae Crowder for the team lead in rebounds with four.
The Celtics finally got their act together and pulled away on their home court in the fourth quarter. They would not have been in position to take control of the game if Bradley hadn't nearly single-handedly kept them in it in the first half.
Yes, sometimes we do overlook Bradley's contributions. Wednesday night, you'd have to be as blind as Dwyane Wade's favorite official to miss them.
***
As satisfying as the victory eventually became, what with Al Horford (21 points, 7 rebounds, 9 assists) and Isaiah Thomas (24 points) taking command down the stretch, it was exasperating for a good three quarters.
For too long, it was a game of couldn'ts for the Celtics. Marcus Smart could not hit a shot, Horford couldn't keep Robin Lopez off the boards, Gerald Green couldn't repeat his Game 4 magic, Jae Crowder couldn't do much of anything at all.
You kept waiting for the Celtics to put together one of those IT-led runs where they snap out of the funk, wake up the TD Garden crowd, and build the kind of margin that they should have had all along.
Instead, the run only happened right about the time you really began wondering if it would.
The Bulls took an 81-79 lead into the fourth quarter, a Jimmy Butler 3-pointer at the quarter buzzer giving Chicago the advantage to the groans of the TD Garden crowd.
But just when it seemed that this might go down to the wire, the Celtics finally went on that run. After the aforementioned Wade free throws put the Bulls up 85-84, the Celtics tore off a 19-4 run, sparked by a Kelly Olynyk bank-shot-plus-one and some stellar post play from Horford.
Too often Wednesday – and too often in general, if we're being honest – these Celtics play like prosperity is meant to be shared with the enemy. The Bulls should not have been able to hang with them on their home court. For too long, the Celtics allowed them to stick around, to believe they had hope.
But when it came time to seize the game or risk heading to Chicago on Friday in a must-win situation, the Celtics did what they had to do, and so efficiently that Brad Stevens was able to pull the starters with a minute left. As Jaylen Brown – who is now apparently the new Terry Duerod – and the rest of the bench got their moment to run around, the starters took a bow, savoring a win that for too long looked like it might not be theirs at all.
No, they never make it easy on themselves. But hey, they do make it.
***
What do you think Johnny Most would have called Dwyane Wade?
Wade the weasel? Dwyane the Pain? Whiny Wade, since he's always crying to a ref with great results?
Ah, Johnny would have come up with something way better than those. And he would have meant it every time he rasped it.
Wade is an especially despicable opponent in that vintage-'80s, real-rivalry kind of way, and he's especially despicable when he's slipped into the way-back machine and is suddenly playing well again.
The Rondo Elbow Buster is much more tolerable when he forgets how to dunk or stands off to the side while Jimmy Butler goes one-on-one and forgets Wade is still an active player in the league.
Last night, unfortunately for the Celtics, vintage Wade showed up, at least on offense, and damn near submitted a triple-double. Midway through the first quarter he was outscoring the Celtics, 7-4. He finished the game with 26 points, 11 rebounds, 8 assists, and 2 of those super-obnoxious leap-into-a-defender-and-heave-it-at-the-hoop plays that inevitably end up getting him a couple of freebies from the line.
His last draw-the-foul-and-chuck-it led to two free throws, giving the Bulls an 85-84 lead before the Celtics went on a huge run to put away the game. Even when the game was out of reach, Wade was gifted a phantom foul on Avery Bradley after clanking a turnaround jumper in which Bradley didn't touch him.
At least Wade  did have one embarrassing moment when Terry Rozier, who has his moments, stripped the ball and went in for a ferocious dunk that looked like it came from Dr. J's ABA highlight reel.
All right, maybe that's too much hyperbole; no one has ever dunked like Dr. J in the ABA. Ask Wade. I seem to remember him playing against him as a member of the Kentucky Colonels.