Celtics
Where does Paul Pierce rank among Celtics greats?
Debate the answer with Chad Finn and Boston sports fans at The Sports Q.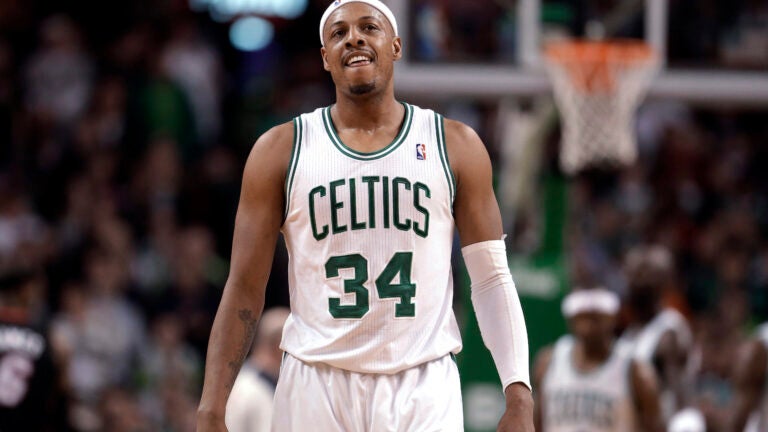 Welcome to Boston.com's Sports Q, our daily conversation, initiated by you and moderated by Chad Finn, about a compelling topic in Boston sports. Here's how it works: You submit questions to Chad through Twitter, Facebook, email, his Friday chat, and any other outlet you prefer. He'll pick one each day (except for Saturday) to answer, then we'll take the discussion to the comments. Chad will stop by several times per day to navigate. But you drive the conversation.
Where does Paul Pierce rank among the Celtics' greatest players?
Mentioned to my wife Sunday night that Paul Pierce had just played his last game. "He was still playing?,'' she said.
So yes, maybe it was time. Maybe it was even past time given that he averaged 3.2 points in 25 games for the Clippers this season.
But amid the bittersweet sentiment of watching his superb 19-year career officially end, three franchises removed from his last game with the Celtics, there was some satisfaction to be found in remembering the best of times.
It's not just that Pierce, along with Kevin Garnett, Ray Allen and Rajon Rondo, teamed up to lead the Celtics' championship renaissance. It's that Pierce, to me, grew into the quintessential beloved New England athlete. He was tough, salty, sentimental, clutch, methodical, impulsive, dramatic, and resilient.
He arrived here in 1998 as a cocky Inglewood kid who grew up hating the Celtics. He grew up so much more – it wasn't always easy, and it was damn near tragic – finally becoming to a later generation what Larry Bird was to mine and John Havlicek to another. He was the Celtics. He was The Truth.
So I ask you this question on his last day. Where does he rank among the greats of the Green?
He makes the starting five, and I don't think there is much doubt about that, though some might argue on the behalf of Kevin McHale, Dave Cowens, Tommy Heinsohn, or another of their many legends.
Bill Russell, Larry Bird, and John Havlicek are automatic selections over Pierce. Bob Cousy probably should be too, but I'll hear an argument on Pierce's behalf as the fourth-best player in franchise history.
He is third in franchise history in games played (trailing Havlicek and Robert Parish), second in points (behind Hondo), and first in steals, rebounds and 3-pointers. He also put a banner in the rafters, a qualification to be in this club.
So I say he's the fifth-best player in franchise history, the final piece to the best single-franchise starting five imaginable. (Don't give me that Lakers stuff, please. I'm not hearing it today.)
But where do you rate Pierce? Let me hear your thoughts – and your best memories of No. 34's stellar career – in the comments.